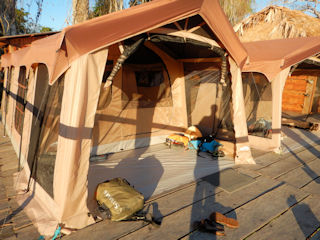 I was dang near shivering when heaps of jungle birds began to sing at 5:30 AM.  The night temps dropped to the low 70°'s and perhaps even upper 60°'s.  Not only is this place paradise from the scenic point of view but its the perfect climate here at the Untamed Angling Camp of Kendjam on the Iriri River in Brazil.  Hot in the day and cool at night.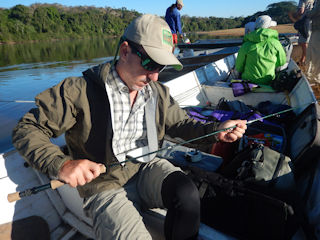 At 7:30 we left camp in two boats downstream for fishing and filming.  Ben and I were in one and Untamed Angling founders Rodrigo Salles and Marcelo Perez in the other with their film crew.  The idea this week is to make a segment for the 2017 International Fly Fishing Film Fest and also a piece so that Untamed can promote this incredible fishery here in Kendjam.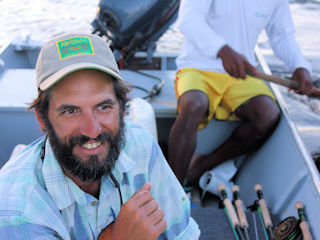 Each fishing boat consists of a trained fly fishing guide and two Kayapo Indians to handle the boat.  They do this with a motor, paddles and handmade push poles.  Today our guide was Augustin Gacia Bastons.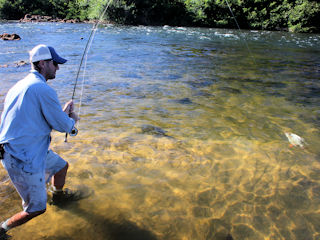 While many imagine the Amazon drainage to be nothing but monster rivers and muddy water, the Iriri river is small and crystal clear.  You can drift and fish from the boat or wade this beautiful river casting big streamers on an 8-weight rod for peacock bass and wolf fish (trairão).  Then, in a blink of an eye you can change it up and fish a 5- or 6-weight with dry flies just like on a trout stream back home but for pacu, matrinxã and other fun species.  This place is a dream for anglers like myself that like to mix up the day with different fish and unique challenges with the fly rod.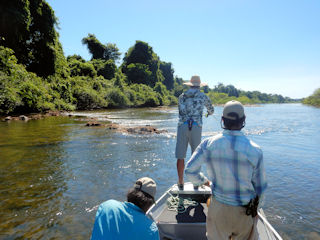 Ten minutes into our day Augustin suggested Ben and I make some casts as the boat drifted.  One side of the river was deep with overhanging branches.  Ben hit there with a large streamer for peacock bass and hoped for his dream fish, a payara.  I fished the shallow riffle water and floated over the drop-offs with a Chernobyl Ant.  My target fish was the pacu-borracha that hangs in the rapids and feeds on drifting algae and fruits.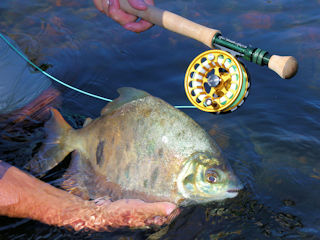 It didn't take long.  While Ben attracted looks from peacocks I finagled a lucky cast and drift with a Chernobyl Ant just off a riffle onto a drop.  Up came a pacu.  My heart pounded as the round fish twisted and followed my fly for a few feet.  His eyes were wide and so focused on my fly he didn't notice me watching high on the boat deck.  Once he decided it was food he lifted like a huge brown trout and sipped the fly.  One major difference however is that as he sips, you're heavily distracted by his sparkling nut crushing molar-like teeth!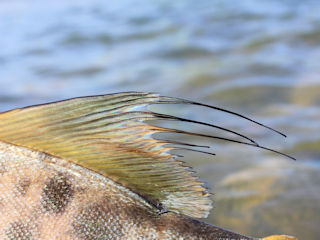 Because of the teeth I was using a short piece of 20lb wire to the fly as a shock tippet.  My leader is one of the new Scientific Anglers Bass leaders with 18lb tippet.  18lb sounds heavy but if you ever wondered what it would be like to catch a 5lb bluegill – this is it.  Only the pacu-borracha also jumps.  I can't tell you how stoked I was to catch this guy so quickly.  Check out the crazy long rays on his dorsal fin!
As Augustin and I were photographing my pacu, Ben jumped from the boat and waded downstream with his streamer.  It didn't take him long before he had a fish of his own.  This was a different fish.  It was large and snake like and made few jumps of his own.  Rather than peeling off line like my pacu this guy bullied Ben until he could grab him.  It wasn't an easy grab because Ben had his first trairão and this fish too has a mouth full of teeth and extremely strong jaws.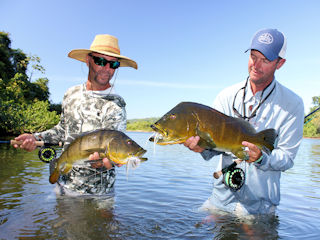 In a matter of fifteen minutes or so, Ben and I caught the pacu and the trairão along with several black piranhas (Piranha preta) (Serralsamus rhombeus) each.  We got a strike almost every cast.  Then we got in the boat to catch up with the other guys.  Naturally we pumbled the water as we went.  I switched to my 8-weight Winston Jungle rod to try for peacocks and within minutes Ben and I were posing with this double trouble bunch.  The Iriri is teaming with fish.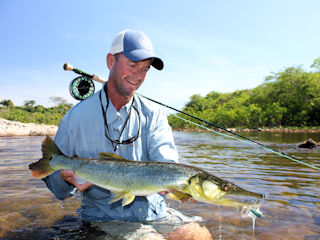 We chased down Rodrigo and Marcelo and they were filming some trairão.  We stopped and watched a minute then I decided to rip a popper through a speedy tailout.  The area was less than two feet deep and with strong current I wasn't expecting much.  But I've now learned, this is where the biggest of all the bicudas (Boulengerella cuvieri) live. When my popper splatted down a wake came charging and bicuda attacked my fly. These barracuda like fish scream line off your reel while jumping all the time.  With a bony mouth full of teeth, they are normally very hard to keep hooked.  I got lucky and the peculiar jungle fish made for nice photo.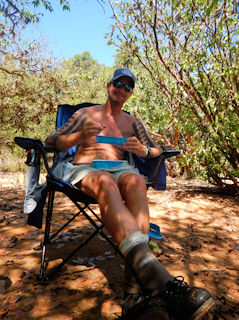 We never saw Rodrigo or Marcelo and the film crew again until we tracked them down for lunch.  This is the Amazon so it's scorching hot at midday and we relaxed in the shade and ate and sipped cokes.  Our lunch was delicious and consisted of a couple peacock bass and a piranha.  The second we finished we hit the water to see what other interesting fish I could catch.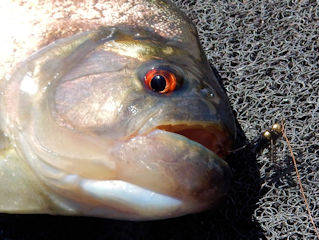 The fish were out in full force.  Though we caught a lot of things the black piranhas were aggressive.  Ben and I nailed several of them which is good and bad.  The good is they fight like mad and are so cool to look at when you hold him.  We've all known about piranhas since we were kids.  But the bad is they bite chunks from your flies whether you catch them or not.  It can get extremely expensive at times.  This big one actually came on a stonefly nymph while I was messing around drifting from the boat.  I use old flies from the past when the piranha bite is on.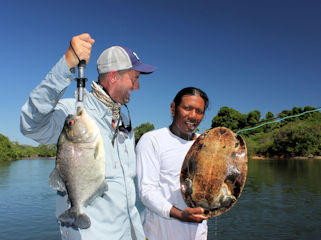 What's funny about this piranha is that while I was fighting him off one side of the boat, a big turtle was laying on the bottom of the river on the other.  I could see one of the locals eyeballing the sleeping turtle.  The Kayapo love eating them.  Despite the fact that I was fighting a big piranha he dove overboard to get his dinner.  Here we are both holding our prize.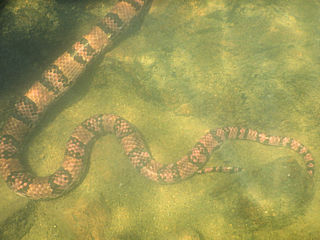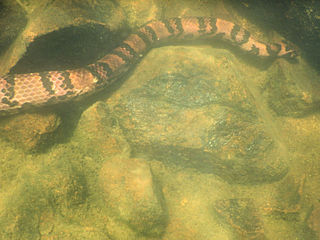 We'd seen a few electric eels throughout the day and while casting I thought I caught a glimpse of another but the colors were striking unlike the dull brown eels.  The creature lifted its head to breathe.  It was a substantial snake with an almost coral snake pattern on his body.  This snake was about 6- to 8-feet long – long enough it took me two photos to fit him all in.  Unfortunately, this is as close as I got just in case he was deadly.  If anyone can identify him, please let me know.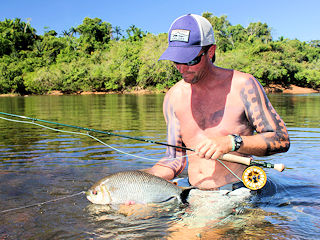 The nonstop action continued.  Ben and I reefed on about fifty peacocks.  I have no idea exactly how many but there were a bunch.  We also caught a few more pacus and many matrinxã (Brycon falcatus).  The matrinxã is a true omnivore and comes for a look almost every time your fly hits the water.  They hate wire so usually they don't eat it.  But today they did and I caught the biggest one of my life while breaking my skin protection rules working on an Amazon tan.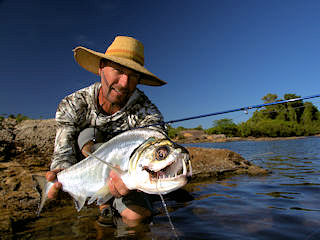 The Iriri River happens to have some decent payara in its system but none were caught on fly during last year's four weeks of exploration.  I'm not sure what it is about the vampire fish but they simply don't take flies well and I can say this based on experience in Venezuela back in 1996.  There were tons there, but in ten days I managed about five good ones in total.  Ironically, Bens goal on this trip was to catch a payara and this afternoon he did.  This is the first payara taken on fly at Kendjam.  I say it often on this blog – keep your fly in the water!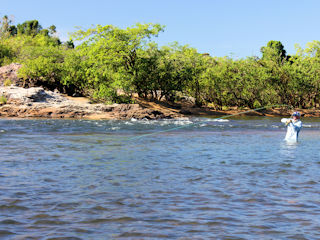 At the end of the day we settled on a braided section of the Iriri River.  There were riffles and runs and boulders and deep holes.  It was an adventurous fly fisher's nirvana.  I'd caught more than I imagined at this point so I grabbed my 6-weight Boron Plus and went to work with a Chernobyl Ant to learn more about catching the pacu-borracha.  Honestly, other than the warm water racing against my skin, I could've easily been on the Madison River in Montana.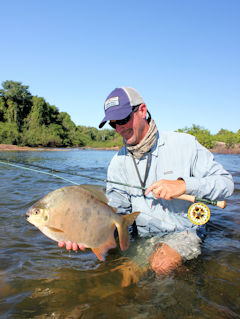 I caught a couple of unique pacu (Myloplus asterias) on Chernobyl's years back in northern Brazil but they lived in slow water.  This fast water pacu-borracha fishing seemed strange – a big round fish living in a rapid?  But I fooled one this morning from the boat so I expected to find more.  Sure enough I got a pacu to rise to my fly at the head of almost every riffle.  While I lost a few I landed three more.  One was this beast which I never expected!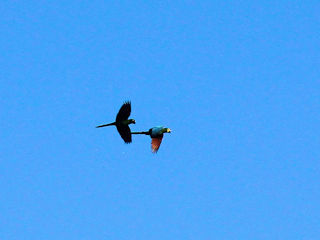 I don't like to go overboard on the hero shots on the blog but today was no less than a remarkable day of angling.  Ben and I caught so many cool fish and so many big fish that if it weren't for my photos I wouldn't believe it.  Kendjam on the Iriri River is no less than some of the finest fly fishing on the planet.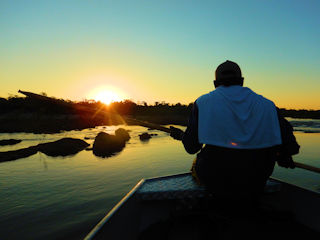 It was long trip back upstream back to camp but we didn't notice.  It was beautiful.  There were so many colorful birds including three types of macaws.  Seeing these oversized parrots in the wild like we see robins on the lawn at home is something to behold.
Stay tuned for tomorrow.  We're going even further into the wilds of the Iriri to blow up our Dave Scadden Rafts to camp further down the Iriri River.
A special thanks to my friends Rodrigo and Marcelo of Untamed Angling for making this incredible journey possible.  If you too would like to experience a similar trip to Kendjam feel free to contact me.