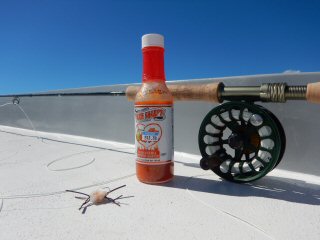 My return to Belize has been great.  I enjoy spending time with friend Wil Flack and it's been a pleasure meeting his friend Tayler Brothers.  Wil's new Belize Permit Club is fantastic.  We've been eating well.  Enjoying refreshments at night.  The only downer is that the permit fishing has been arduous.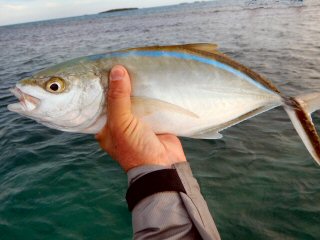 Wil Flack and I have been chasing permit and nothing else.  This little blue runner stole the fly from a permit on the third day but he's been the only fish in the boat.  With the exception of yesterday, conditions overall have been the toughest I've ever experienced on the flats thanks to cloud cover, 50° temps and steady 25 mph winds.  Toss in how sick I was the first three days and yikes!
There's been no backing down.  Wil has poled the flats ten hours a day through the wind and I've bounced and balanced from the bow.  Neither of us has let our guard down for even a minute.  It's a crushing shame I've had four permit on and lost them all.  It's very unusual for me to be beaten so badly by a fish but welcome to permit.
We made a long run north to new flats today.  Wil wanted to fish here all week but the wind didn't allow for it.  This morning was dead calm.  You might think of this as an advantage but unfortunately permit gain the edge yet again.  In saltwater fly fishing its windy most of the time.  When it's calm, flats fish, especially permit become wearier than ever.
Honestly, regardless of our new disadvantage, I welcomed the calm day.  My ears have been ringing from the gales of December all week.  And when you looked across the flats it was stunningly beautiful.  Best of all we could also see a few permit swimming from a mile away.
The permit were spread out in groups of two.  The closest two were whirling with their fins and backs out of the water.  Their dorsal fins weren't straight up like when feeding and their tails didn't tip.  Like yesterday they looked tired and full.  Nonetheless, we snuck up on them and I got a two good cast to them but there was no interest at all.
The lack of interest from the permit continued through the dead calm hours.  We saw quite a few but they either spooked quick as expected or they ignored the fly.  At lunch time we received a gift from the fish gods, light wind – perfect flats fishing conditions.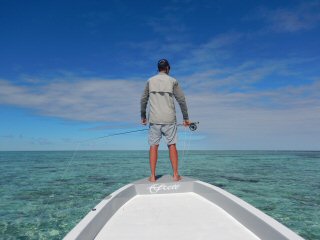 We pretty much stopped eating when the breeze started.  Not only did we want to capitalize but we also saw a line of clouds on the way.  As we hoped we found more permit.  Most weren't impressed with our flies but there was one.  I got one more chance.  A decent sized permit followed and then surged for the fly and pinned it on bottom.  I strip set hard, felt a tick but he wasn't on.  No doubt he felt me though because he spooked off like he knew.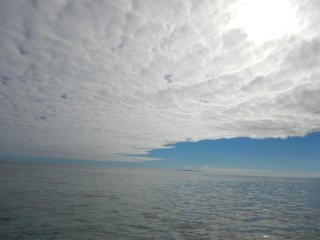 Why not one last heart breaker?  Its permit fishing.  Soon after, the wall of clouds moved in and the dead calm returned.  In a sick way it was beautiful.  But our permit fishing trip was over.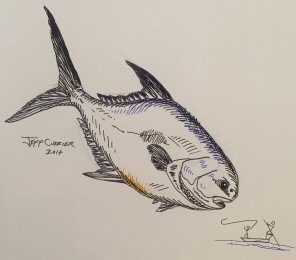 We returned to the Belize Permit Club before dark for the first time in a few days.  We popped some Belikins and I broke out the sharpies and drew on Wils beer fridge.  It's a permit about to eat Wil and me – par for the course!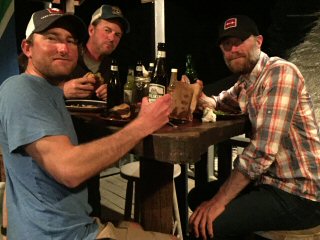 After a few beers Wil and his gal took us out to their favorite bar and restaurant, Loggerhead.  I had my first ever hamburger that was stuffed with macaroni.  It may not sound good, but with a few more Belikins it was delicious.
Getting your butt kicked fishing builds character.  I don't like it but I'll live.  Tomorrow it's the long flight home and I'm happy to say I'll be home until January 4th when I leave for the Denver Fly Fishing Show.
Merry Christmas everybody and thanks for reading the blog!