"The man who leaves money to charity in his will is only giving away what no longer belongs to him."François-Marie Arouet(1694–1778), better known by the pen name Voltaire.  As successful members of the community, we have a responsibility to help those that are less fortunate and to contribute to the common good.  Our world is so full of people that go about their day worrying only about themselves; it is refreshing when you come across those that are willing to share their time and talents with no regard of what they will get in return. The best way to encourage this in others is to do more of it yourself.
The three most cited motivations to volunteerism were: 1) to contribute to the community; 2) to share one's skills and experiences; and 3) having a connection to an organization that required help.
Jeff Currier gives back in ways……
Until recently Jeff donated his artwork, books and DVD's to help raise money at fund raising events.  He continues to do this within his community but these days he prefers the hands on approach.
In his home region in Idaho he volunteers his time to present his exciting presentations and clinics.  In the last few years Jeff has spoken at "Henry's Fork Day" on the banks of the river in Last Chance, Idaho for the Henry's Fork Foundation, several times for Teton Valley Trout Unlimited and most recently for the Friends of the Teton River annual banquet.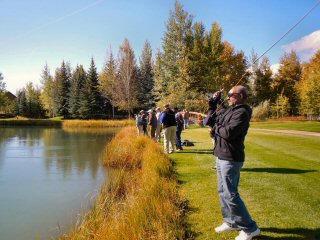 Jeff's most rewarding contribution is teaching war veterans how to fly fish.  Every September Jackson Hole's Honoring Our Veterans brings a group to Jackson, Wyoming.  Jeff spends a full day with these incredible people beginning with his fly casting demonstrations followed with casting instruction and fishing on the trout ponds of Teton Pines.  This year Jeff will be doing this twice in September.
Jeff is a long time member of Trout Unlimited and has been a member of the Henry's Fork Foundation for over 20 years.  He has donated his books, artwork and time to their fundraising events.
Jeff also donates to the Jackson Hole One Fly for auction. The proceeds of the auction go towards funding conversation projects on a selected river each year. In 2008 his "Snake River Fine Spotted Cutthroat" painting sold at auction for nearly $2,000!
Every time Jeff gets hired to speak at a fly fishing club, banquet, conclave or symposium, he donates. Bring Jeff repetitively to your event and he actually paints before a live audience then donates the art!  This artwork is usually sold on the spot during a live auction to generate funds for river conservation work in the local area.