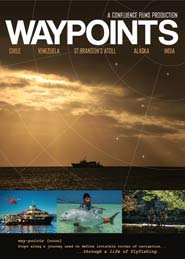 It was a late night at a local pub at the Somerset Fly Fishing Show in 2011 when Jim Klug of Confluence Films asked Jeff about doing a segment for a fourth fly fishing movie.  Confluences previous movie, "Connect", where Jeff caught a huge tigerfish in Tanzania, was a mammoth success – so why not?  Jim asked Jeff point blank, "Can you catch a golden mahseer on a fly in India for us?"
The golden mahseer lives in the roaring rivers of the lower Himalaya's.  This incredible carp-like fish is considered one of the most difficult freshwater fish to catch on the planet even with bait.  Despite their huge size they are spooky, hard to fool and if you do trick one into eating anything, the fight is insane.  Jeff is one of few anglers that has caught golden mahseer on the fly.  It took two previous trips to India to do it, but he has.  And one stands as the IGFA World Record!  Not only that, Jeff is friends with top mahseer angler, Misty Dhillon, owner of the Himalayan Outback.
Jeff's response to Jim was "Yes."
Jeff contacted Misty and ran the idea by him.  The escapade was set.  In May of 2013 Jeff and Jim Klug and Chris Patterson of Confluence Films were on their way for an amazing adventure.  Jeff and Misty's segment in India is the grand finale of another Confluence Films masterpiece.
Following in the footsteps of Confluence's earlier releases DRIFT, RISE and CONNECT, WAYPOINTS is the most exotic, ambitious and in-depth feature-length project that Confluence has ever created. Shot around the world in both fresh and saltwater, locations include flats fishing St. Brandon's Atoll in the Indian Ocean, trout fishing the wilds of Patagonian Chile, coastal Southeast Alaska for steelhead, the Himalayan rivers of India for golden mahseer, and the jungles of Venezuela for saber-toothed payara.
Confluence has become known for great stories, interesting character profiles, soulful interviews, an amazing diversity of species, and the finest cinematography in the world of fly fishing. WAYPOINTS delivers on all of these things and more. An incredible travel-logue-style fishing film that truly showcases not only the fly fishing lifestyle, but the journey itself as seen through the eyes of anglers Oliver White, Jeff Currier, Greg Bricker, Gerhard Laubscher, Rooster Leavens, and several other interesting and unique characters.
As with DRIFT , RISE and CONNECT, the cinematography, sound, and feel of WAYPOINTS come together in a visual masterpiece that promises to re-set the bar for fly fishing films. You can read about Jeff's day by day accounts while filming in India on his blog.
To Order:
Send a check for $29.95 + $5 shipping to:
Jeff Currier
P.O. Box 578
Victor, ID 83455