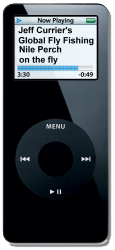 Jeff Currier has delivered a series of internet radio interviews which you can hear on your iPod or computer via media players.
Ask About Fly Fishing – Internet Radio has brought together The Experts on fly fishing to tell you in their own words the secrets to their success in both Freshwater and Saltwater.
Listen to Jeff's shows on Ask About Fly Fishing.com, Internet Radio
Fly Fishing Sudan – October 2016

Jeff has has taken exotic fishing to the next level. He's saltwater fly fishing the Red Sea off the coast of Sudan! Listen in and hear the adventures and the incredible fish he and his friends have been catching there.

Listen to interview now!
Golden Dorado in Bolivia – May 2013

Jeff Currier has been on another great adventure – this time in Bolivia for Golden Dorado. Dorado have voracious teeth and put up an incredible fight. Listen in to find out how Jeff did and whether he landed his trophy fish.

Listen to interview now!
Peacock Bass and Other Brazilian Treasures – November 2011

Jeff Currier has been at it again. Exploring exotic parts of the world in search of fly fishing treasures. Join us as Jeff talks about his travels to Brazil, Venezuela and Panama in search of peacock bass, piranha, arowana, jacunda and monster catfish.

Listen to interview now!
Tigerfish in Tanzania – November 2010

Jeff Currier loves adventure fly fishing and is back at it again chasing tigerfish in Tanzania. Listen in to learn about fishing for this exotic species.

Listen to interview now!
Fly Fishing for Mahseer in India – June 2008

Jeff Currier explores India's rivers for the exotic Mahseer. It's a huge fish that is seldom caught on the fly but Jeff was determined to do so and did. Learn from Jeff the process he uses to figure what makes a fish tick.

Listen to interview now!
Lake Nassar's Nile Perch on the Fly – May 2007

Jeff Currier has just returned from Egypt and his second adventure in search of the exotic Nile perch. Join Jeff to learn about what it takes to figure out a fish that is seldom caught on a fly.

Listen to interview now!
European Fly Fishing Techniques – August 2006

Jeff has learned a lot by participating in the World Fly Fishing Championships including the Polish nymphing, Czech nymphing and Spanish nymphing techniques and English lake techniques. Listen in as Jeff shares all that he's learned from European fly fishers.

Listen to interview now!