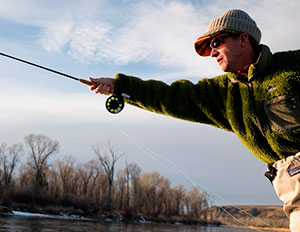 Jeff has been teaching and demonstrating fly casting for over 25 years. Whether its one on one instruction or showing a large group valuable techniques, Jeff is considered one of the best in the field.
Fly Casting 101 is excellent for beginner to intermediate level casters. The demonstration is so well presented that even those who have never touched a fly rod before often pick one up and cast. This excellent seminar starts basic with a run down on the rod, reel and line. Why a 5-weight? Why is a fly line so expensive? He'll show you how to set up then teach you how to get started in the backyard. He'll explain how to make that first cast all the way through to Roll Casting and a few tricks for dealing with wind.
Jeff can customize Fly Casting 101 to fit your time frame whether its 20 minutes or 50 minutes. When done everyone will know the basics of casting, be aware of the common mistakes, and anxious to pick up the rod and get started!