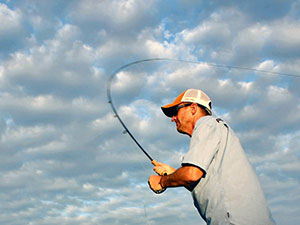 When not fishing, Jeff can be found lecturing throughout the United States and Canada on nearly every aspect of fly fishing.  He demonstrates fly casting and knots, teaches seminars on the basics to the advanced skills of fly fishing and presents many fly fishing destination programs ranging from his home waters in the Rockies to the most remote corners of the globe.  Anyone who has caught one of his many shows considers them the best they have seen.
Jeff loves traveling to teach at fly fishing clubs and shows no matter where they are.  And when he does he brings a sense of humor, enthusiasm, approachability and over forty years of fly fishing experience.
On his website you can see the many PowerPoint seminars he offers and view itineraries for both beginner and advanced Fly Casting Demos.  Jeff even offers a Knot Class.  Jeff's Seminar Fees, Single Presentation Contract and Full Day Contracts are available with the click of a mouse to make booking Jeff for your upcoming event easy.
Jeff's PowerPoint Presentations
Additional Seminars
Fly Casting 101
Casting in the Wind & the Double Haul
Knot Demonstration