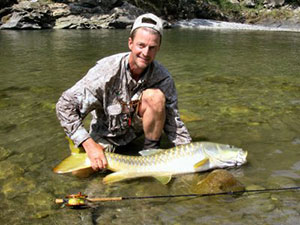 In 2008 Jeff returned to India in search of one of the worlds most difficult game fish, the Himalayan Golden Mahseer (Tor putitora).  On this adventure he traveled north of Delhi with friends Misty Dhillon, owner of the Himalayan Outback and TV host Chris Bailey of "Reel Outdoors".
Their destination was the clear waters of the Ramganga River in the Kamaon.  During the incredible trip Jeff experienced his most memorable fishing day of his life in which he landed a world record golden mahseer and then escaped one the world's most feared predators.  Kick back and tighten your seatbelt as Jeff uses photos to tell one of the most amazing of all fishing stories.
Enjoy a few pics from Jeff's show…
More of Jeff's PowerPoint Presentations
No fly fishing lecturer offers such a variety of topics as Jeff. Whether your club or event needs an instructional presentation like "Improve Your Fishing Photography", a destination program like "Four Seasons of the Yellowstone Trout Bum", or some wild entertainment such as "Fly Fishing in the Presence of a Man Eater"; Jeff offers it all. Jeff has more than ten PowerPoint presentation options. There's something for every event. His shows are well organized, photos are phenomenal and Jeff teaches while entertaining.
Most Popular
Entertaining
Trout
Saltwater
Warmwater
Additional Seminars