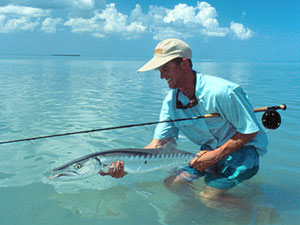 Despite living in Idaho, Jeff has a lifetime of experience in the salt.  For starters he grew up in Massachusetts a mere seven miles from the beach.  Although the striper fishing wasn't what it is today Jeff enjoyed tormenting the pollack and bluefish.  Then as a young adult he landed a job hosting fly fishermen to Belize.  For years he frequently found himself wandering some of the finest flats in the world.  These days, although Jeff still goes to Belize, he's more often found exploring exotic saltwater destinations worldwide.
"Saltwater Fly Fishing – Bonefish to Billfish" is an entertaining introduction to saltwater fly fishing.  The show reviews equipment and flies then teaches tactics for approaching river mouths and estuaries, surf, flats, channels, corral reefs and blue water.  You are guaranteed to marvel over the many destinations shown from Baja to Christmas Island and you will be in awe at the many different fish species from stripers to tarpon that Jeff will enlighten you to fly fish for.
 Enjoy a few photos from Jeff's show…
More of Jeff's PowerPoint Presentations
No fly fishing lecturer offers such a variety of topics as Jeff. Whether your club or event needs an instructional presentation like "Improve Your Fishing Photography", a destination program like "Four Seasons of the Yellowstone Trout Bum", or some wild entertainment such as "Fly Fishing in the Presence of a Man Eater"; Jeff offers it all. Jeff has more than ten PowerPoint presentation options. There's something for every event. His shows are well organized, photos are phenomenal and Jeff teaches while entertaining.
Most Popular
Entertaining
Trout
Saltwater
Warmwater
Additional Seminars