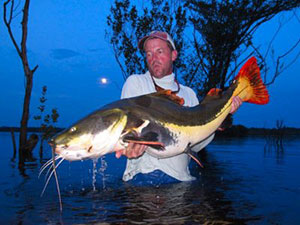 Jeff doesn't consider himself a photographer, however if you're lucky enough to catch one of his shows you wouldn't believe that.  His presentations are full of eye-catching photos and he tells amusing stories to go with.  What would make your pictures better without getting technical?
In "Improve Your Fishing Photography", Jeff tells you what cameras he uses and explains what exactly it is that makes a good photograph.  Then he breaks down how to take better "hero shots", "fish portraits", "landscapes" and "action shots".  He also has helpful advice on how to build your own show from that recent fishing trip. All his tips are simple and will help anyone take a better fishing photo – and the photos he uses to get his point across will leave you in disbelief!
Enjoy a few pics from Jeff's show…
More of Jeff's PowerPoint Presentations
No fly fishing lecturer offers such a variety of topics as Jeff. Whether your club or event needs an instructional presentation like "Improve Your Fishing Photography", a destination program like "Four Seasons of the Yellowstone Trout Bum", or some wild entertainment such as "Fly Fishing in the Presence of a Man Eater"; Jeff offers it all. Jeff has more than ten PowerPoint presentation options. There's something for every event. His shows are well organized, photos are phenomenal and Jeff teaches while entertaining.
Most Popular
Entertaining
Trout
Saltwater
Warmwater
Additional Seminars