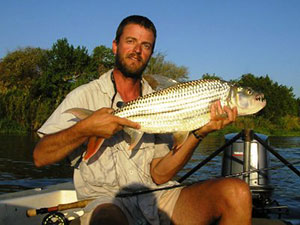 As if we didn't already think Jeff Currier was crazy.  In 2005 Jeff cashed in 180,000 airline miles for two tickets to Africa.  He and his wife Granny then proceeded to load the backpacks and set off for the Dark Continent for two months.  They didn't even have a hotel reservation. Why?  It was time to catch the exotic and toothy tigerfish and they weren't sure they could afford to do so.  They crossed Africa by means of decrepit buses, hitchhiking and leaky boats to the remote regions of Botswana, Namibia and other African countries.  The grueling adventure was a success.
Since that incredible quest Jeff has returned to Africa several times.  Sit back in awe when he shows you a Nile Perch from Egypt.  Then be prepared to jump from your seat when you see his most recent adventure when he catches a monster from Tanzania.  This is an incredibly entertaining must see show.
Enjoy a few pics from Jeff's show…
More of Jeff's PowerPoint Presentations
No fly fishing lecturer offers such a variety of topics as Jeff. Whether your club or event needs an instructional presentation like "Improve Your Fishing Photography", a destination program like "Four Seasons of the Yellowstone Trout Bum", or some wild entertainment such as "Fly Fishing in the Presence of a Man Eater"; Jeff offers it all. Jeff has more than ten PowerPoint presentation options. There's something for every event. His shows are well organized, photos are phenomenal and Jeff teaches while entertaining.
Most Popular
Entertaining
Trout
Saltwater
Warmwater
Additional Seminars