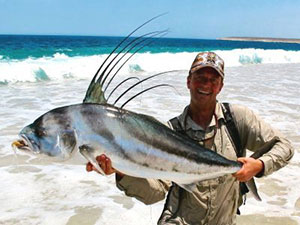 Baja offers one of the best saltwater fly fishing venues of all.  The lengthy peninsula offers challenging beach fly fishing opportunities for roosterfish, rocky points for leader breaking snapper and a bluewater fly fishery that rivals any destination in the world.  Baja has saltwater fly fishing fun for all.
Join Jeff as he takes you through nearly 20 years of chasing the fish of Baja.  Tighten your seatbelt as he shows photos from his first trip where he and friends drove from Idaho to Cabo and lived off the beach.  Then enjoy some of his stunning images of big fish and great scenery from his most recent trips.  Listen as he shares techniques learned not only for Baja but saltwater fly fishing in general.  As always, expect to see not just the regular game fish of Baja, but an assortment of species that will make your head spin!
Enjoy a few pics from Jeff's show…
More of Jeff's PowerPoint Presentations
No fly fishing lecturer offers such a variety of topics as Jeff. Whether your club or event needs an instructional presentation like "Improve Your Fishing Photography", a destination program like "Four Seasons of the Yellowstone Trout Bum", or some wild entertainment such as "Fly Fishing in the Presence of a Man Eater"; Jeff offers it all. Jeff has more than ten PowerPoint presentation options. There's something for every event. His shows are well organized, photos are phenomenal and Jeff teaches while entertaining.
Most Popular
Entertaining
Trout
Saltwater
Warmwater
Additional Seminars