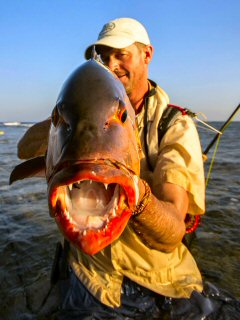 Ever think about fly fishing in the Red Sea of Sudan? After this presentation you will. In 2014 Jeff received a call from his South African friends, owners of Tourette Fishing. "Jeff, we are doing an extremely off the beaten path exploratory mothership fishing adventure to the Red Sea in Sudan. Would you be interested in joining? I don't need to tell you Jeff's answer. Not only would he be part of the exploration in 2014, he'd return in 2015.
Signing on didn't guarantee Jeff's trip however. Sudan has its problems from civil war to wide spread famine. Furthermore, the United States has left its mark over the years attempting to kill hiding terrorists. Let's just say it wasn't easy for Jeff to get his Sudanese VISA. But he did.
Join Jeff as he starts off the ultimate adventure fishing for queenfish during a long layover in Dubai. Then it's off to Sudan. You won't believe the stunning photos of coral reef, flats and shockingly beautiful fish species. From bonefish to coral trout, bohar snappers to bluefin trevally, the Red Sea of Sudan has it all.
Enjoy a few shots from Jeff's show…
More of Jeff's PowerPoint Presentations
No fly fishing lecturer offers such a variety of topics as Jeff. Whether your club or event needs an instructional presentation like "Improve Your Fishing Photography", a destination program like "Four Seasons of the Yellowstone Trout Bum", or some wild entertainment such as "Fly Fishing in the Presence of a Man Eater"; Jeff offers it all. Jeff has more than ten PowerPoint presentation options. There's something for every event. His shows are well organized, photos are phenomenal and Jeff teaches while entertaining.
Most Popular
Entertaining
Trout
Saltwater
Warmwater
Additional Seminars