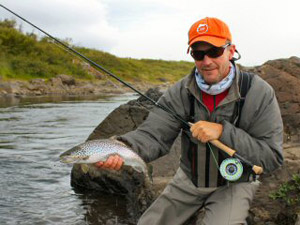 Jeff's vast knowledge of fly fishing for trout is not limited to his home waters of the Rocky Mountains and Yellowstone backcountry. His low-budget way of life, his sense of adventure and opportunities to work abroad have allowed him to fly fish for trout where most people only dream about. Join Jeff as he travels to the most outlandish trout fishing destinations imaginable ranging from New Zealand to Bhutan, Mongolia to Slovenia and more.
In addition to amazing photography of incredible destinations be prepared to learn about salmonid species you may not know exist. Jeff's specialty is exotic fish and in this show expect to see taimen, lenok, Yugoslavian brown trout, European grayling and the striking marble trout (Salmo marmoratus). This is a show you don't want to miss!
Enjoy a few shots from Jeff's show…
More of Jeff's PowerPoint Presentations
No fly fishing lecturer offers such a variety of topics as Jeff. Whether your club or event needs an instructional presentation like "Improve Your Fishing Photography", a destination program like "Four Seasons of the Yellowstone Trout Bum", or some wild entertainment such as "Fly Fishing in the Presence of a Man Eater"; Jeff offers it all. Jeff has more than ten PowerPoint presentation options. There's something for every event. His shows are well organized, photos are phenomenal and Jeff teaches while entertaining.
Most Popular
Entertaining
Trout
Saltwater
Warmwater
Additional Seminars