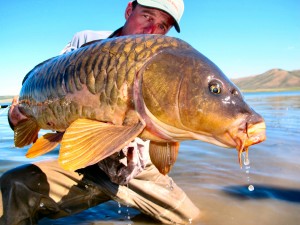 If you haven't stalked a carp with your fly rod yet you are missing out.  Most of us have them in the neighborhood.  They are often huge, always spooky and present the ultimate presentation challenges.  They are perfectly designed to test even the best fly fishing skills.
Join Jeff as he teaches you about the different species of carp found here in the US.  Learn the tricks for finding them and what their feeding behaviors are.  Find out what size rods and reels you need to target them.  Best of all Jeff will show you his favorite flies and tactics he uses to fool these elusive giants.
Enjoy a few pics from Jeff's show…
More of Jeff's PowerPoint Presentations
No fly fishing lecturer offers such a variety of topics as Jeff. Whether your club or event needs an instructional presentation like "Improve Your Fishing Photography", a destination program like "Four Seasons of the Yellowstone Trout Bum", or some wild entertainment such as "Fly Fishing in the Presence of a Man Eater"; Jeff offers it all. Jeff has more than ten PowerPoint presentation options. There's something for every event. His shows are well organized, photos are phenomenal and Jeff teaches while entertaining.
Most Popular
Entertaining
Trout
Saltwater
Warmwater
Additional Seminars