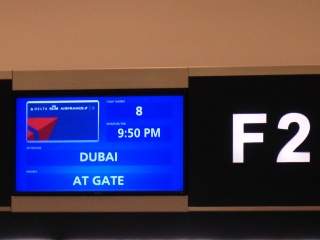 I'm guessing you've noticed by now, I keep the pedal to the metal.  I had smooth travel from Victor, Idaho all the way to Dubai, United Arab Emirates (UAE).  Just two flights, Jackson Hole direct to Atlanta (3 hours) then Atlanta direct to Dubai (14 hours).  From my door to my hotel in Dubai took only 25 hours.  I'll hang in Dubai till Monday morning and then meet up with my South African friends that own Tourette – Fight it in Africa and we'll all fly to Sudan together to begin fly fishing in the Red Sea .
You might remember I was supposed to be traveling with my friend Mike La Sota from Oregon.  We were going to check out Dubai together before meeting my S.A. friends on Monday.  Well, Mike had a terrible family emergency and he pulled the string at the last minute.  So I'm on my own till Monday.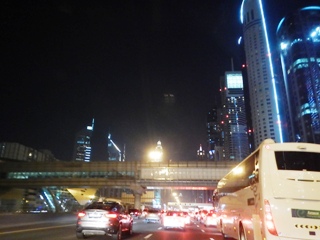 The travel was the easy part.  Being alone in a strange place to battle jet lag and time change is challenging.  Dubai is 10 hours ahead of Idaho so it's nearly a complete flip flop of the day.  I arrived at the Citymax Hotel in Al Barsha part of Dubai last night at 9 PM Dubai time which was 11 AM at home.  You MUST get yourself on schedule for the new time zone so I did my best to sleep, but even with an Ambien I slept poorly and only till about 3 AM.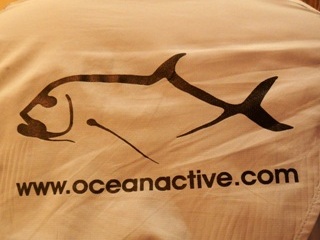 At 6 AM, when my confused body was ready to sleep because it was turning night back home, Nick Bowles, owner of Ocean Active, came by the hotel to fetch me to go fishing.  I Googled up Ocean Active a few weeks ago about fishing during my layover here in Dubai.  After several emails we arranged to fish today.  Nick is a South African that settled in Dubai years ago.  One of the main reasons he settled in Dubai is because of the fantastic fishing here and in the surrounding Middle East areas.
Nick arrived promptly.  I was outside the hotel yawning while chatting with security enjoying the cool but comfortable temperature before sunrise.  I hopped in the truck and Nick and I immediately hit it off like we were old friends – often the way it is in the small fly fishing world.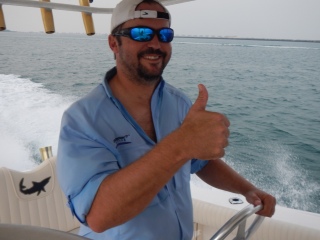 Getting to know Nick perked me up.  He's a great guy in his late 30's.  He's very knowledge about fishing in Dubai and in fact the entire Middle East.  One of his specialties, a place I've wanted to go, is Oman.  (Looks like I'll be heading back this way sooner than I expected!)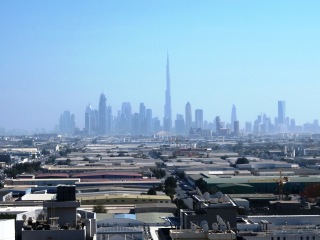 The sun rose as we drove south of Dubai about 30 minutes.  You can't believe how strange this city is.  Dubai literally sprawled up and out of the desert.  And I do mean up, there are about twenty-five skyscrapers.  Each one was built in the last ten years, most in the last five.  They are shinny new, have some strange but beautiful architecture and you could eat off the streets.  This place is the cleanest most organized city I've ever seen.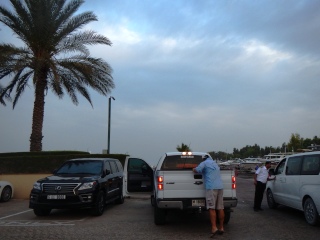 We arrived at a marina south of the city where we loaded up Nicks 28 foot Mako with gear.  By now clouds moved in and the wind picked up.  I hardly had time to blink since I arrived in UAE so I was a little unorganized.  But, that being said I had my new 10-weight Winston Boron III SX ready and matched it with my Ross Momentum Lt and a Scientific Anglers WF10I Intermediate Tarpon Taper.  No, there aren't tarpon here its just that this intermediate line is perfect for many saltwater situations.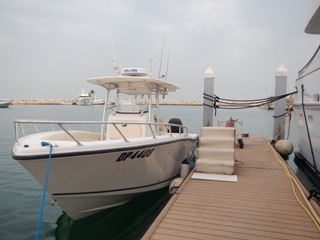 Naturally there had to be some glitch before we pulled out.  Usually with "Monsoon Currier" its weather, but Nick had an unexpected engine issue.  So bad he called for help.  But as we waited around, I was casting off the docks, he fixed the problem and soon he was positioning me on birds busting bait in a shipping channel.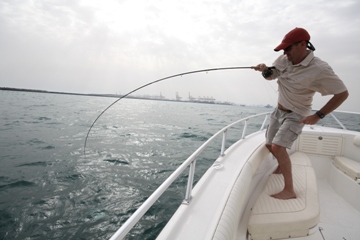 As often in the salt, the wind was cranking.  I have good sea-legs but it took a few seconds for me to get comfortable in the bow and execute a cast.  Once I had the fly in the water I concentrated on the fishing.  The first few casts weren't the greatest but as I false cast number four; I saw some fish sizzling through the waves.  I landed my fly where it needed to be and on the first strip I got a yank.  "Woo Hoo!  Are you **** kidding me!" I yelled.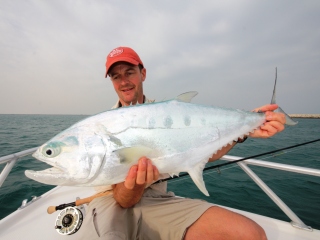 A five minute battle ensued.  Most of it down and dirty below the boat.  It was an excellent test of all my knots and equipment.  I was hoisting in a mother of queenfish.  For sure there are three queen species, the two spot (caught them at Christmas Island), the needlescaled (caught in Madagascar) and now the big boy, the talang which I haven't caught.  Soon I was smiling with my queenfish.  I was shocked at getting the first nice fish so easily!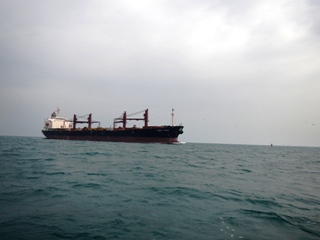 In the next hour Nick and I dodged massive ships, tossed in the wind, rolled with the waves and chased schools off bait-terrorizing queenfish.  It was truly unbelievable.  The fishing didn't continue at a fish per four casts, that was beginners luck, but we smoked three more respectable queens before being kicked out by the (UAE) Coast Guard.  No fishing in the shipping channel!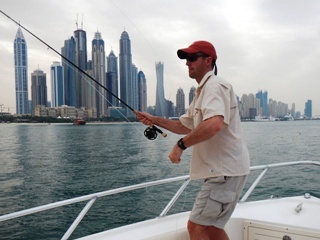 During our travel to the next spot, the wind subsided and the sun came out.  We moved up to the city to a busy little harbor.  To be exact we were in front of the "Tallest Block" in the world.  There were massive yachts, many owned by the sheikhs, and water sports going on everywhere.  There were a few fish busting, but before I could get a cast off they'd get spooked by a boogie boarder.  It was fun trying because of the amazing city setting but soon we moved on to quieter waters.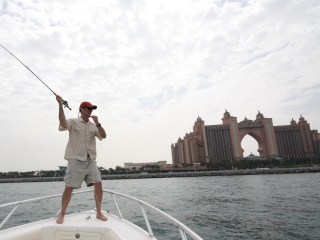 Nick gave me a unique tour of Dubai from the boat.  It's not the angle most tourists get to see.  As I took in the sites I made more casts including some in sight of the glamorous Atlantis, The Palm where you can sleep in an aquarium (see it to believe it).  We didn't catch more fish here but we did in the next spot.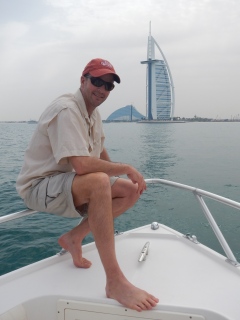 We went near the famous Burj Al Arab Hotel.  Granny and I were just looking at this amazing architecture on the web two nights ago.  Lo and behold as I posed from the bow with this structure behind me, the queenfish started attacking baitfish in front of the boat.  I lunged for my 10-weight and ripped line off my Momentum so fast it's a wonder I didn't wreck my own drag.  I launched the cast into the mess and had four big queens move in behind my fly.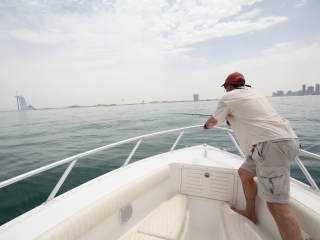 I learned throughout the day that the queens are surprisingly selective.  The fly must match the bait.  In this particular area the baitfish were minuscule and despite the group of hungry queens slashing behind my fly, not one would eat.  For the next half our or so, I'd continue to have queens chase my fly but they would not execute.  Nick even tossed a hookless teaser but these queens wouldn't fall for this trick either.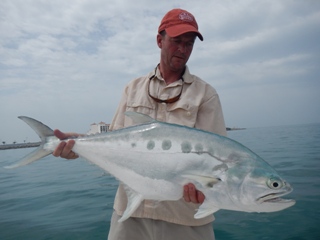 Finally we solved the puzzle with a small white fly.  The queenfish still weren't exactly crushing it but I managed four more to the boat including the biggest of the day.  Not only did we have to discover this fly but I had to drop my leader back to 22lb flouro tippet.  I prefer to use at least 40lb shock tippet for most ocean fish but the queens would not tolerate it.  Unfortunately the rough mouths of the queens cost us a few flies too!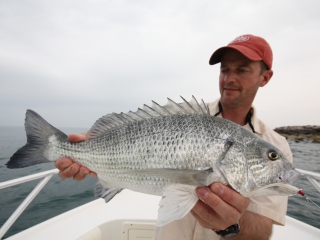 We ended the thrilling first day back where we started, in the shipping channel.  The Persian Gulf, now known as the Arabian, was dead calm.  You could see for a mile but all the busting fish from this morning were gone (just as well so the Coast Guard didn't come after us again).  We were about to call it when Nick suggested casting to a rock jetty on the way in.  Good call Nick, I landed two new species.  Above, the Sobaity Bream, a toothy predator bream that Nick says is rare and he's never seen caught on the fly and below the common orange spotted trevally.
Nick and I got it done today.  Man what an incredible way to fight off the jet lag.  I landed ten quality fish all within sight of Dubai.  Just to top the day off Nick invited me over his house for beers and snacks with his family.  We sat outside and watched the sunset on the world's tallest hotel and the tallest building, Burl Khalifa.  What a day.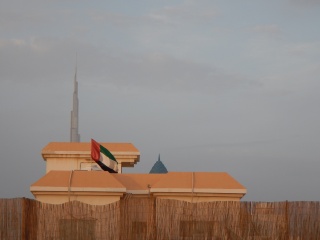 If you're lucky enough to be traveling through Dubai and want to fish be sure to let me know and I'll introduce you to Nick Bowles at Ocean Active!