June 2, 2013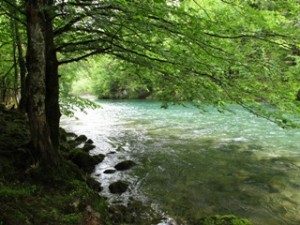 It's almost twenty-five years to the day that the former Yugoslavia broke up into smaller countries.  Slovenia, where Vladi and I have been fishing these first three days, is the furthest north and west.  Just south and east is Croatia.  There are a couple of rivers in Croatia that are on my list to fish.  One is called the Kupa which begins in Risnjak National Park.  At 5 AM Vladi and I headed for this European grayling and brown trout filled river.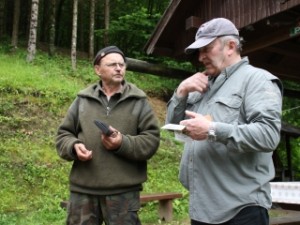 The Kupa would be a long day trip of three hours each way.  We crossed into Croatia at about 8 AM.  Croatia is not part of the European Union yet so we had to go through immigration at a tiny little post in the boonies.  Once in we took a winding road to the small town of Zamost where we started our search for info and a location to buy a day permit for the Kupa.  It took a good two more hours to get organized because we got lost five times at least.  Eventually we found ourselves in the middle of nowhere on the banks of the Kupa getting licenses from some little mountain man who wanted me to drink some Slivovitz before we started.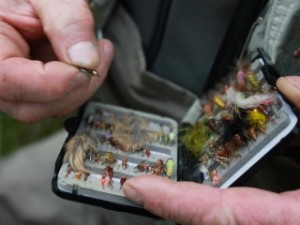 The Kupa is absolutely gorgeous.  Not only that but we had the river entirely to ourselves.  At a glance the Kupa appeared to be Polish Nymphing heaven so today Vladi opted to fish.  I rigged a nymph as well (you're only allowed one fly in Croatia) but kicked back to watch Vladi.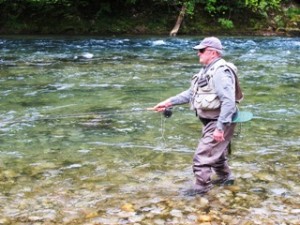 Vladi is not only one of the top anglers in Europe (he proved it when he won the World Championship in 1992 in Finland) but he is also the one who put Polish Nymphing or Czech Nymphing or Euro Nymphing (whatever you choose to call it) on the map.  He did so in the Finland World Championship when he landed an amazing 80 grayling in one three hour session.  I'm lucky in that he adopted me when I fished in the Worlds for the USA in Poland in 1998.  He's taught me a heck of a lot about European fishing and made me quite dangerous to fish when it comes to Polish Nymphing.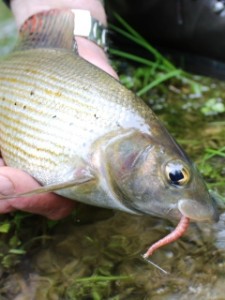 Vladi knocked off a few European grayling quickly.  Soon I jumped in and didn't have such quick luck.  However I spotted this nice grayling nymphing very shallow.  I tossed several Vladi nymphs at him without success before I played dirty and stuck a Vladi Trojan worm his way.  As usual the grayling could not resist and moments later he was in hand with the giant worm fly hanging from his lip.
I'm quite pleased with this European grayling.  The European species do not get as large as the Arctic grayling.  His coloration was outstanding.  He was long and fat and best of all his dorsal fin was large for European grayling.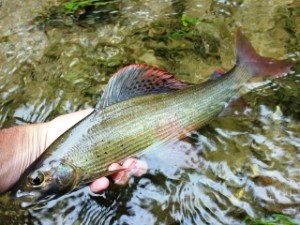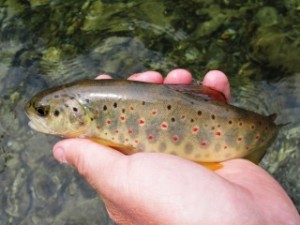 Although fishing started red hot it didn't last.  We wore out our welcome in the first pool and none of the other pools compared.  The highlight of the day ended up not being that big grayling but rather a few tiny 8" brown trout.  These browns, despite being small were very challenging on the dry fly.  I caught three on parachute hares ears.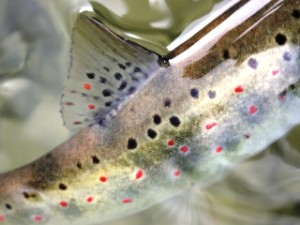 What was extraordinary about them to me was the placement and brightness of their red dots.  They were literally electric.  And most incredible of all was that each one of these browns actually carried the red dots into the dorsal fin!  I don't ever recall such unique markings on any brown trout I've caught around the world.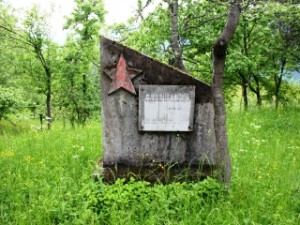 What I love best about fly fishing in Europe is that it's like going back in time.  Many of the villages, houses, churches, roads, bridges and the list goes on are hundreds of years old.  There's some fascinating history every step you take as well.  Often times I'll come across a WWII monument.  Today in Croatia was no different.  What an incredible day.
Jeff Currier Global Fly Fishing