Exploratory Fly Fishing Trip to Gabon comes to an End
Categories: Uncategorized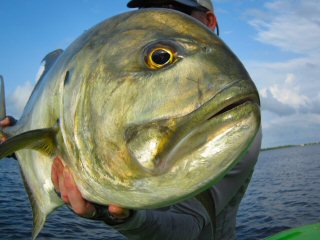 Man, this over 50 crap is for the birds.  Yes I've fished hard this week and its saltwater beach fishing for the most part and it's intense.  It wasn't easy getting out of bed at 5 this morning and my body was in shambles.  That snapper last night may have busted my hand and every muscle in my legs and back are sore from that tug of war.  It's kind of cool in a sick way.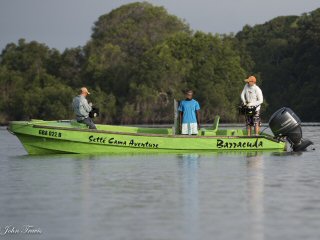 The tide wasn't close to right for fishing the mouth of the estuary so once again we fished the estuary itself for snapper and jacks.  I absolutely wasn't myself.  I'm not sure what the problem was but I kicked back and watched Mike and the other boats much of the morning.  My left hand barely functions from the battle wounds this week and I simply couldn't wake up.  It's alright though.  I'm content.  This has been an amazing week with two fish I'll remember forever.  Make that three.  I may not have caught that tarpon but I'll never forget that jump in the moonlight.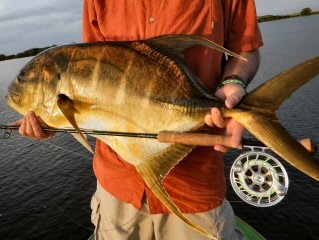 Mike managed a very nice longfin jack and I of course needed one more before I return home.  These longfins are one of the best surprises of the trip.  Yes they are a jacks but they fight hard, take the popper and are one "bad" looking fish.  I may have to paint one of these when I get home.
After lunch I could've probably napped but instead it was jungle hike day.  All week we've talked about doing a guided hike through the rainforest but as on most fishing trips, we fish so hard these side trips never happen.  Well, it's the last day.  It was now or never and several of us decided to go.  Who knows if I'll ever make it back to West Africa?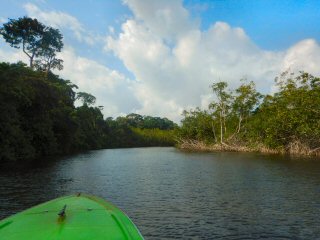 The hike was just what I needed.  We boated up a piece of the estuary I've been curious about.  There were hippos and great birds.  It was very pretty.  Fishing where we were must be unreal but because we entered Loango National Park it is not allowed.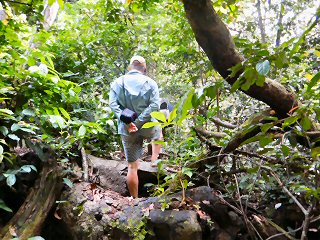 We parked and hiked.  We had a guide who knew the area but he didn't say much.  We walked for about two hours from where the boat dropped us off on the estuary to the ocean.  Along the way we saw way too many ants, some great spiders and the tree tops were always shaking from fleeing monkeys.  This is the home to lowland gorillas and chimpanzees but no such luck seeing them.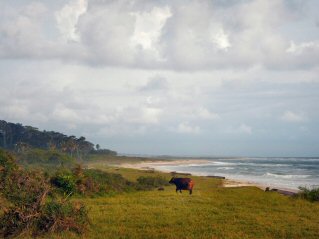 When we hit the ocean we were about a mile down the beach from where we fish the mouth of the estuary.  It was one of the most gorgeous places I've ever seen.  Definitely in my top ten.  There were elephants and we saw our first forest buffalo of the trip.  They can be dangerous but he was a loaner and took off.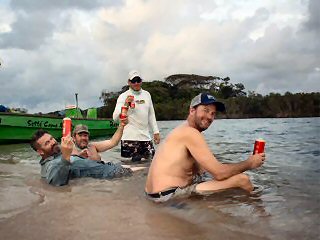 We hiked the beach all the way back past the point we often fish and met up with Mark and the guys who didn't hike.  They arrived with the boats and brought out fishing stuff for us.  The tide wasn't nearly right for fishing so we swam to cool off from the hike and sipped some Régabs.
While we relaxed a storm moved in.  By the time darkness set the moonlight was replaced with black clouds and light rain along with an incredible lightening show.   Some went to the point for tarpon and hopes for a threadfin while I and a couple of the guys stayed where I caught the big snapper last night.  It was so dark you couldn't see your hands except for when the lightening flashed.  It was very ominous.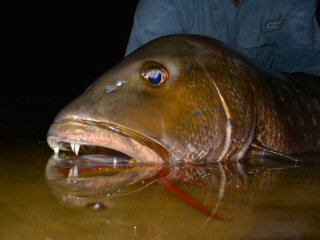 It was another one fish night.  Conrad hoisted in a nice African cubera to end the trip.  It happened as soon as we started and it felt as though we were about to test some fly rods but that was it.  The guys on the point never touched a fish.
The rain picked up around 9.  Mark walked back from the point with the guys and asked John and me how much longer we wanted to stay.  That was definitely the same as saying we're ready to go when you are.  It seemed hopeless so I did my famous ten last casts but to no avail.  We returned to camp exhausted but it was the last night – that means some beer and also some Cuban cigars.  Life is so dang good!
I've made my last cast I Gabon for this trip.  Tomorrow I start the long journey home.  The adventure was a success thanks to lucking into my monster African threadfin on the first full day – awesome!  In the next day or so I'll close the book on Gabon and show more storytelling photos that didn't make the blog.  Stay tuned. . . . .
A special thanks to my friends of Tourette Fishing – Fight it in Africa for inviting me on this unreal trip!  Also a thumbs up for Mark Murray who has been head guide on many of my Africa trips.  Mark makes it happen!