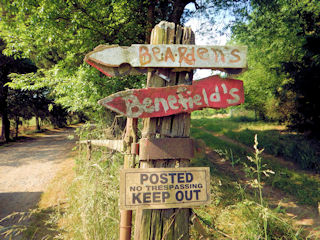 It's not often that a guy from Idaho gets a chance at monster largemouth bass at a private bass lake.  But when you have the right connections and friends such as Andy Bowen, owner of Cohutta Fishing Co., you can manage to get lucky.  Today is my last day in Georgia so Michael, Andy and I decided to take it easy and poke around in Andy's boat on an old quarry that's been turned into a bass lake.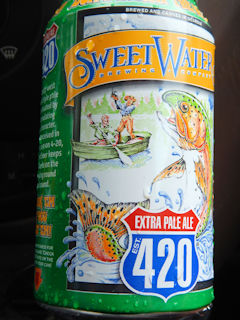 The only problem with a bass lake made from a quarry is that finding largemouth is a problem.  There's no lily pads and no weed beds to be found.  The lake drops off like the Grand Canyon and you must dredge to find them.  I've fished this type of water in Arizona and its tough.  Luckily, Andy knew the deal and he packed the cooler with one of Georgia's finest, Sweet Water 420 beers.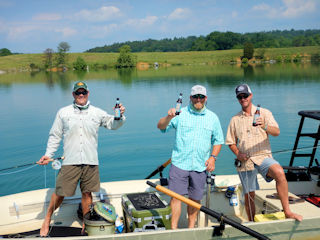 A long story short we worked hard for just a few small bass.  The slow fishing didn't matter however because my mouth feels better, my speech last night went terrific and we had a great time.  A storm came through around 1 PM and left us with heavy rain.  We packed it in early and munched some barbeque from one of Andy's favorites in Cartersville.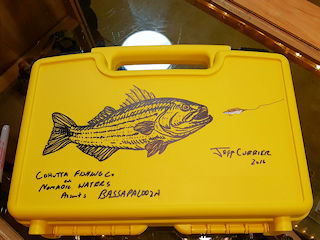 Tonight my gig at Cohutta Fishing Co. went excellent.  There wasn't a ton of folks but most there were young and excited.  I ended the night with some striped bass sharpie art on Cliff Fly Boxes.
It's been a lot of fun down here in Georgia.  I give a special thanks to Michael Williams for organizing this tour and thanks to the Cohutta boys Andy Bowen, Garner Reid and Conner Jones for all the terrific fishing they provided along with three new species for the list!
I'll fly home bright and early tomorrow but my visit home will be less than 12 hours.  Saturday morning it's off to Mexico.  Get ready for some good times with Sammy Vigneri and Grant Hartman on the beaches of Baja!