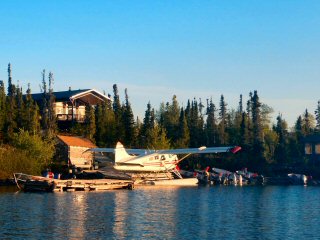 It was time to begin the journey home today and wouldn't you know, there was no smoke and not a cloud in the sky.  I was aggravated to say the least knowing that if today were yesterday we'd have flown to the Sand Dunes and Hunt Falls.  But sipping coffee outside my cabin was Ron and as I stepped out he asked, "Want to do the Dunes today?"
Technically, RA, Austin and I could stay another day.  We don't fly out of Saskatoon for home till July 2.  As long as Adventure Destinations could get us from Selwyn Lake Lodge to Saskatoon tomorrow instead of today, the Dunes and the falls was an opportunity we weren't going to miss.  Luckily, switching our travel wasn't a problem.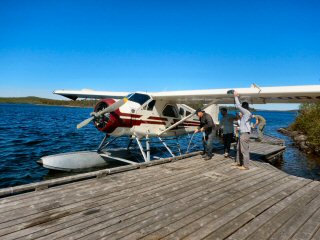 The only thing we needed was a little patience to wait for Ron to fly some folks to a fly in Lake.  That wasn't a problem and when he returned at 9 we loaded the De Havilland Beaver with our gear.
As we were about to climb in, an SOS came.  The guys he literally just dropped off radioed in they had an emergency.  Out came all our stuff and then Ron and camp manager Greg flew off to make a rescue.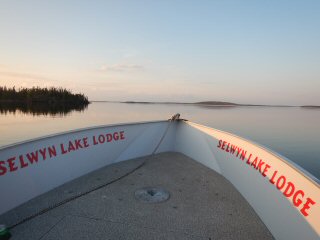 RA, Austin and I were worried about the SOS and hoped it was nothing major, but deep inside we were pretty bummed.  The only good news is that we could go pike fishing.  The three of us took a deep breath and off we went to some nearby bays.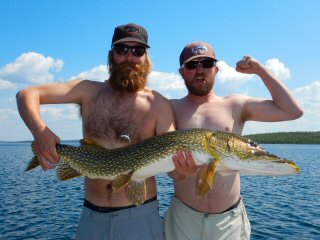 RA and Austin have been working their tails off all week so rather than fishing this morning I ran the boat and watched.  I don't believe we had a piece of filming gear on board which was nice for us all.  Best of all, fishing was its usual fabulous and the boys caught a heap of nice fish including this piggy pike that took both the guys to hang on to!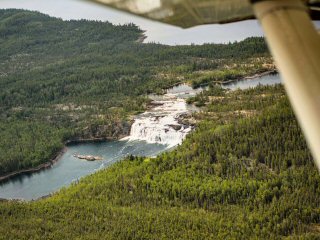 I heard the Beaver returning at 1 PM and we reeled it in and headed back to the Lodge.  We got in seconds after the Beaver parked.  Ron and Greg had good news.  The SOS was a motor failure issue that was easily fixed and we were going to Hunt Falls.  This time we loaded the seaplane and took off.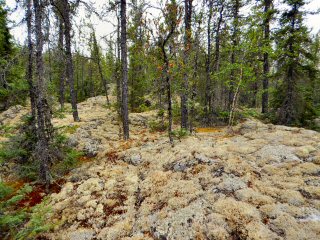 Hunt Falls, once known as Lefty's Falls (a recent name change) are the largest falls in Saskatchewan.  Both from the air and ground they are absolutely gorgeous.  We landed on the lake that provides the water for the falls then hiked in through an enchanted northern forest covered in a blanket of lichen.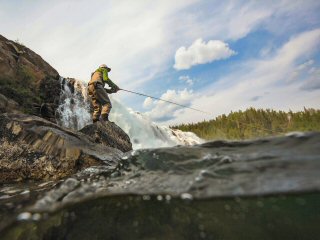 I packed both a grayling and pike rod with hopes to catch a few more fish.  The first thing I noticed walking along the river before the falls were lots of bugs hatching but no rising grayling.  A sure sign they actually may not be around.  Once to the falls I set up the pike rig on my 9-weight and fished all the good looking water without a sign of a pike.  Not a big deal, we've had our fishing this trip.  The falls were spectacular and well worth the trip.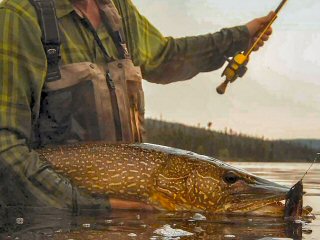 On the flight home we met one more surprise.  In order to do our trip, the anglers Ron dropped off early today that also had the SOS, Greg ordered another plane to pick them up.  We got word that the pilot for this pick up was down south on the fires.  With the "clients come first" point of view that you must have when running a lodge, Greg asked if RA, Austin and I would mind getting dropped off at the South Arm to fish for an hour while Ron retrieved the stranded clients.  Yea I think we can handle that!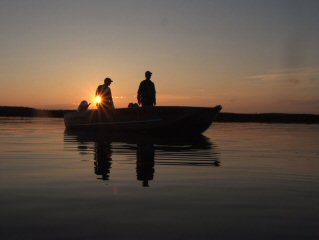 We spent our last evening beating on yet another bunch of huge incredible Selwyn Lake pike before Ron returned to pick us up around 8 PM.  This trip, bonus day and all, has been truly outstanding.  Tomorrow we begin the long trip home.  Stay tuned for a few more photos and final word on this fantastic adventure and filming project for the 2016 F3T Fly Fishing Film Tour.
A special thanks to RA Beattie Outdoor Productions and Adventure Destinations for bringing me along on this incredible adventure to Saskatchewan!