Fly Fishing at Tarpon Lodge on Pine Island Florida
Categories: Uncategorized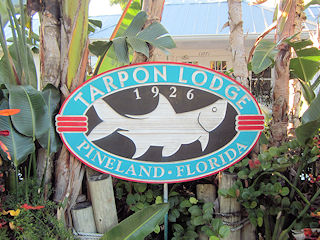 One of my absolute best customers back in my fly shop days was George.  Year after year George treated his friends and family to fishing in Jackson Hole Wyoming.  I handled his trips and retail and made sure they had a great time.  His favorite fishing guide was Rick Schreiber and over the years Rick and I became good friends with George and his crew.  Rick has since retired from guiding and I've left the shop.  Now George brings us along on his annual fishing adventure.
For nearly ten years we've ventured to Wisconsin.  We've mostly ice fished but there were few musky fly fishing trips as well.  This year George changed it up and we're at the historic Tarpon Lodge on Pine Island in Florida for redfish and whatever else fun swims along.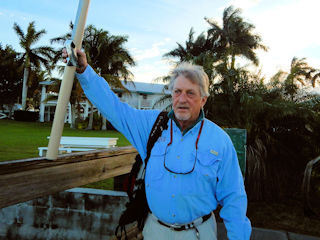 As you might expect from a guy nicknamed "Monsoon Currier" the weather went to heck upon arrival.  It's been 80°s and sunny here for a month but as we touched down in Ft. Meyers a front moved in and we had torrential rains all night.  This morning the rain is gone but the storm left us with 55° temperatures and a steady 19 mph wind with gusts to 25 mph.  The weather is so bad for fishing that head guide, Captain Terry Fisher, made a futile attempt to cancel us when he saw the forecast a few days ago.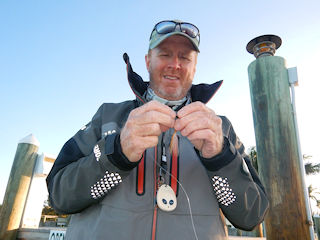 After a hefty breakfast at the lodge our guides picked us up at the dock.  Terry greeted us halfway down the pier and laughed at Ricks and my fly rods.  It was exactly when one of those sweeping gusts nearly stole my Winston hat from my head.  Ricks and my guide is Captain Blake Matherly, and I could see the skepticism when he saw the fly rods too.  In a subtle way Blake did all he could to talk us out of using them.  After some counseling from both sides he handed me a chartreuse and white Clouser and tied on a brown one for Rick.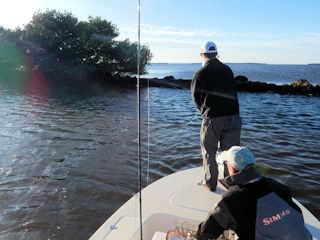 We pushed off and drove a whopping two minutes from the dock and Blake asked me to cast under an overhanging mangrove.  He claimed it was a snook spot and no doubt it was fishy.  But the real reason a guide has you cast this close to the dock you started at is to see if you can cast.  Luckily I passed his test and we took off into the high seas southward for 45 bouncy minutes.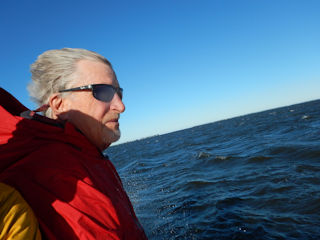 When waves are big never leave the dock on a flats boat without wearing your rain gear both tops and bottoms.  Even the best of captains, and I've already learned Blake is superb, you'll take on some splashes.  The three of us dang near needed snorkels for the ride to Blake's first fishing spot.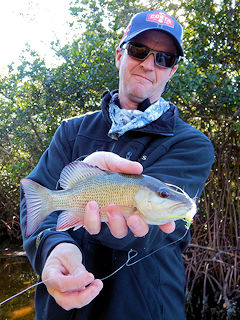 As we entered a narrow channel it was obvious why Blake put me through the casting test.  I had to be extremely meticulous with my back cast because not only was I steeple-casting over Blake's head but also wedging my loops between the overhanging mangroves.  Over the next hour I landed nine handsome bluegill sized mangrove snappers.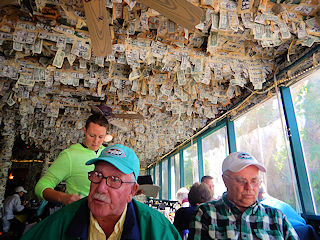 An hour is all we had before we went to meet the rest of the group for lunch.  I can't remember the name of the place but it had excellent food and its believed Jimmy Buffet came up with his "Cheese Burger in Paradise" song here.  I crushed six stone crab claws and we all nailed two beers.  The place was completely decorated with 1$ bills.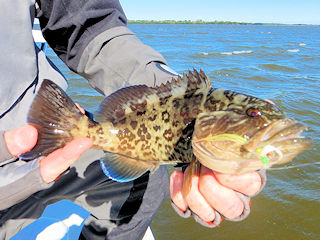 The afternoon session was nothing to write home about.  Rick took the bow for most of it and landed a few mangrove snappers of his own.  The wind continued to howl but the sun may have warmed things up to a heatwave of 60°.  The highlight of the afternoon was this cute little gag grouper Rick enticed to eat his Clouser at the base of an old dock.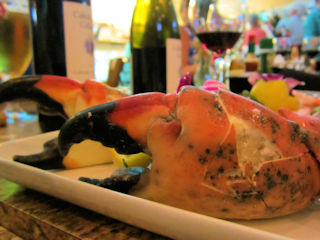 As strange as it may sound to a hardcore angler, the highlight of trips with George is eating.  My dream would be to treat my friends to fishing by day and to eat the greatest food imaginable by night.  George lives my dream.  We went to the Lobster Lady in Cape Coral and experienced the best appetizer feast in the history of mankind.  Yes – mankind.  George's right hand man, Dave Baker (has been on every trip), carefully organized the appetizers two weeks in advance.  Eight of us demolished lobsters, hundreds of shrimp prepared six different ways, colossal crab claws, oysters and the list goes on.  For almost two hours we devoured so many appetizers that no one had room for dinner.  Instead we went directly to desert!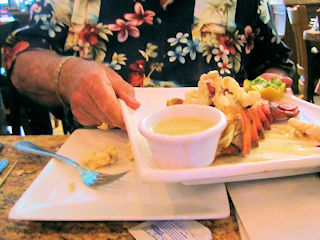 I'm so full I can hardly breathe let alone type my blog.  I recon I'll sleep on my back tonight and dream about tailing redfish for tomorrow.  I should mention that while Rick and I struggled with the fly rods, the other six guys fished live shrimp and caught snook, flounder, redfish, black drum, sheepshead, grouper and mangrove snapper.  We'll continue to be stubborn with the flies again tomorrow even though once again, the weather forecast isn't on our side.