Striper Fishing on the California Delta
Categories: Uncategorized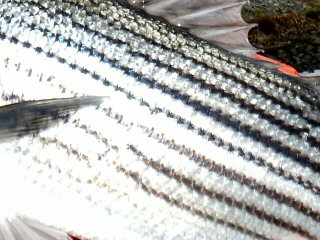 I don't get a chance to wet a line much in the heat of my speaking schedule but today was an exception.  Granny and I are working our way down to the Pleasanton, California Fly Fishing Show.  Last night I spoke to the Tracy Fly Fishers Club.  It just so happens my friend Ben Byng lives here and today he generously took Granny and me to the California Delta to check on the striped bass fishing.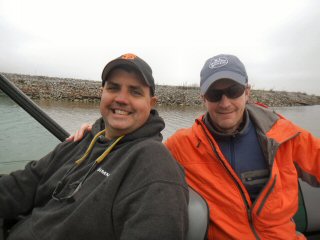 Ben and I have been friends for about fifteen years.  We met at the Sportsman's Show in Sacramento when he was tying flies and had a picture of himself holding a huge striper.  I couldn't help but quiz him about the pic and within minutes he offered to take me.  We've been friends ever since.  I join him annually on the Delta and he often makes it to the front of my drift boat on some great trout rivers.
The weather has been above average mild and dry since we left Idaho on the 12th.  From Idaho to Seattle to Portland and now California, almost every day has been bright, sunny and warm.  But wouldn't you know, today was the coldest, dreariest, foggiest day California has had in months just because "Monsoon Currier" wanted to go fishing.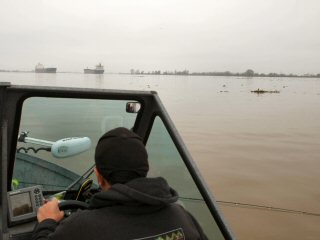 Regardless, it's always good to get out and get that first fly fishing outing of the year under the belt.  We launched Ben's boat at Holland Riverside Marina.  From there we navigated through scattered heaps of hyacinth and dense fog.  I've seen the fog on the Delta plenty of times but all the floating vegetation is a new problem.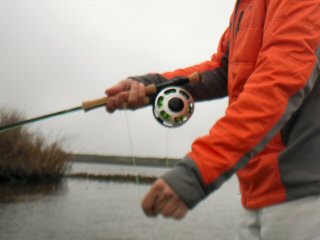 I was tossing my Winston 9' 7-weight with the Scientific Angler Streamer Express 300 grain.  The grain weight of this fly line is better suited for the 9-weight but my aging eyesight experienced a mishap when I pulled the rod from the dark closet at home last week.  I saw the 9' and mistaken it for my 9-weight.  I adjusted my stroke to make it functional but its mistakes like this that force you to become a better caster!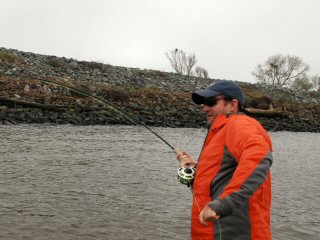 I wasn't feeling confident when Ben cut the engine at the first spot.  There was tons of debris floating and the water was murky.  Ben pivoted the boat with his trolling motor while I tied on one of his straight black Clouser-like concoctions.  Despite the lack of confidence it felt good to launch that first cast of the year.
On my third cast I went tight on the first strip and running line began bouncing through my guides.  The pull caught me totally by surprise.  Both Ben and Granny thought I was snagged on the riprap next to where my fly landed but it became obvious that it was a fish as he darted to the deep.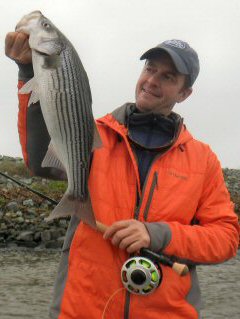 This hungry striper was up for the fight but so was I.  You probably remember my last fly fishing day of 2014 was dredging in the Seychelles.  To prevent those fish from retreating to their homes we cranked down on every one and didn't let them run at all.  I had a flashback and treated this striper the same.  Within two minutes I was lipping my striper and posing for a picture.
Granny called it when I let the fish go.  She stated that I jinxed the day by catching one too quick.  Sure enough she was correct.  We went about six hours without further action.  We continued to cast and try numerous places but all we did was soak in the cold damp into our bones while watching some huge ships make their way.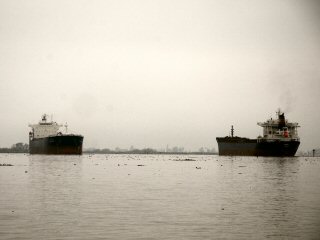 During the last hour of fishing the stripers turned back on.  Ben took us to a drop off near where we started the day and we doubled up on some small stripers and Ben caught a chunky little black bass about 10".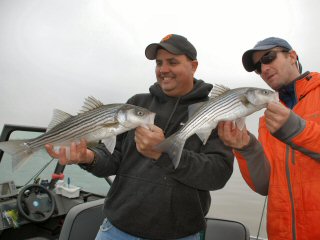 I'm most certain that if we fished till dark we'd have enjoyed some good fishing.  Ben in fact said fishing was good late.  But unfortunately Granny and I needed to check get on the road to Pleasanton and get ready for this weekends show.
The Pleasanton Fly Fishing Show is generally a busy one.  Be sure and come by if you live in the area.  You can scroll down to yesterday's blog to see my speaking schedule.