Fly Fishing Selwyn Lake at Thousand Pike Bay
Categories: Uncategorized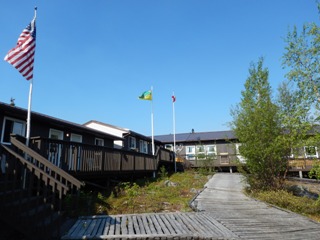 We awoke to a spectacular day.  There was hardly a cloud in the sky and regardless of being on the Saskatchewan/Northwest Territories border it was hot and humid.  Down south the fires continue to get worse.  They are evacuating at Missinipe on Otter Lake where we were earlier this week.  We're lucky we made it out and it's amazing we barely see any smoke up here.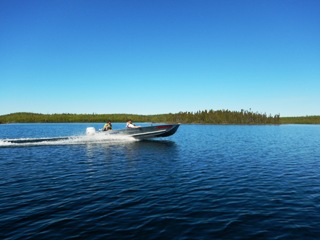 We got on the water early.  Ron didn't wake up to any fires of his own with work so he, Brennan, RA, Austin and I headed up Selwyn Lake across the Saskatchewan border into Northwest Territories to a place the lodge calls Thousand Pike Bay.  The boat ride was beautiful.  The scenery on Selwyn Lake is stunning with many islands and rocky reefs that stick out of nowhere.
The reason for all the forest fires is several years of drought.  You can see it as you drive the lake because water levels are three feet below normal.  Past years the guides here can drive right into Thousand Pike Bay but this year they must drag the boat.  We traveled up in two boats but dragged only one of them into the bay.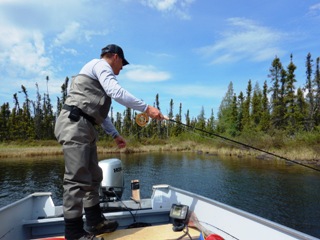 Thousand Pike Bay didn't live up to its name in the morning.  We caught some fish and they were nice, but Brennan fished here four days ago and caught over 100.  They caught them on spin gear so we thought the flies would turn them on again but it seemed we'd be lucky to catch twenty.
Worst of all I got careless with a 35 incher.  I'm using six feet of 35lb flouro for the mono part of my leader and I horse these brutes in fast.  This particular fish was fired up when I landed him and squirted out of my hands and up over my shoulder then behind me.  When he came around the other side my line rapped around my rod tip and he took off again breaking my 9-weight.  It was a really stupid move on my part.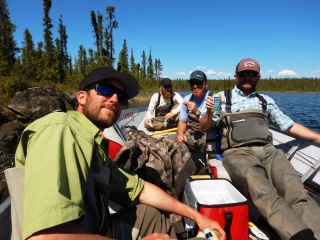 The one thing with pike is that the bite can turn on in an instant.  We saw it yesterday when the storms rolled through.  It didn't look like a chance for a storm at noon but it was warming up tremendously.  Perhaps the heat would help.  We decided to take a break and kicked back in the middle of the bay away from the mosquitoes and had lunch.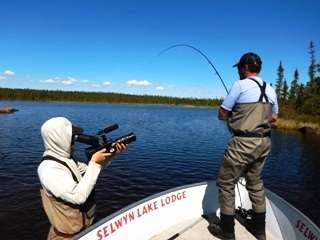 A break was the ticket.  No more than five minutes back on the fishing, Ron slipped a cast over a deep hole.  He stripped in and was lifting to make another cast when behind his fly was a long shape.  Ron saw the pike just in time to stop the fly and as it dropped the gills flared and he set the hook.  Absolute chaos took place as a 40" plus pike took off and four men tried to get out of Ron's way in a small boat!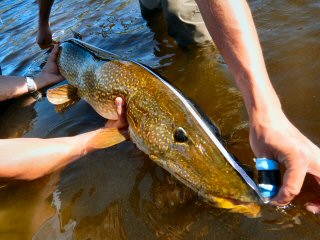 No doubt we need some big pike to make an excellent film for the 2016 F3T film festival and this was our fish.  After an intense battle with the pike maneuvering around rocks and near sunken trees and you name it, Ron eased the monster to the shallows where I was waiting to grab him.  Yet another rodeo took place but finally I calmed the northern down and Ron had a pike most pike anglers can only dream of.  This beast measured 44"!  (the guys were filming and this is the only still shot we got)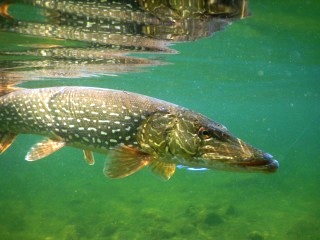 Our fishing was no less than remarkable from that point on.  Brennan eased the boat around the bay and Ron and I sight casted to pike for two hours.  I alone landed about fifteen and watched every single one of them eat my fly.  Ten of them were over three feet long including a 40" and a 41" – UNREAL!  That's pike fishing on Selwyn Lake!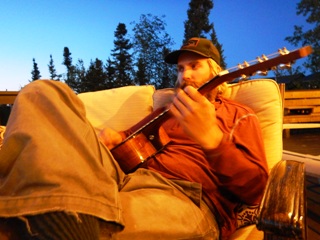 We got back to the lodge around 7 and sat down to a great meal.  After dinner we considered heading back out but there was something in the air.  We hung out deep into the midnight sun sipping beers and listened to RA and Austin jam on guitars.
A special thanks to RA Beattie Outdoor Productions and Adventure Destinations for bringing me along on this incredible adventure to Saskatchewan!