Tides, Motors & Huge Waves Hinder Fly Fishing at Inukshuk Lodge
Categories: Uncategorized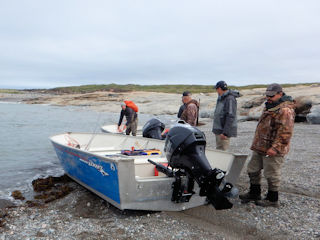 Boat fishing wasn't meant to be today.  First of all, high tide wasn't until midafternoon meaning we couldn't launch the boats until 11 AM.  And we'd need to be back by 3 PM before the tide got too low to beach the boats.  Then we had a problem with Burts boat.  The bilge pump was left on and it killed our battery.  Last, the swells were huge.  Simon and the Wildcats Fly Fishing boys went out for a mere 10 minutes and came back rattled because they took a wave over the bow.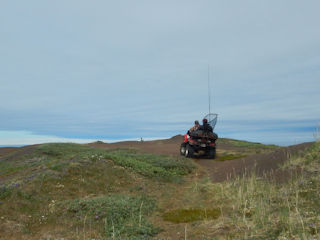 We suspected a day of fishing from the rocks before bed last night so no big deal.  At 9 AM we grabbed our rods, a 308 rifle (polar bear precaution) and hopped on the four wheelers.  We didn't go far.  Only to the place where the Inuit's shot the polar bear the day we got here.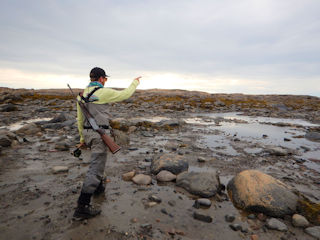 The tide was low and beginning its inch a minute rise.  Not only do you watch for incoming swimming polar bears that want to eat you but this incoming tide can sweep you away or trap you from shore so fast your head will spin.  We had to be extremely on our game.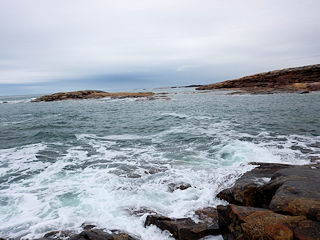 Simon and I separated from Burt and the Wildcats boys.  Not on purpose.  We simply were willing to put ourselves in a more dangerous location than the others.  Dangerous in that we'd literally only be able to make ten casts before we'd have to run from the tide for high ground.  Then we'd do it again and again.  We fished this way for the next three hours right up till high tide had us pushed back on the mainland.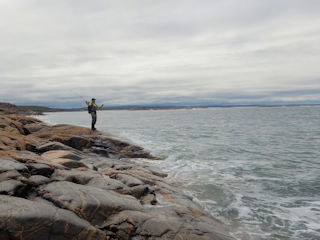 This kind of fishing is exhausting. Concentrating on how not to stupidly die from getting swept out into the North Atlantic and the constant watch for a starving polar bear will do it.  What's really grueling is when you cast relentlessly and don't touch a single fish.  While the rest of the guys quit a couple hours in, Simon and I fished six hours – not an Arctic char, sea run brookie or even a shorthorn sculpin to save the day.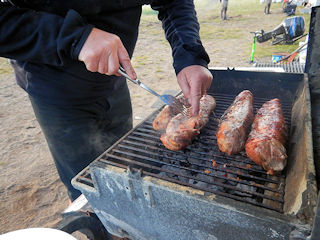 I had fun despite my first skunk of the trip.  It was an exhilarating experience surviving the incoming tide and feeling to the heart the realistic danger that polar bear could pop up on me at any time.  It was nice to rest and hang around camp with the guys tonight.  Ludo prepared a pork tenderloin that was amazing.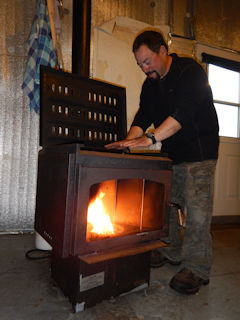 It's a cold 33°.  Its drizzling again and borderline sleet.  But we just put down Ludo's fantastic meal.  Crank the gas stove, I'm gonna sleep well tonight.  Tomorrow is our last day.
A special thanks to my friend Paul Ostiguy the proud owner of McKenzie River Lodge in Labrador and Inukshuk Lodge Nunavik.