Glass to Froth – Flyfishing the Red Sea Day 3
Categories: Uncategorized
Sorry for the delay of blogs.  Please understand I am so far out in the boonies of Oman there is no contact with the world.  We are presently getting supplies in Salalah, Oman.  Daily accounts will catch up as possible.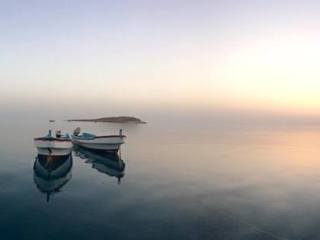 We awoke to the unusual sight of calm seas.  In every direction the Red Sea of Sudan was like glass.  The flats can be near impossible on a dead calm day because the fish are so spooky so Mike and I went with Fede to tease off the reef.
Fede teased in a fish almost immediately.  Mike and I cast our large flies with our 12-weights.  I got smashed but the run was short and easy compared to last night's bohar.  Within seconds I was holding this gorgeous little bluefin trevally.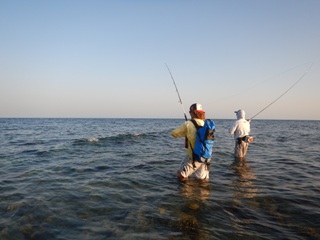 What happened next teased me not the fish.  For years I've been on a quest to catch a dogtooth tuna on a fly.  I've yet to succeed.  Fede made once of his long tease casts well past the reef into the blue water.  When the teaser hit the shallows a 40lb dogtooth tuna leaped six feet in the air behind the teaser and landed so close he splashed us!  Mike and I cast but the fish turned and sped back to the deep without seeing our flies.  That was a sight I will never forget.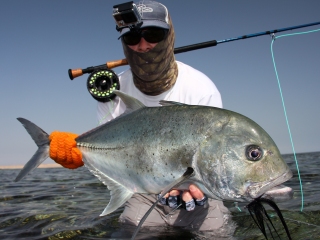 The surprise doggie changed the game of expectations for the next few minutes.  But then the truth set in as to how rare that event was.  The next fish came a half hour later.  It would be Mike's first ever giant trevally (GT).  It wasn't a big GT but even this size can put a hurt on you.  Mike did a great job fighting him then posed with his long sought after fish.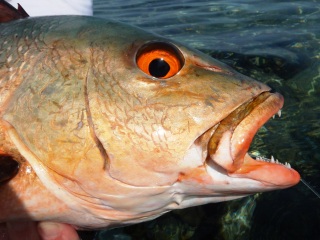 The session slowed but we got one more fish.  Mike landed a bohar snapper.  We returned to the Scuba Libre at noon for lunch and at the same time travel to some outer island flats.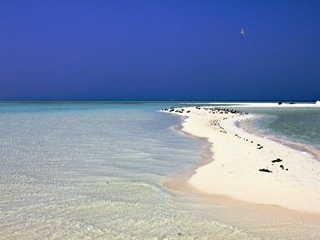 The outer island flat we fished would rival any on earth at least for beauty.  The stretch of white sand and the turquoise blue water would stop any normal human faster than a first glimpse of the Grand Teton.  I stood and stared for five minutes before my first step.
The wind was up – seriously up.  Mark and Fede estimated gusts to be at least 25 Knots.  I went down the left side of the mini sand island and Mike went right.  We each got off a few casts to triggers but they all ran away like a bomb went off.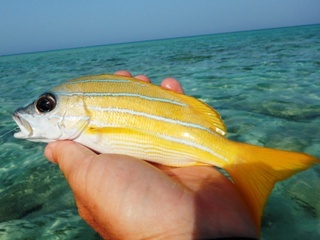 The afternoon would be one all of us would like to forget, South African dudes as well.  The wind speed crept up higher and higher and the triggers ran from us repeatedly.  Mike and I hooked and lost the only two suicidal triggers there were and the rest blew away either on the cast or first strip.  The one upside was that I landed a new species for my list, the bluestripe snapper (Lutjanus kasmira).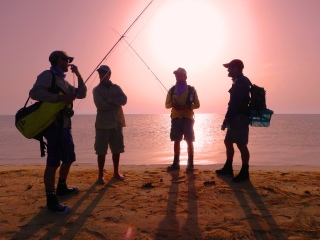 The wind settled after dinner and we played around under the boat light trying to land batfish.  I've heard of batfish (spadefish) but refreshed my memory in the Scuba Libre fish guide book.  He's cool looking and much like an angelfish.  Last season they caught one on the fly but they teased him up on bread.  I'd love to catch on the fly one night this week but it might be as rare a catch as my doggie!
You too can enjoy this adventure in Sudan.  Contact me or my friends at Tourette – Fight it in Africa!