October 15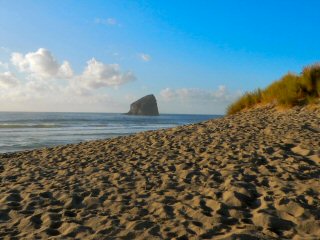 It was a spectacular day for the Oregon Coast.  No rain in the forecast.  Only miles of blue skies.  Mike and I knew already it may not be the best weather day for fly fishing for Chinook salmon but we really didn't care.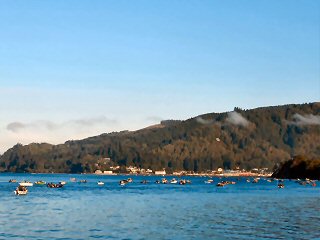 Mike and I hit yet another Oregon Coast river today, the Nehalem.  This river wasn't in the plan however our first choice had so many boat trailers in the lot we bagged it.  The next place was pretty busy also.  That's how we ended up on the Nehalem.  There were folks here but not nearly as many as the other places.  Mike made it clear however, there were less folks because the salmon don't come easy here.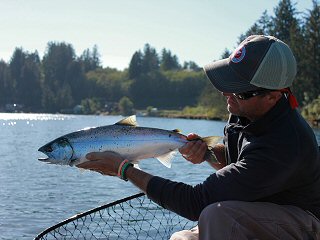 Mike was correct.  We fished hard all day and got one fish.  It was smaller a sized Chinook salmon that is referred to as a "jack".  After I quickly admired the silver king salmon I released him and reeled her in.  Mike fished another hour while I sipped down the final microbrew beer in the Yeti.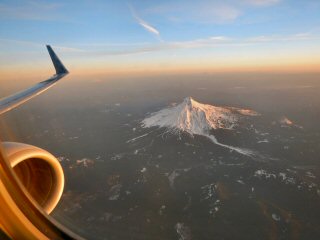 It's been a fantastic week here in the beautiful state of Oregon.  A special thanks to the Flyfishers Club of Oregon for having me out to speak to them about streamer fishing.  And a very very special thanks to my longtime pal Mike LaSota for treating me to four productive days fly fishing for Pacific salmon.  On my way home-sweet-home and waving goodbye to Mt. Hood at sunrise from my flight.