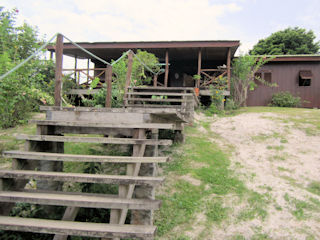 I've referred to traveling from one side of the earth to the other as entering the "time warp" many times before.  I left the Midwest Fly Fishing Show in Detroit on Sunday night and I'm finally at my destination, Sette Cama Camp in Gabon.  I'm struggling to shake off one of the biggest time warps ever.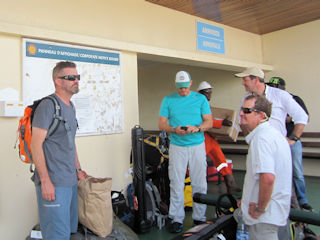 My friends, Mike LaSota (longtime pal and partner on this trip), and South African friends Garth Wellman (I competed against in the World Championships of fly fishing in 1990's), Conrad Botes (I met last March in Sudan) and John Travis and Arno Van Dernest (I met for the first time last night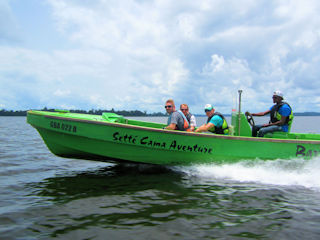 ) left our hotel in Port Gentil, Gabon before 6 AM for an 8 AM flight to Gamba, Gabon.  Unfortunately, we were bumped from that flight and our rescheduled flight was delayed.  We finally departed at 10:10 AM and arrived in Gamba at 11.
It was scorching hot and as humid as it can possibly get when we got to Gamba.  We loaded our heaps of fly fishing gear into two vehicles and shuttled across town to two waiting boats.  It was a one-hour boat ride to Sette Cama Camp through what is a massive estuary surrounded in immense jungle.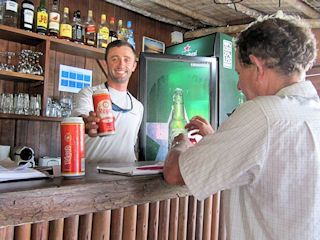 At camp we were met by South African friend and traveling head guide of Tourette Fishing – Fight it in Africa, Mark Murray.  I met Mark chasing tigerfish in Tanzania in 2013 but have since fished with him twice on the Red Sea of Sudan and most recently in Lesotho last November.  Mark welcomed us with ice cold Régab beers then gave us orientation then we settled into our cabins before setting up our gear.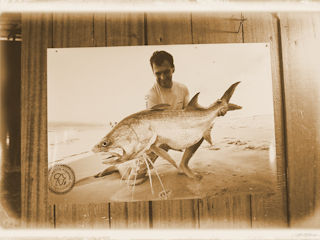 This is the first ever fly fishing only trip to Gabon and will be a true exploratory adventure.  There's one fish we're all after, the giant African threadfin.  None of us have ever caught one before and most have never seen one other than in photos.  The species is one of the most unique fish of all resembling many kinds from corbina to sharks but in the end he's his own deal.  There are also opportunities for huge tarpon, cubera snapper, longfin jack, Senegalese kob and Guinea barracuda to name a few.
Sadly, this is the least prepared I've ever been for a trip.  The show circuit consumed every minute of my time since the first of the year.  There was little time for researching or proper packing.  Furthermore, that appalling flu-like sickness I got a month ago took me down so badly I've arrived in the worst physical shape in my life.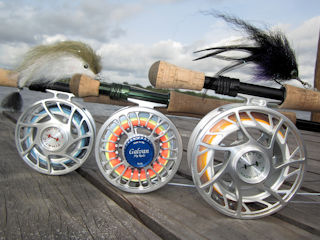 When you don't have a strategy in advance for a trip you bring tons of tackle.  I'm loaded but suspect my 12-weight Winston's and sinking Scientific Angler lines will take the bulk of the workout.  For the first time I won't be fishing Abel or Ross Reels.  After 29 years of the sturdy reels being a staple of my gear the new owners opted not to continue the relationship I've shared with both companies seemingly forever.  Fortunately, Hatch and Galvan Reel companies generously offered their newest and greatest reels for me to take to Gabon.  I even have the new Scientific Anglers Reel.  All are gorgeous and I have a hunch I'll be extremely pleased with their performance.
My final rigs after setting up with the guys are two 12-weight Winston's.   One has a Hatch 12 with the Scientific Angler Tarpon Taper WF12I and the other the Scientific Angler reel and a 450 grain sink Sonar warm conditions.  I also rigged my new 10-weight Winston Boron III SX with the new Galvan Grip Reel and the Scientific Angler Titan Intermediate WF10FI.  The weakest part of my gear is my stripping basket.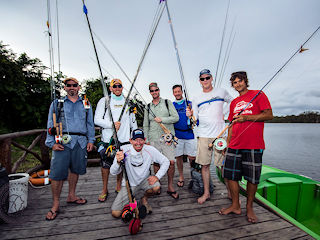 We left for fishing at 4 PM sharp in two boats.  You should've seen all the rods for six guys!  We had plans to fish into the darkness.  With any saltwater fly fishing, tides play a huge roll.  For beach fishing the tides are most important and it so happened that around 8 PM tonight was prime.  We traveled 20 minutes by boat to the mouth of the estuary.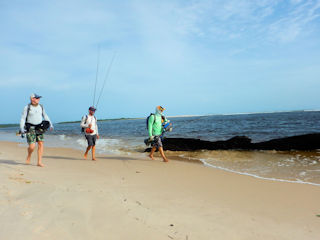 From here we hiked ten minutes to where the ocean broke over reef and waves rolled gently to the beach.  Freshwater was emptying to the sea with incredible force.  Mark is our host/guide and he pointed out some locations he thought we should try.  But keep in mind, this place has almost never been fly-fished.  Weeks of spin fishing and bait casting has taken place but lures and long cast are much different than fishing close to the beach with flies.  Even with Marks experience here the fly fishing twist is a punt.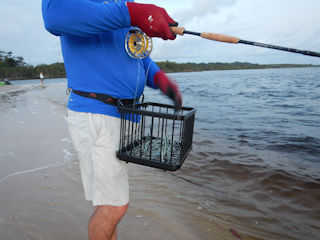 Jet lag had me on the ropes.  I always fight through it and this was no different but man was I out of it.  Even worse, I haven't fished in way too long and fly fishing the surf is the most challenging of all.  Line getting covered in sand and sucked by surf is what gets you as you battle the waves.   I hate the use of a stripping basket and although I had one with I maneuvered the evening without.  It wasn't easy and just watching the South Africans use a stripping basket has me rethinking tomorrow.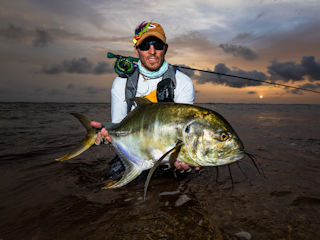 All lined up along the beach we fished diligently and watched the sunset.  There were marauding jacks and the occasional rolling tarpon.  Its apparent long casts will be crucial as most fish we saw were out of fly cast range.  Like with the stripping baskets the South Africans have a handle on this and they each have a spey rod for beach casting which gives them at least an extra 10 feet of distance.   Arno was quickest with his long cast for the first fish of the trip.  This is a fish unique to west Africa – the longfin jack.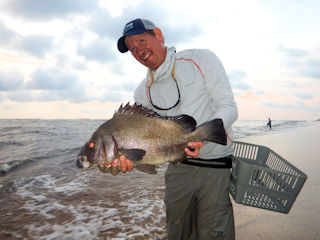 Out of the six of us there were three fish caught.  Arno caught the jack knowing the jack family, we're likely to see more in days to come.  This fish however we may not see again despite the fact both John and Mike caught one.  The reason I say this is because this was the first ever that Mark has seen in several years of guiding Gabon.  It resembles the family of fishes known as sweetlips but I'll hope to have the official name in days to come thanks to our friend Ed Truter.
It wasn't just myself that was tired tonight.  At 9 PM after at least two hours of no action we all agreed to reel it in.  We hiked to the boats in darkness then motored back for camp for a late dinner and naturally, a few tasty brews.
A special thanks to my friends of Tourette Fishing – Fight it in Africa for inviting me on this unreal trip!