December 12, 2016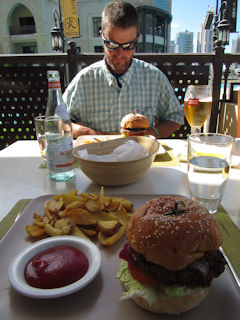 The torrent wind continued to rip at 6 AM this morning.  Nick and I had our coffee and decided there was no need to torture ourselves trying to catch a fish.  Instead, Nick worked and Sammy and I chilled out and toured Dubai.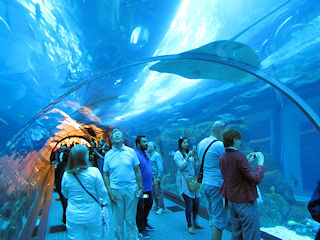 I led Sammy through his first mosque.  Then we nailed burgers and beers at Serafina, my personal favorite hang out at Souk Al Bahar overlooking the fountains and under the Burj Khalifa.  Then we did my other favorite thing in Dubai.  We entered the Dubai Mall (world's largest) and visited the Dubai Aquarium and Underwater Zoo.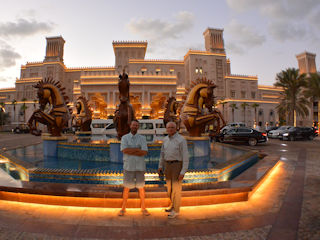 Although our flights home aren't until late tomorrow night, tonight was our last real night of the trip.  I don't need to tell you we went big.  Nicks tour began like our first night at the Al Qasr Hotel.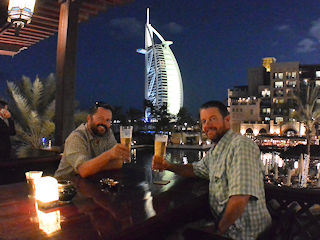 From there we went to Nicks second favorite bar in Dubai, the Bahri Bar overlooking the waterways and the Burj Al Arab.  Nick and I had a few tall beers while Sammy went the Mojito route.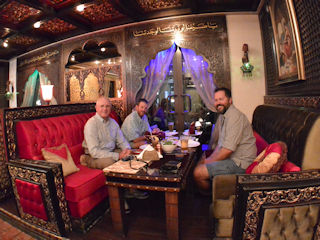 We weren't done.  Sammy requested a top-notch restaurant and he took Nick and I to the Times of Arabia for Lebanese food.  It was un-flipping believable.  I recon next time I pass through the Middle East with Granny we'll drop in to Beirut, Lebanon for a few day's indulging this great food.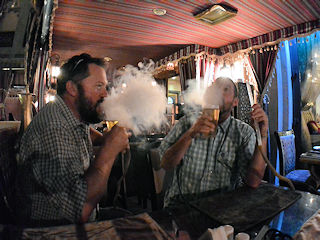 A perfect night partying in Dubai must end in style.  Sammy led us out on the deck at the Times of Arabia for the Shisha.  They have a full menu of tobacco choices.  I enjoyed a mix of apple and mint.
Life isn't a dress rehearsal.  We're living large here in Dubai and the wind has stopped.  Tomorrow morning we'll make it to the water one last time.
Dubai is a common place for a layover.  I highly recommend extending the layover at least a day.  Get rid of the jetlag and wet a line with my friend Nick Bowles and Ocean Active for some queenfish and more!