September 19, 2014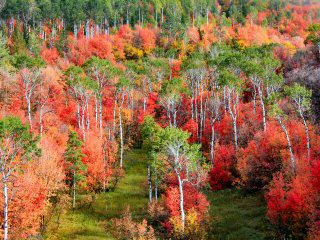 Idaho is a spectacular place, especially in September.  And the last half of September is the best of the best.  This morning friend Mike Dawes and film maker/photographer Austin Trayser and I headed on the two hour jaunt for carp into the most vibrantly colorful fall I can recollect.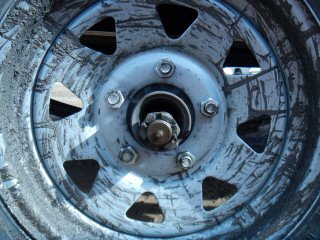 I stopped several times during the drive.  The first few times were for pics but then I caught up to Dawes and Austin.  Dawes was towing his tricked out flats boat (converted from a jet boat) and the axel on his trailer blew out.  Smoke from melted metal filled the air and grease spewed everywhere.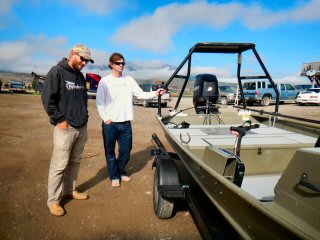 We were in Alpine, Wyoming, a friendly town and several locals were quick to offer help.  Only two miles down the road was a tire and trailer repair shop.  We made it there and soon we got the bad news that Dawes's trailer wasn't going anywhere.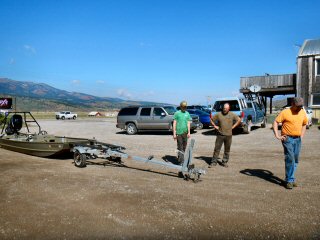 We needed to go fishing and although I often wade fish for carp, the opportunity to pole a flats boat there was irresistible.  We needed a loaner trailer.  One of the employees, no more than 25, offered to loan us his dad's trailer.  He took us to his dads paraphernalia filled warehouse and leather shop.  An old trailer was in there absolutely covered in an ancient yard sale.  "Take it" he said, "Just bring it back after fishing".  What a nice guy.  He didn't know us from Adam and loaned us his trailer.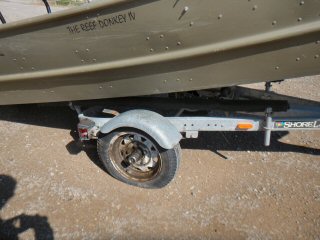 The trailer looked small but the employee and his dad assured us it would be fine.  Back to the shop we went and after an ordeal getting our boat off Dawes's trailer without the help floating it off on the lake, we proceeded to wench it up on the loaner.  Then there was a tremendous crackle pop and in a split second the loaner trailer collapsed and both tires blew out – disaster struck!
The dad wasn't there but the kid took a big hit off his cigarette and calmly said our boat was heavier than he thought.  We felt terrible and expected to pay for it.  Instead, the kid said his dad wouldn't be too ticked as long as he fixed it.  He said he could and still feeling wishy-washy about the damaged goods, we went on to the next idea to get our boat to the carp fishing.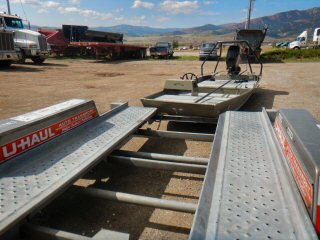 Options were slim.  I called a friend from Alpine that has a yard of trailers but no answer.  Dawes did the same with no luck.  Then came a dude.  We're not sure who he was or what his deal is but after he heard our story he said, "Call Ernie".  Next thing we knew we rented a U-Haul car trailer from Ernie and our boat was loaded.  After a four hour delay we were back on route to the carp lake.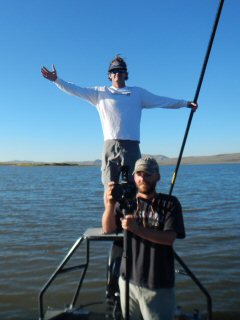 The motive for our trip is to do a segment for an RA Beattie Outdoor Productions film.  RA, with the help of Austin, is making a movie about the rage of fly fishing for carp.  They have various segments from around the US with some standard common carp and a funny segment about the jumping carp of the Midwest.  What they needed now were some monster carp – monster mirror carp to be exact.  Dawes informed them that he and I could get it done.
Launch on carp lake was a celebration.  From Victor to the reservoir took us seven hours rather than the usual two.  The wind which had been blowing hard all day was diminishing and there was still good light to spot carp.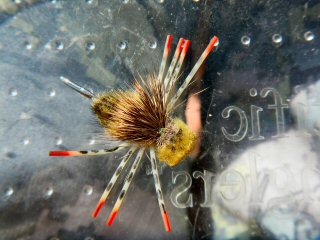 We tried a couple random spots without luck then poled quietly into a shallow bay.  The place was stacked with fish and wakes darted endlessly with the occasional glimmer of a tail.  I tied on a favorite carp fly, the Turneffe crab and went to work.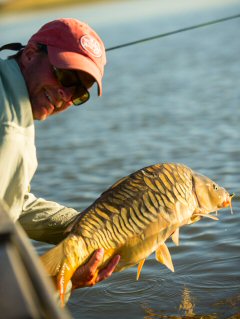 As always these big carp weren't easy to fool.  Dawes stealthfully poled us along, I cast at numerous carp in the murky water and Austin filmed.  Our persistence paid off and we landed two respectable mirrors of about 12lbs.  They were gorgeous fish and we got some super footage.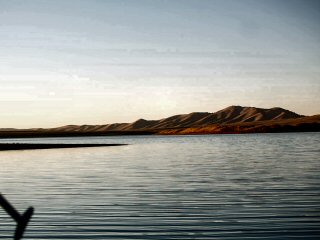 It's sad but it gets dark at 7:30 now.  Once we couldn't spot fish we packed it up. Then in the distance we spotted what looked to be carp backs skimming the surface.  It was too deep to pole but the light sunset breeze took us there.  Sure enough they were carp wallowing on top.  A common behavior most carp places but I've never seen it with the giants of this lake.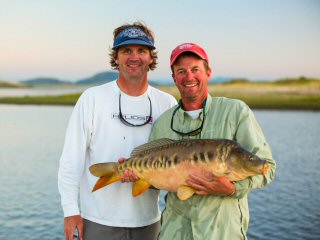 My crab fly was too heavy for these monsters.  I switched to a small brown bugger.  Fly switches don't happen as fast as they once did and when ready Dawes whispered he's only 20 feet away.  I located him and gently landed my fly.  One strip and he was on.  Five minutes later we had this stunning beast and Austin filmed the wallowing, the take and the entire fight – mission accomplished!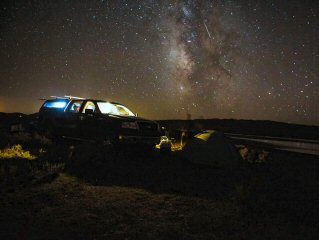 We set up a spectacular car camping site on the lake.  Dawes cranked out some amazing brats and steaks.  We sipped a few Rainiers and gazed under the stars.  This amazing photo is the work of Austin.  It pays to have a professional photographer with you fishing!
September 20, 2014
Realistically, Austin and Beattie Productions filmed what they needed last night.  But we designated today as well.  Furthermore, the forecast was for calm conditions, a rare situation for this lake that we weren't about to pass up.  We got an early start after a remarkable sunrise.  Dawes poled me through the shallows where there were numerous muds but there were no players.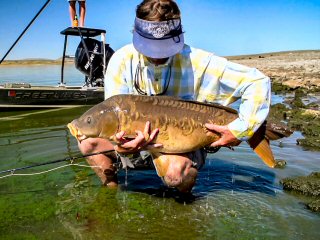 I'm terrible at poling a boat but in the calm conditions I insisted Dawes let me give it a go so he could fish.  After about ten minutes I was doing a decent job and Austin, who was on shore filming us, spotted a tail near shore we never would've seen.  Dawes dropped a bonefish bitter in the area.  It seemed like nothing was going to happen and as he lifted to recast he hooked up.  For the next ten minutes an amazing backing stealing battle ensued that ended with this 32lber – can you believe a 32lb fish on the fly in Idaho!!!
We fished until about 4 PM.  The carp were active and we always had targets to cast to.  But under such calm sunny conditions they were usually smarter than us.  We boated only another three fish but one was another 30lb +.  Then we returned to Alpine and returned the U-Haul trailer and Dawes got his repaired one back.  Let's just say, his 32lb carp was one of the most expensive carp ever too swim!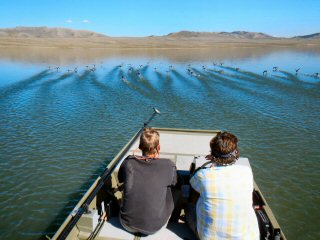 Undoubtedly Austin got fantastic footage for the RA Beattie Outdoor Productions carp movie.  In addition, because Dawes and I were being filmed, Austin took all the fish pictures for today's blog.  Be sure and check out his website to see more of his incredible work.  As for the movie, I'm not sure when it will be done or its title.  But I can assure you that when it's ready I'll offer it here on the site.
Tomorrow it's back at it bright and early as I'll be spending the day with wounded warriors as part of Jackson Hole's Honoring Our Veterans.