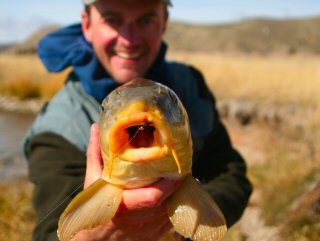 Blogs will come and they will be good in the next two weeks. It's just a matter of being around internet. In about an hour I'm leaving to Blackfoot Reservoir for the "Fin Chasers Classic", a fund raising fly fishing for carp tournament that takes place on Friday and Saturday. Just like last year, my teammates are Ben Smith and Trey Scharp. I'm meeting them at the reservoir at 3 PM and we will set up a sweet camp and pre-fish tonight and tomorrow.

I will try to load a report and pics Saturday night or Sunday morning. The hold back might be that I fly to Baja early Sunday morning to meet my friends Sammy Vigneri and Grant Hartman. Starting Sunday we will be prowling the beaches for roosterfish and whatever else we can get into. So time is limited but like I say, the blogs will be good once up. I won't miss a day, and promise to load them as I can.

Time to go get em!!!!!!!