June 20, 2016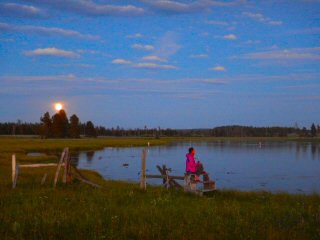 You probably gathered by now that I'm behind on the blog.  There wasn't time to write more than notes while in Ireland.  Then when I got back to the USA it was action packed with the Henry's Fork Marathon and a family visit.  This photo is Granny watching some huge fish rise on the Henry's Fork the night of June 20th.  I got home from Ireland this exact day and when Granny got off work we hustled to camp in the Gravel Pits near Osborne Bridge on the Henry's Fork to catch the first full moon on the summer solstice since 1967.
June 21, 2016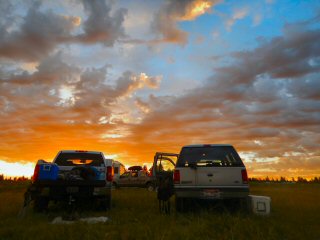 Jetlag and rest aren't words of my vocabulary.  Despite being exhausted from traveling from Ireland all day yesterday and the 7 hour time difference messing with my brain, I awoke at 5 AM to singing meadowlarks and Brewer's sparrows.  They invigorated me to leap from bed in the back of my Exploder.  I woke up Granny and friend Scott Smith who camped with us and drove up to the Last Chance parking lot to make coffee and rig up for my annual Henry's Fork Marathon.  (See Marathons – 2014, 2013 and 2012 to get the idea)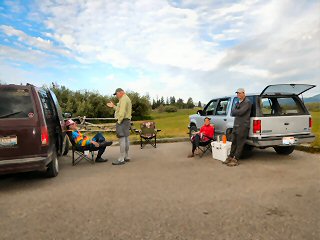 In case you don't know what my Marathon is, it's my longest fishing day of the year at my favorite place on the planet, the Railroad Ranch through Harriman's on the Henry's Fork.  I leave the Last Chance parking lot between 7 and 8 AM and walk all the way to the Osborne Bridge and back.  Never returning to my truck before 10 PM.  Then I follow up with a burger and beers at the TroutHunter.  This is my favorite fishing day of the year and I welcome anyone to join me.  This year, reports of tough fishing scared away many that said they were coming so there were only five of us.  All I can say is some people put too much weight on the catching rather than being with friends at one of the most incredible places on earth.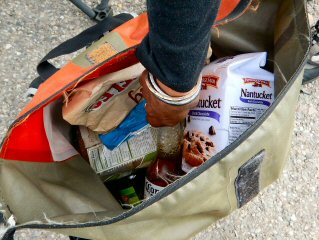 Granny and I had my Simms pack full of food, beer and cigars and we all left the parking lot under unpredicted cloudy skies and calmness.  The temperature was 79°, unusually warm.  There should've been brown drake spinners on the water from last night's hatch but there were none.  Furthermore there should've been PMD's hatching and there was only a spattering of them.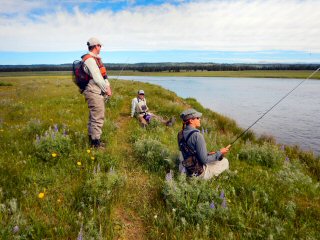 At 9 AM I saw a huge rainbow head poke the surface.  I got in position to catch him while the others relaxed and watched but the fish never showed himself again.  I went as far as to drift a few over where I saw him in hopes he was there but he didn't fall for it.  Trout 1 – Currier 0.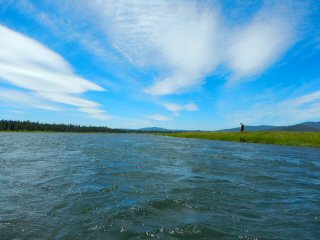 By 10 AM the clouds were gone and it was undoubtedly 85° and still rising.  Along with the heat came some of the most relentless wind I can remember in Marathon history.  I learned later from the news that gusts hit 45 MPH and the day's steady winds were 30 MPH.  It was so bad that the slow moving waters of the Ranch turned to a frothing nightmare of foam and whitecaps.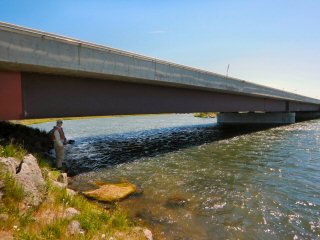 Such conditions weed out normal fly fishers from the dedicated.  While we Marathoners continued to look for rising fish in protected slicks not one other angler remained on the river.  We pressed on and at 3 PM finished the first six miles of our journey and touched the Osborne Bridge, our halfway point.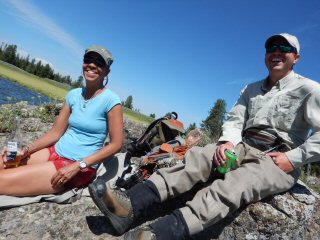 The wind, heat and sun were so bad for fishing we could only laugh.  While some feel that beers are for after a day of fishing, today without beers would've been for the insane.  We got comfortable on the lava rock and sipped luke warm beers and celebrated the longest fishing day of the year.  All Ranch regulars know how to turn unfishable conditions into a fun day.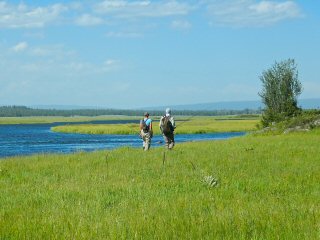 At 5 PM the five of us had five casts total and not one fish hooked let alone landed.  But the cool thing is we all had faith that the wind would stop and the brown drakes would hatch causing and absolute feeding frenzy.  Normally this is the case on a hot windy day in late June but instead the wind continued to rip as we slowly made our way back upstream.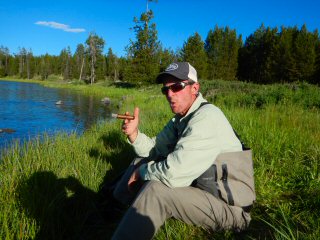 At 6 PM the wind reared its ugly head a few more MPH.  Personally I was done laughing.  I've seen a few days like this and normally I can call it a day.  But not on my annual Marathon.  I lit a fat cigar and kicked back for about the tenth time of the day.  During my smoke I could swear the trees began to sway slightly less.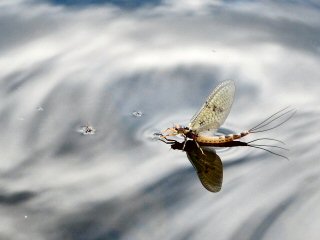 It was a big cigar that I didn't finish till 7.  By now the wind dropped to 20 MPH and its sick to say it seemed calm.  I could hear again and the first brown drakes fluttered recklessly through the sky above.  Only occasionally would one make the water.  When the large mayflies did I watched closely hoping to see a nose pluck one off.  Finally I thought I saw one disappear.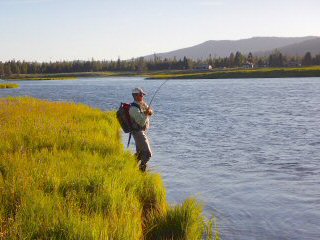 The disappearance of the drake was nothing more than a sloppy rise – or was it?  Could it have appeared sloppy only because a large trout plucked it out of a wave?  The answer was maybe so I stared at the spot hoping for a second look.  But not another drake or any insect for that matter floated over.  Finally I approached the spot with caution.  On my first cast with my brown drake imitation the nose I'd been waiting for all day engulfed my fly.  "On Scotty Boy!"  I yelled.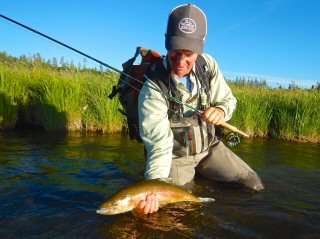 Scott turned just to see my big rainbow go airborne.  Wild leaps and fast runs is what the fish of the Ranch are known for and this heavily spotted bow didn't disappoint.  I charged after him doing my best to avoid hitting backing and to keep the fish from the weeds.
I kept the pressure on with my 4-weight Winston.  I wisely use 3X and with this you can land any trout fast.  I broke his spirit on the second run attempt and stopping the third was hardly a challenge.  Moments later I beached my first big Idaho trout of the year.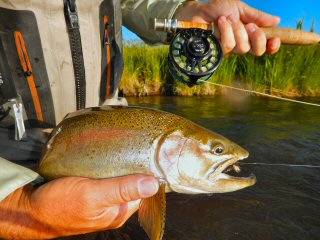 Today was my 29th Marathon and I've only been skunked of a big fish once.  I'd like to keep it this way for the rest of my life.  As I gazed down at this beauty I couldn't help but smile.  It had been a tough day but all the wind, heat and lousy hatches dealt weren't enough to hold me back from catching at least one.  "You're next Scotty Boy", I said.
There's four things that can make a day miserable on the Ranch of the Henry's Fork.  The first is hot temps.  We got screwed there.  Second is high wind.  Bam!  Third is bad hatches.  Yea we experienced that.  And last, is that when the sun sets the temperature plummets.  Unfortunately we had this also.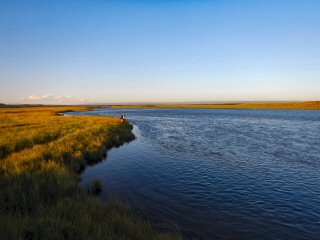 Scott squared up on a nice fish minutes before the 9:35 sunset.  This was a big one that on each rise pushed a bow wave that was big enough to look like he was a swimming muskrat.  Scott laid his fly out there perfectly, so perfect I yelled that's the one!  Sure enough it was.  But the trout was big enough to require the words "God Save the Queen" before you set the hook.  The New Zealand saying allows time for the giant mouth of a mammoth trout to completely close before you lift the rod.  Scott was a little too fast and he only nicked him.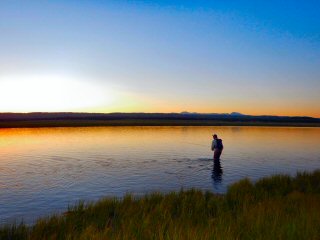 After that the sun set and against all probability of today the temperature plummeted.  When this happens the hatches stop immediately and the fish stop the feeding.  We walked slowly the final two miles to the cars from where Scott met his fish.  There was nothing.  We returned to the Last Chance parking lot at 10:50 PM.  Another Marathon and nearly a 16 hour fishing day in the books.
My Marathon is an incredible fishing tradition.  But remember, the Ranch of the Henry's Fork isn't for sissies nor is a sixteen hour day of fishing.  This fun day separates the crazy hardcore from the moderately faithful.  This being said, I hope next year to see you there!