September 16 & 17, 2014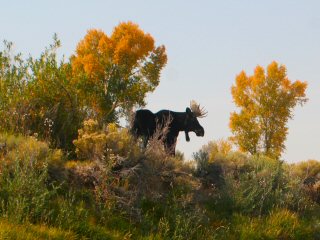 Granny and I plan to have a nice relaxing fishing fall.  This week was back to the Nunya starting with a filling dinner at the local pub, a few of their home brews then a good night sleep in the back of the Exploder.  We were up early and pushed off our blue boat next to a few curious Bull Moose in extremely warm sun for September.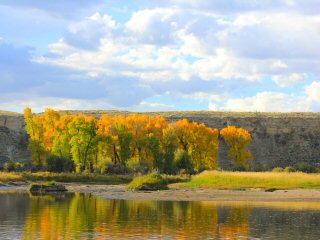 The water level on the often mighty Nunya was scary low.  We had a wet summer so why it's so low is of mystery.  The river was so skinny even our high riding boat hit bottom frequently, undoubtedly scaring the fish we hoped to catch before we got to them.  Furthermore, this always slow moving river was like a lake in many areas.  With Tuesday's high sun and no wind it was extremely difficult to fool resident lunkers before they spooked.
September 16, 2014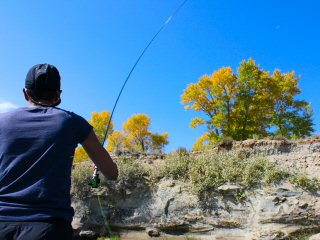 The float began without a cast – very un-Currier like.  Granny and I sipped our coffees and drifted.  The silent drift allowed us to jump a few more moose, several mule deer, sleeping coyotes, eagles, a great horned owl, a rabbit and a porcupine.  The animals were extremely active so as the last sip of coffee went down I got Granny casting.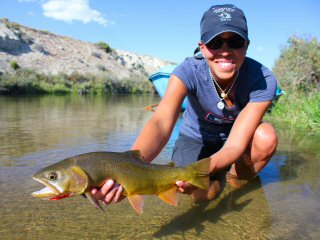 To our amazement the fish weren't active like the rest of the animals.  On Tuesday we caught only about a dozen fish, and most of them small for the Nunya.  The fish of the day was this cutthroat Granny fooled on a brown drake.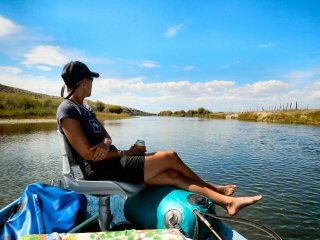 When fishing is slow Granny and I are pros at kicking back and taking it in.  We love the wildlife and also the fall.  Our foliage is at its peak.  The cottonwoods are on the verge of exploding in gold and all mountainsides glow in orange from the aspens with dashes of reds and yellows from various smaller shrubbery.  I must say, we did more drifting while sipping cold ones and looking above the waterline than fishing.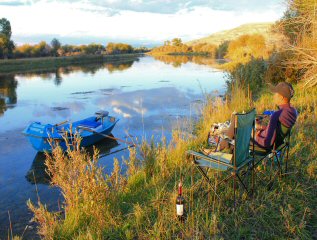 As always on the Nunya, our camp was remote, quiet and the views spectacular.  The temperature remained warm for an hour after sunset and there wasn't an ounce of wind.  Granny prepared a marvelous Thai chicken dinner as we took in the sounds along with a bottle of fine red.
September 17, 2014
As always when backcountry camping, I slept light.  Someone should always be on guard for an unwanted visitor in the night.  Last night a frightening bull (cow) blew his horn repeatedly as loud as he could a few hundred yards from our camp.  He undoubtedly saw our tent on his turf and wanted it gone.  I never got up to see him as to avoid any sort of confrontation, but he threatened for an hour before he left.
There were plenty of coyotes howling, owls hooting and I heard what I assume was a moose crossing the river in front of camp.  Just like during the day, the animals were on the move all night.  Then the real surprise came at 5 AM with flashes of lightening and distant thunder.  All weather reports I read called for back to back bluebird days in Nunya country.  Lucky for us the rain never reached before it was time to get moving.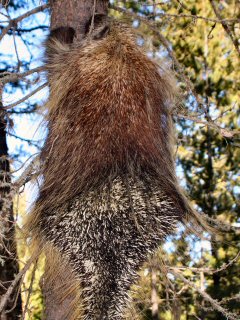 When I finally popped out from the tent my attention was grabbed by a porcupine sniffing our dry bags.  No harm done there but if he found our food it could have been different. Before bed I wisely put our cooler and dry food container in the boat and anchored it a good twenty feet out in a side slough.  Luckily the porcupine nor anything else made a midnight swim.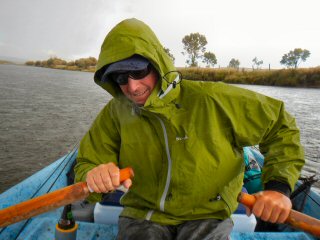 We had another nice coffee drinking drift in hopes to see something really special like a mountain lion.  There's numerous lions along the Nunya but you must be lucky.  Several years back Granny and I watched a bobcat family hunt the cliffs above the river, but no kitties today.  The first storm of the day hit us just as we got ready to fish.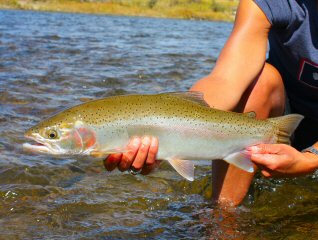 Storm number one was minor.  It blew and rained light for about fifteen minutes.  Then the sun came out and it was as humid as it gets around here and hotter than the hottest day in August.  Fishing remained mediocre at best until I dragged the boat into a reliable channel I keep in my repertoire.  Granny hoisted in five nice fish in a short time.  One was this muscular specimen of a rainbow that gave Granny and my 6-weight Boron III X a run for their money!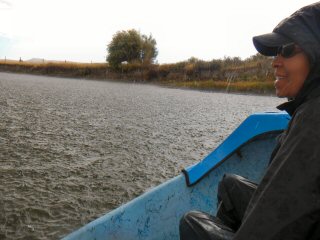 We caught a few more fish.  Granny turned it on for about an hour.  Then the storms returned and never let up again for the remainder of the day.  We had several epic jungle-like downpours.  The rain came down so hard it was a laugher!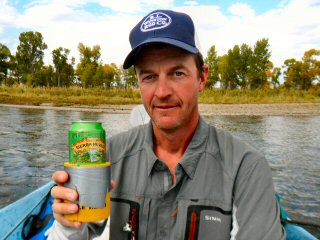 Granny and I are going to keep chillin on her days off for the remainder of the fall.  I've played hard this year so I can use the rest and Granny likes to chill regardless whenever she can.  Next on the agenda for me is fishing on Blackfoot Reservoir Friday and Saturday.  I'll be doing a carp flick with Mike Dawes and RA Beattie.  More on this to come.