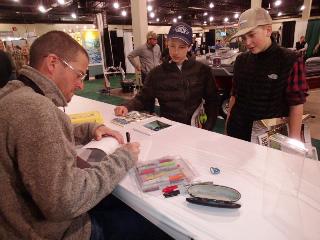 In a blink of an eye the Denver Fly Fishing Show is in the rearview mirror.  And what a show it was.  At a quick glance the show looked about the same as last year.  But as you meandered in deep you noticed major expansion.  This year there were numerous more exhibitors.
There were some excellent speakers this year including Gary Borger, A.K. Best, Ed Engle, Landon Mayer and Bob Jacklin to name a few.  And yes, my December preparation of updating all my PowerPoint Presentations and enhancements in my Casting Demos paid off.  On Saturday I had my largest crowd ever at "Fly Casting in the Wind and the Double Haul" which got me really fired up!
The new fish mugs were a hit.  I drew fish on ten Cliff Fly Boxes (not my record) and signed a bunch of books.  Needles to say I was physically and mentally exhausted by show close on Sunday night.
Exhausted or not, I still needed a full day at home Monday before leaving East on Tuesday.  After the show friend Harvey (Fishandgameartgifts.com) and I drove ten hours back to Idaho.  The roads weren't friendly slowing me to a crawl due to packed snow and ice.  Even worse, at 3 AM the roads of Wyoming and Idaho are nothing more than avenues for elk, deer and moose.  I got in my own bed at 4 AM and was too tired to sleep.
I managed my way through the rest of Monday and ended the day packed and ready for the East Coast where I'll do the Marlborough, MA Fly Fishing Show this weekend and the Somerset, NJ Fly Fishing Show next weekend.
Yesterday I flew to Manchester, NH and I'm presently sorting things out at my folk's house in Wolfeboro, NH.  Man it's cold!  I think its time to wander to Garwoods for a couple Pales and day dream about all the big smallies I'm going to exercise next June in the lake.