Saddleback Grouper on the Fly – Farquhar!
Categories: Uncategorized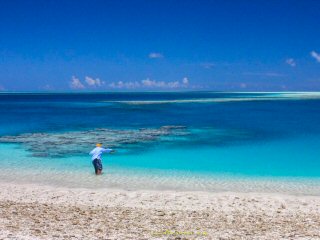 Another day another guide another fishing companion here in the Seychelles.  This is heaven.  Today I fished with FlyCastaway guide Pete from Mahe, Seychelles and guest Bill Huffman (Huff) of Colorado.  Bills goal of the week is to catch a giant trevally (GT) and Pete specializes in spending entire days on a particular island where the GT's flourish.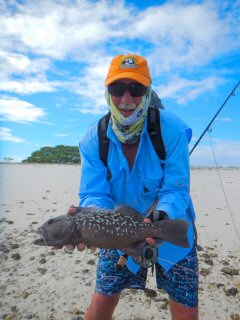 We took off promptly at 7 and traveled a half hour boat ride from camp before beaching on Pete's gorgeous island.  The tide was high but dropping rapidly.  Rather than charge out to the ocean side of the island where the big GT's live we wandered the leeward side and made some blind casts to some coral heads.  Huff wasted no time and had a tug of war with this brown African marbled grouper.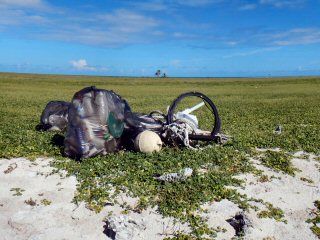 Things were slow for the first few hours of our hike.  I stayed out of the way of the GT quest and explored the island.  One thing that shocks people is how much crap shows up on the remotes beaches on the planet.  It seems much of the world uses the ocean as its garbage disposal.  Even huge ocean liners are known to dump their trash about anywhere.  Here in Farquhar there's plenty of washed up rubbish but they do their best to clean it up regularly.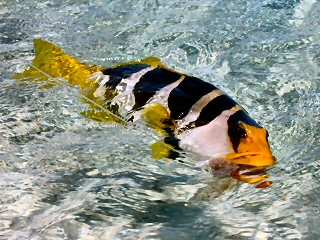 We made it around the entire island with no more than a few blue spangled emperors.  I thought we were moving but Pete said we're waiting out the tide to change and we'd circle the island again.  It was noon so I walked over to the coral heads where Huff started the day with his grouper.  I hooked up to the surprise of all surprises!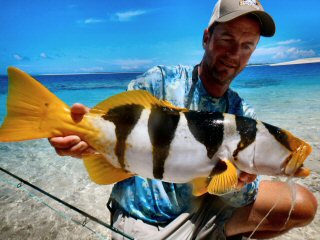 You can't imagine the awe when you witness a fish of this suit chase then eat your fly.  It was the magnificently colored saddleback grouper!  Somehow I knew I was in the presence of a saddleback .  And there he was.  I mentioned yesterday of this strangely colored fish but honestly never expected to see one let alone nail one on the fly.  A thrilling new species for the list (#7)!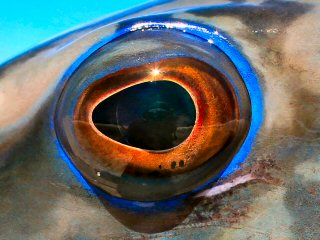 I didn't stop there.  I was in my element of pounding away for mystery fish and I caught a brown African marbled grouper and followed him up a hefty blue African marbled grouper (#8) then an oversized bluefin trevally.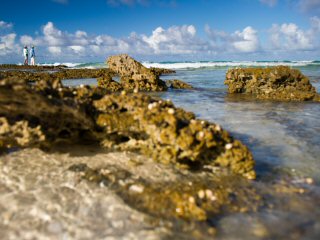 After lunch the three of us made our way back to the big surf on the ocean flat side of the island.  Huge waves were smashing the jagged lava rock of the island.  Before the waves broke we had a clear view of the fish underneath.  There was a large nurse shark searching for lobsters and with him waiting for scraps was a decent GT.  It was "Huff" time!
To me and Huff, this GT looked like a hopeless quest.  The shark was 200 feet out in the big breaker waves.  Wading appeared impossible.  Pete patiently tiptoed over the lava rock never taking his eye of the shark/GT symbiotic relationship.  Then he had a plan.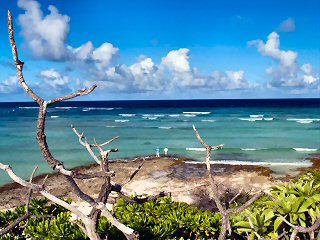 He told Huff to pick up the pace and they headed to a point where they could wade out safe from the surf and intercept the shark and giant trevally.  I stayed up high and watched, thinking to myself, the odds of this unfolding with the GT were mighty slim.  Sure enough however, Pete was correct, if he and Huff moved fast enough they'd be able to wade out just far enough to get a cast.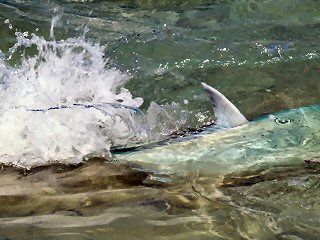 Lo and behold they got to the place of attack before the nurse shark and GT.  The waves were busting over Huff and Pete but a 70 foot cast would put his fly in sight of the GT.  GT's have amazing eyesight and can even track a fly in the air!  Huff launched and in typical GT style, the fly hit and the speedy GT was hooked so fast none of us saw him travel to the fly.  These fish are remarkable!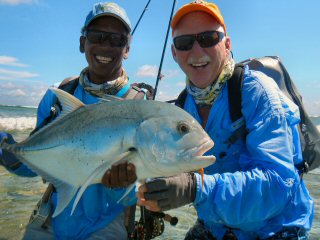 It was great battle.  Through the wind and breaking waves I could hear Pete screaming, "I don't want to see backing!  I don't want to see backing!"  Huff hung on with his drag tightened to the max and the giant trevally struggled.  Within minutes the oversized jack gave in.  In record time Pete and Huff were posing with the respectable GT.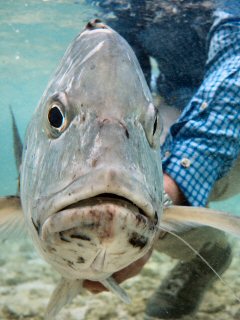 Huff was so stoked, after he released his GT he generously gave me the boat to fish for whatever I wanted for the last couple hours of the day.  I hung tight tossing an idea because Pete suggested a permit flat.  I'd love to catch an Indo-Pacific permit.  But when we got there the permit were not to be found.  That's when I suggested a return to the dogtooth tuna pinnacle.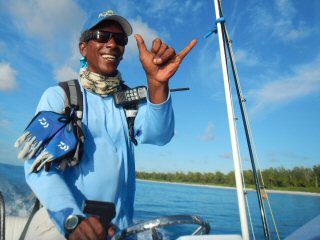 Just like yesterday with Wesley, Pete gave me a funny look.  I gave it right back and started spinning my normal 12-weight reel off my Winston and pulled out my monster Ross Momentum LT #8.  Of course Pete talked with Wesley last night and he laughed and agreed to take the boat ride to the place.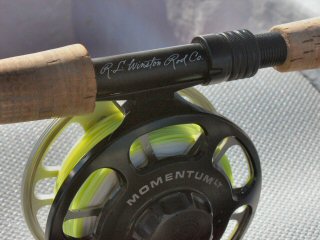 I'm certain this was a slightly different spot.  Pete didn't have a depth finder so we couldn't hold to a reef.  Nonetheless I sent my rig down as deep as I could and ripped my fly back.  Fish of the blue water can see a long ways.  I was dreaming of a tug.  And I got it.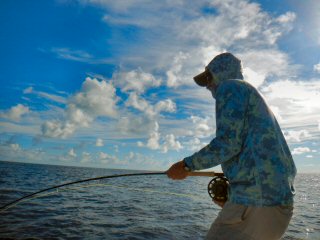 At first it seemed like a big fish that was giving in early.  I hooked him and though it took all my might he came up about five good strips.  Then he stopped and took off.
My 700 grain disappeared in a flash and my backing followed.  I had my drag so tight it's a wonder I didn't dislocate my shoulder.   But sure enough it stopped the fish again.  But I could feel his pumps.  This fish was a monster.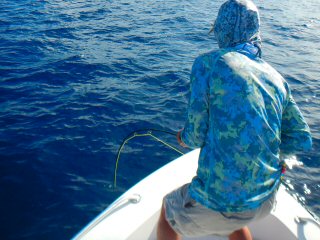 This was an opportunity to gain some line but not with the rod.  The best thing to do is to reel yourself to the boat deck by bending your knees to a squat.  Then without letting any line off the reel lift up and repeat.
I got about ten of these in fast.  I felt my monster coming up from the depths.  I was as excited as I've been about any fish in years.  What could it be?   It wasn't running like a dogtooth should.  A giant grouper would have toasted me in the reef a long time ago.  This fish was an incredible mystery.  Perhaps the largest Napoleon wrasse ever taken on the fly I thought as I shook with excitement?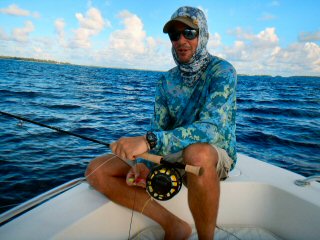 Just as fast as the wonderful-heroic-fish-catching dreams came, they were shattered.  After my tenth lift and reel, my fish said no more.  He stopped me dead.  I couldn't physically stand up and reel again.  He held me down and took off so fast I came close to going overboard or losing my 12-weight rig altogether.  If there's such a thing as a terrifying run and a terrifying fish, this was it.  In less than ten seconds the ginormous fish buried me in bottom almost 200 feet down.  This was a dogtooth.  And it was game over.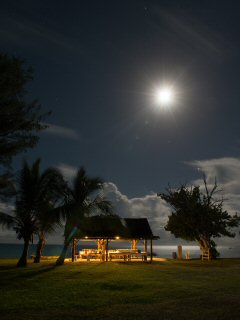 No doubt, that was a disappointing ending.  I was later told by head guide Tim that several years ago on a different island in the Seychelles he had a client catch a 200lb dogtooth tuna on trolling gear.  The fight took four hours!  I believe I was supposed to be relieved.  But I wanted that fish, three hours, five hours, whatever it would have taken.  I'll take that lost battle to the grave.
If Farquhar in the Seychelles sounds like a trip for you feel free to contact me or Yellow Dog Fly Fishing Adventures for more information.