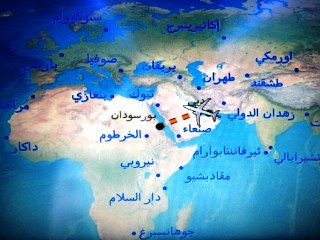 The flight, drive and boat ride were long and tedious from Dubai to Sudan, but I'm pleased to say I'm listening to the waves slap our 60ft mother ship as I get ready to sleep.  Tedious because I had a middle seat on a plane where the rows were knee-banging closer together than I've ever experienced.  That's just life, but when the cart came and I was in need of a Coke, they charged me 5 AED (About $2).  Tight quarters and nothing's free.  Even with my own headphones I flicked on the entertainment only to learn it required a credit card just to listen to the music!  I put on the flight map and put myself in a trance for four hours.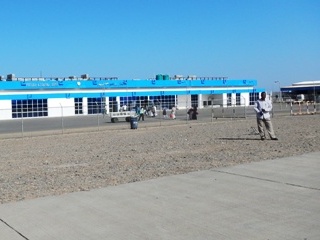 When we arrived in Sudan the flight disembarked down a long stair onto the runway.  There aren't airport gates here like in the US.  There was a strong wind blowing 100° heat in my face.  The desert terrain was striking in a haze of dust and I backed up to click off a photo before following the line of people to customs.  The camera was my second mistake of the day.  Three airport officials corralled me shouting, "No photos!"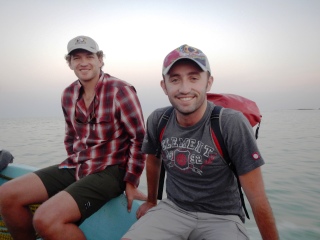 I've never had my camera confiscated but the moment had good potential to be the first.  I played stupid (easy to do) and apologized as I put the camera in my pocket.  Before officials had time to consider confiscation I slipped into the line for the terminal.  Once in, to my delight I met up with my South African friends Rob Scott, owner of Tourette Fishing – Fight it in Africa (also with me in the tigerfish segment of the film "Connect") and his top guide, Mark Murray (Mark was guiding and managing tigerfish camp in Tanzania last November.  Mark was in fact the one nearly taken by a croc as he was netting my clients tigerfish!).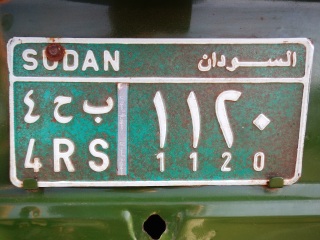 Seeing friends for the first time since I left home Thursday was a welcome site.  Also along are five other anglers, three gents from South Africa, Ed Truter, Eric Heyns and Chris Rooseboom and two gents from Russia, Nicolay and Alexey.  All are great guys and just like with Nick Bowles the other day in Dubai, it seems we've been friends for years.
Clearing customs was like none ever before.  Here in Sudan authorities actually take your passport and keep it telling you it will be returned when you leave – not when you leave the customs area, when you leave Sudan!  I don't like the routine one bit.  If I were entering Sudan by myself I'd be freaking out.  But they took all of our passports and Rob says that's the way they do it.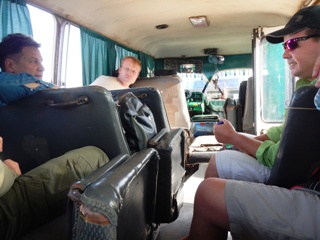 After about two hours of sorting customs (a true junk show) then waiting for luggage that we thought would never come through the rickety conveyor belt, we walked from the airport to a classic Sahara Desert mini bus.  There was no way to fit the group and luggage inside so we hoisted duffels of fly fishing stuff to the roof and strapped it down.  Then we loaded up and drove for nearly two hours straight south past the desert city of Suakin.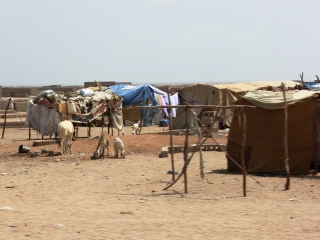 The terrain of Sudan reminds me of Egypt.  What's different is that there are far more people living on the desert.  Their huts would shock most the world.  But honestly I'd say the women walking their goats, men sipping tea and children playing look remarkably laid back and happy.  What was also of notice were the herds of camels along the road making a living chewing up dried up bushes.  This is about as hostile an environment you can imagine but creatures have learned to survive it.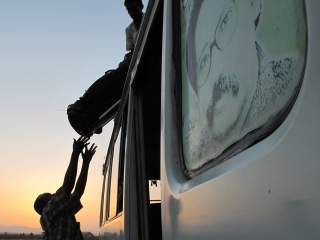 As the sun set we arrived to a primitive military camp by an old shipwreck at the edge of the Red Sea.  We unraveled our luggage and loaded it onto a panga and headed to our mother ship.  There, our boat captain, several mates and cook anxiously awaited our arrival.  We moved into our tight cabins below the deck and settled for dinner to make plans for tomorrows fishing.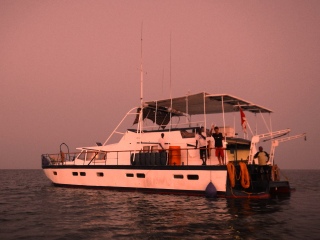 I regret that I don't have much in the way of photos from today but I was shooting through dirty glass windows and when we did stop, it was at check points.  Some think a check point in Mexico is a bit unnerving – they should experience one in Sudan.  I wasn't taking out my camera at the wrong time again!