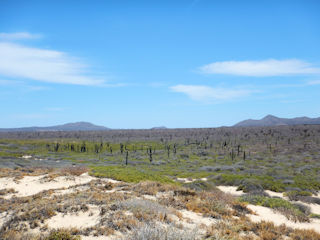 I've been roosterfishing the beaches of Baja for over 20 years.  Granny has never been, but she has rolled her eyes a time or two when I got home from a week of roosterfishing.  I generally lay on the couch and limp around the yard the first few days complaining of aches and pains.  My skin is dry from the intense sun and my feet are scarred from walking miles on scorching sand, sharp shells, and grainy rocks without shoes.  And my calves throb from the uneven steps from the tilted beach.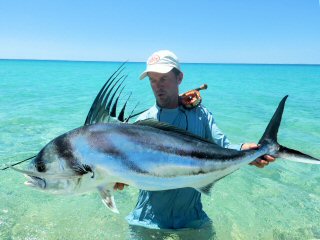 I don't ride four wheelers or go out in the boat.  I haven't teased in years.  I march for roosters from shore like it's a Henry's Fork Marathon and hope the fish come to me.  It's hard and you catch very few big ones.  It aint for sissies.  But every once in a while, I catch one like last years and all the pain goes away.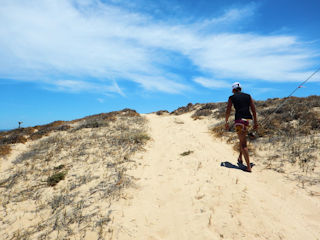 Today was Granny's first day of roosterfishing.  I took her to one of my favorite beaches and we walked four miles one way and four miles back.  We weren't planning on going so far and we didn't have enough water or snacks.  It was hotter than hell and we're both already suffering from all the ailments listed in the first paragraph.  Definitely dehydrated and weak as well.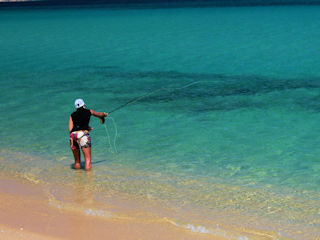 To worsen the pain, we only saw two roosterfish all day.  One was a peanut (under 10lbs) and Granny made a great cast.  I watched the situation unfold.  The rooster sped to the fly to eat it but Granny didn't strip.  He made several wild circles around it.  The fly needed to move before he crushed it.  Unfortunately, Granny had the line tangled and couldn't strip soon enough.  The rooster left.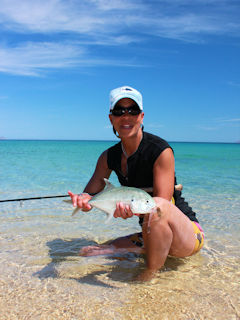 Granny avoided a complete skunking on her first day of roosterfishing.  There has been very little bait around the last few years and this year is the same.  If you find bait be sure to cast to it.  Even if you don't see a predator fish he could be there.  Granny made a long cast to a small baitball and sure enough connected to a baby Pacific jack crevalle.  He's a cute one and put a tug on the rod and a smile on Granny's face.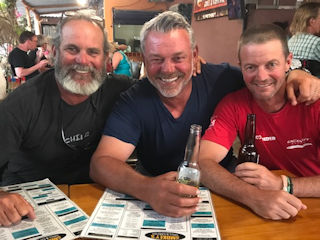 Tonight we're camped in Los Barriles.  We walked to town to meet up with my longtime friend Grant Hartman for dinner and beers.  Grant's client this week, well known golfer Darren Clarke, has been a friend of mine via emails but we've never met in person.  We planned this a few days ago and we had a whale of a time.  I love any chance to hang with Grant and Darren is a stellar guy with a passion to fish.
We'll be back on the water in the morning. . . .