Back to Blackfoot Reservoir for More Carp
Categories: Uncategorized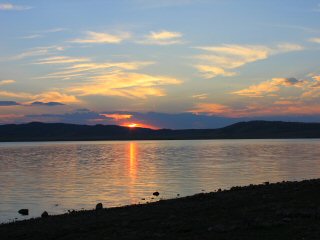 I'm leaving the country again on Wednesday.  This time for Costa Rica to be a guest angler for Castaway Films latest project – "Atlanticus".  Should be incredible.  The one thing I like to do before an intense film shoot is relax with Granny.  I picked her up from work Monday night and drove for two hours back to our camp on Blackfoot Reservoir.  We listened to the victorious Cubs the entire way on my XM and arrived to this dazzling sunset.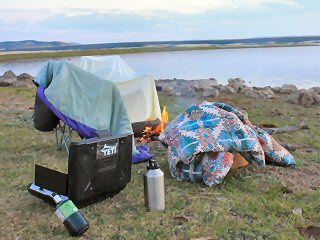 Everything was looking peachy until I was unpacking the Explorer and noticed I didn't screw the lid tight on our water jug.  Oops!!  We had a gallon of water soaked into our sleeping bags and mattress in the back of the truck.  When you look at the folks suffering in Texas this was a laugher that thanks to the fire we were able to fix anyhow.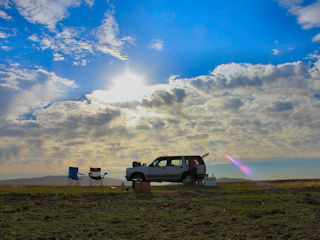 You don't get much sleep on these film projects so I'm building some sleep stock.  Granny and I didn't crawl from the back of the Explorer until nearly 8 AM.  It was a gorgeous partly cloudy day.  With temps predicted to be 88° a few clouds were welcome despite the need to see the carp to do well.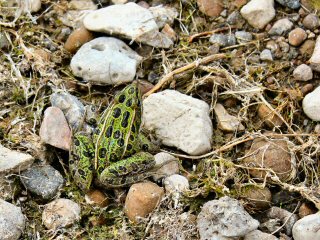 The clouds were thin enough we could still see the carp.  Blackfoot is slightly off color most of the time even at its best anyhow.  The technique I use most often to find Blackfoot carp is to see puffs of mud coming up from the bottom created by carp feeding.  This was happening big time.  So much so I could see the puffs from my lawn chair while drinking my coffee.  Along with the puffs was this gorgeous western leopard frog hopping through camp.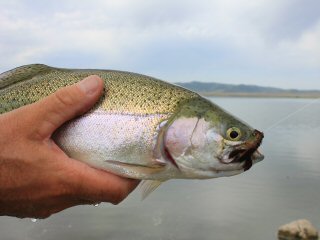 Any form of crayfish fly pattern is a good choice for carp.  In fact, Blackfoot has a ton of big trout in its waters as well.  They too eat a crayfish any chance they get.  The first fish I caught was this plump 15" rainbow.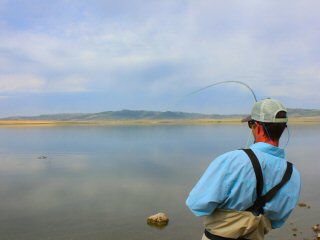 While the rainbow was welcome my focus was more tuned for a 25" to 35" mirror carp.  I switched my fly to a heavier bonefish type fly that sank down into the puffs of mud quicker.  I cast to a bunch muds before I finally connected.  I believe carp have a tough time seeing the fly when buried in those muds.  You just keep trying until finally you hit one in the nose.  When I did there was no question I had a carp by the awesome backing pealing run.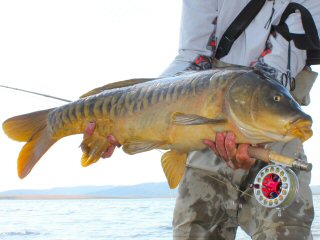 This here is an average Blackfoot Reservoir mirror carp.   I'll estimate him at around 12lbs.  There are plenty of fish up to 25lbs and I've taken a few closer to 30 but never confirmed this with a scale.  Regardless of all that – these fish are huge!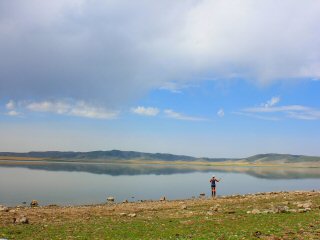 While normally Granny fishes with me, she's suffering from a pulled muscle in her back.  Fighting a monster carp would surely make it worse.  However, the glassy conditions created by not a wink of wind was too hard for her to ignore.  She took over fishing in front of camp and hooked another rainbow.  A rainbow isn't a quarter the fight of a carp yet the fish caused her new pain anyhow.  This would be Granny's one time fishing all day.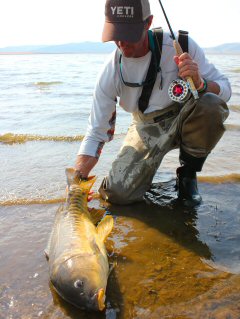 I ended up landing only three carp all day.  I fished hard and conditions were perfect.  But fly fishing for carp is challenging and no matter how much you know about fooling them, somedays they simply don't come easy.  Twenty years ago I'd have been very happy with three carp on the fly in a day.  And I'd have been ecstatic to have caught one the size of this last one I caught this afternoon!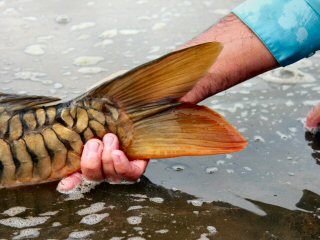 After releasing that last carp there was plenty of time for more fishing.  However, at 6 PM the Cubs game started so we took for our chairs and had a pleasant cocktail hour.  Remember, the idea was to relax not fish myself into oblivion like I often do.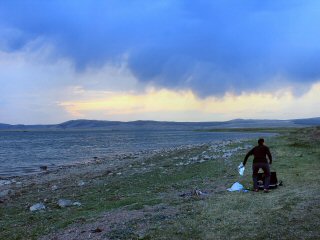 Naturally around 9 when it was time to prepare dinner a storm brewed.  One of the things about Blackfoot Reservoir is that the weather is unpredictable.  Be sure to be prepared for rain and cold at any time of year.  Lucky for us we only experienced light rain but the wind was horrendous.  Worth the trade however for the amazing skies.
The journey towards monster tarpon in the Costa Rican jungle starts tomorrow. . . . Stay tuned!