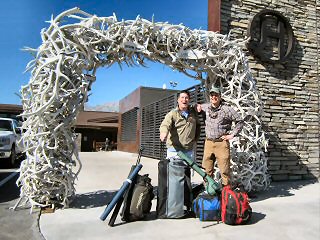 A long anticipated get together with some of my best friends began when I collected college buddies from the Jackson Hole Airport this afternoon.  100 miles away several others were landing in Idaho Falls and two others were entering the Yellowstone Country by car.  There's another group coming tomorrow as well.  The celebration of my 50th has begun four days early and we are going to fish, eat, drink and smoke just a few stogies between now and Tuesday.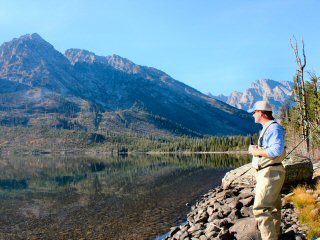 While the Idaho arrivals fished the South Fork on their way towards Victor, I led the Jackson arrivals up for licenses in Moose, Wyoming then marched them into my lake trout spot on Jenny Lake.  While moving water is more appealing than a lake to most, these flat landers (Mike Neumann from MN, Matt Norton (Howie) my college roommate from WI and Mark Reesor from IA) could hardly cast when presented with the shear stunning Teton view that can't hide while fishing on Jenny Lake.  Just imagine this view when you come from a place with no mountains!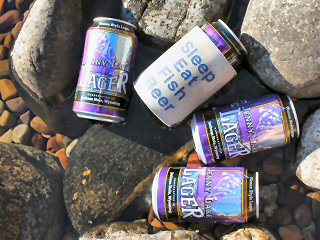 This October weather continues to be more like early September.  The only thing that says "October" are the late sunrises and it gets dark way too early – now about 7 PM.  But really, it's ridiculously warm, mostly calm and we haven't seen much in the way of clouds in two weeks.  These conditions aren't helping the lake trout fishing but luckily my spot always produces at least one and most importantly, even in summer the lake is cool enough to chill the beer.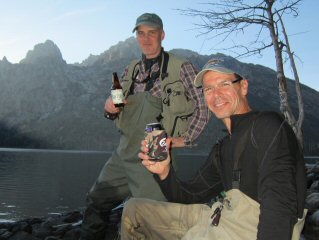 Of my three college pals, Mark and Howie have done quite a bit of fly fishing.  Mark guided two summers in Alaska in the 1980's and Howie dabbles when he has the chance back in WI.  Mike on the other hand has been more of a "hardcore walleye" guy for the 25 years that I've known him. That is until Mark and Howie took him trout fly fishing in southern WI two springs ago.  Since then Mike's gone over the top and this summer he got the warmwater bug and pumbled the smallmouth of MN on fly.  To say he's hooked is an understatement.
While I kicked back, still recouping some, the guys fished but Mike caught the only Jenny Lake Mackinaw on a pink squirrel nymph.  For Mike it was his first lake trout experience with the fly.  Unfortunately he's a little rusty in his hero shot poses!
Once the sun set behind the Tetons we rushed out and caught the last thirty minutes of daylight for a short drive around Grand Teton National Park to see some animals.  I hoped to find us a grizzly but instead we settled for moose, deer, elk and antelope.  Not bad considering where the guys began their day back East.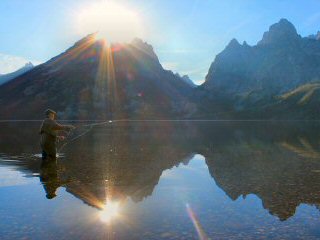 We just joined up with the rest of the guys at the house and we're headed downtown Victor to begin the celebrations.  Today is the first of five great ones.  Tomorrow its wade fishing on the South Fork all day then Saturday head up to the Henry's Fork for some Ranch time.  This is shaping up to be a birthday to remember!