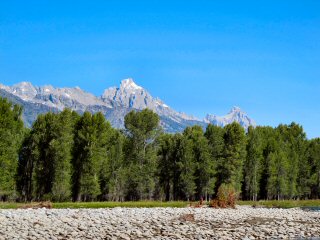 I'll make this short and sweet because I'm behind in everything do to this fishing problem I have. Gary Eckman, my One Fly Captain, and I fished Moose to Wilson on the Snake River today in Grand Teton National Park in order to get a little practice in for next weekends famous Jackson Hole One Fly Contest. Gary has been on the Snake several times this season but I've yet to get over there. Sure, I've probably floated it 300 times the last 25 years, but every year it's different. There are different channels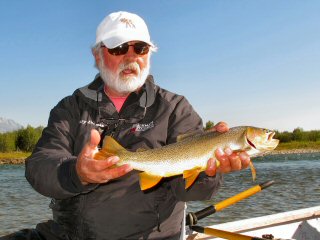 and hatches and every year you simply need a tune up.
This morning was the coldest morning of the summer, a nippy 25º when we launched the boat at 8 AM. I was in shorts and Tevas and already wet wading. That will wake you up! Needless to say, our fishing started very slow. During the first hour streamers didn't work at all but then gradually produced a few fish. Gary landed three nice ones during my first session on the oars including this Snake River Cutthroat.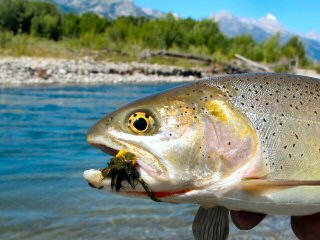 In the afternoon things warmed up and it felt like summer again. I decided it was a good idea to test some big dry flies. I tied on the classic original Chernobyl ant and caught numerous fish right away. In fact several were very nice up to 18 inches. Our assessment of today is that the Snake is just beginning to fish great and next weekend during the One Fly should be spectacular. Our "One Fly" choice should not be that hard as many flies worked today. My guess is the weather during the tournament will determine whether I go dry fly or streamer.
I have a busy week of fishing. Granny and I are doing an overnight on the Nunya Tue and Wed. Then on Thursday it's to the South Fork with Gary. Gary hired guide Zack Payton and I'm the lucky guy that gets to take the back seat and fish away. On Friday I'll rest up and prepare for the One Fly and fishing in the contest takes place Saturday and Sunday. Should be a great week!