Fishing on the Longest Day of the Year – A Must!
Categories: Uncategorized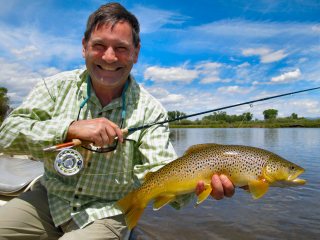 June 21, 2013
I shouldn't have fished today.  I'm behind on artwork, writing projects, one blog, yard work and etc.  Not to mention I haven't recouped from five months of traveling for work and fishing.  But when Tom Montgomery tells me things are happening on the water in Wyoming, I drop everything.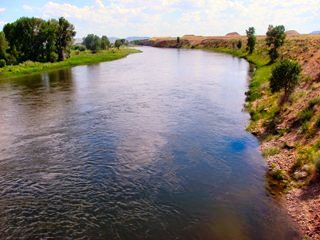 Drifting through the sagebrush covered high desert of Wyoming in the course of groves of cottonwoods twitching dries for frenzied brown trout is one of my favorite things.  This opportunity is short lived due to a quick turn of events.  This part of Wyoming literally doesn't thaw out till the end of May.  Once thawed the region gets a month of high water from runoff.  When the water comes down and the rivers clear up, fishing is great for less than three weeks because then the water drops too much and gets warm forcing the browns to hide till October.  Parts of Wyoming are about the harshest trout environments in the world.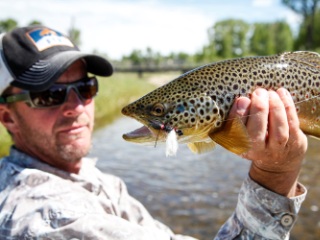 I met Tom and Bill Happersett at 7:15 AM.  Bill is one of the top guides for WorldCast Anglers.  Then we drove over an hour and launched the boat for a ten mile float.  Things started strong with a couple good browns under partly cloudy skies and no wind.  My brown crushed a twitched Chernobyl and Bill hammered his on a nymph.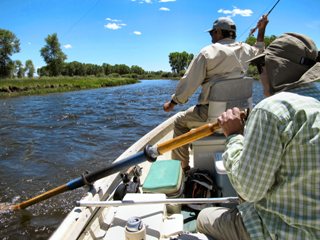 Perhaps we started off too fast.  We fished maniacally for the next two hours with nothing more than a few carelessly missed fish.  When you start out strong you get a little lazy sometimes and we missed fish we should have caught.  Then sun gave in to wispy clouds and in came the wind.  She didn't blow quite like Wednesday, but it was ugly enough not only to hinder casting but rowing was awful.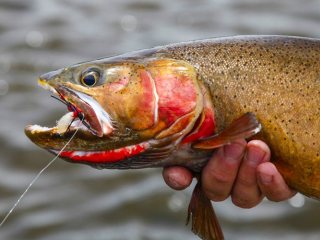 Like it often does when foul weather arrives, the river turned on.  It's like flicking a switch.  For hours there seems to be no fish then suddenly every good place you land your fly there's a fish.  For the next three hours we hooked into more than twenty browns a few rainbows and even a few cutthroats like this colorful hawg.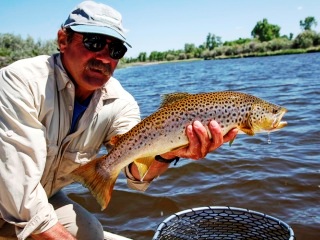 I didn't get home till 9 PM last night.  The sun was still up.  You got to love the longest day of the year.  I was beat but after a couple Sierras I actually got an hours work on my new website – that counts – I worked today.  Ha!
Next on the agenda is a weekend of working then Monday night its back to the Henry's Fork.  Tuesday is my favorite and longest fishing day of the year, the Marathon.  If you're not familiar with my Marathon then check out 2010, 2011 or 2012.  Everyone is welcome to come along.
A special thanks to Tom for providing the best photos today!