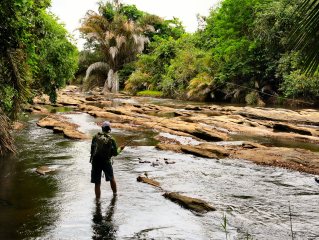 After two challenging yet successful days on the Ruhudji River it was off to the Mnyera River.  I must be more specific however, we went to a place I had the good fortune of fishing while here in 2010, the rapids, better known as the Garden of Eden.  The rapids are one the most beautiful places on earth and offer a unique opportunity to fly fish for species of yellowfish only found here.  And yes, its also home to huge fast water dwelling Tanzania tigerfish.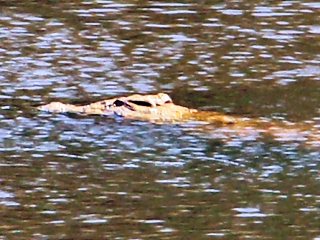 Not every group that comes tigerfishing here fishes the rapids.  This season the guides have only been four times.  The only way to fish the rapids is by wading some of the slickest rocks I've ever experienced, rock hoping and steadying yourself in fast deep water.  All the time you're being watched by crocodiles, whether you see them or not.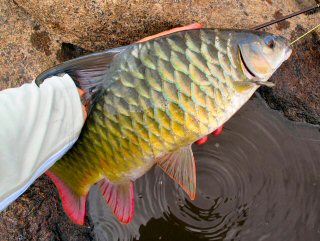 Very few clients can handle such rough terrain.  I was incredibly lucky to get a day here in 2010 when we filmed a section of "Connect".  At that time it was only the third time the rapids were fished and I caught a new species of yellowfish now known as the black velvet.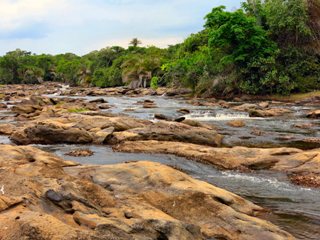 We left the Ruhudji camp at 6 AM and drove almost three hours to get to the rapids.  When we arrived the weather was concerning to say the least.  The sky was grey and the clouds were heavy.  As soon as we started to fish a light drizzle began.  Heavy rains raise the water fast here and fishing comes to a halt.  Luckily as fast as the drizzle started it stopped and once again the sun burned off the clouds.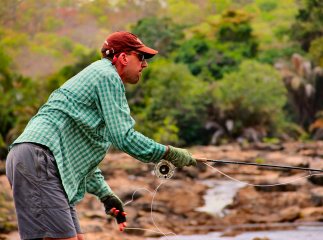 I teamed up with guide Andrew and my brother-in-law Don.  Andy rigged up a 5-weight with two nymphs and headed downstream to teach Don how to nymph fish.  I've been craving to return here not only because it's a beautiful place but also because there's a fish here I've not caught yet, the rhino fish.  I cruised upstream with a small dry fly and put a serious hurt on the njurus before switching to a nymph for yellows and hopefully an unsuspecting rhino.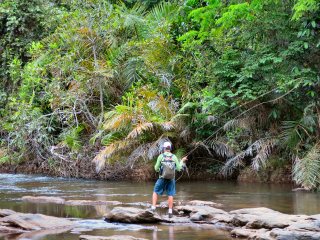 Don took to nymphing quite well.  When I met up with he and Andrew a couple hours later Don had three black velvets under his belt.  I was still searching unsuccessfully for my first rhino fish.  Andrew led me to a special spot where he'd seen rhinos once.  We fished it but either we spooked them first or they weren't there.  Then we hiked even further up over the falls to the highest point of where any of the guides had ever fished.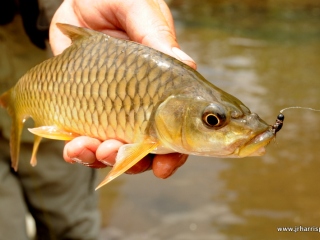 This pool was spectacular.  It looked like something out of a Tarzan movie.  It was a small branch of the main river and the water swept from the jungle down a small falls-like-rapid and into a bottomless pool.  I cast up and let my nymph sink.  I stayed tight.  Cast after cast we kept expecting a jolt from something but it didn't happen.  Finally as we gave up, I reeled in and for some reason stopped along the way.  I felt a tick and set.  In came a tiny rhino.  Although not much of a specimen as far as size, he does have a reason for the name rhino fish.  A new species for my freshwater list!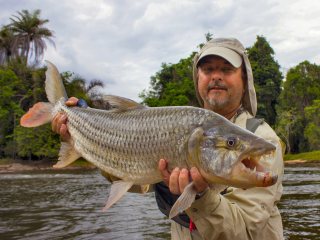 After the morning hike up the rapids we returned down and met up with Linda and Mark for lunch.  They were downstream tigerfishing the rapids while we were upstream yellowfishing.  They had a good morning and Mark landed a 14lb tiger – an amazing fish not only for on foot but also for this type of water.  Don and I put away our 5-weights and wandered downstream to fish for tigers.  Mark and Linda flipped with us and put down their tigerfish rods to go yellowfishing.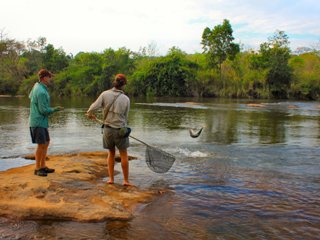 The afternoon was challenging.  Don and I missed a few good takes and Don was bit off in the 40lb wire.  I saw the fish and it was a huge tiger.  As for me, my back and shoulder are disintegrating.  This is a lingering issue for months that has me on the ropes.  I'm not a pill taker but Don has me convinced to start a consistent regiment of Aleve.  I'll do anything to feel better.  Nonetheless, Don and I walked away with a 9lb and a 10lb tigerfish.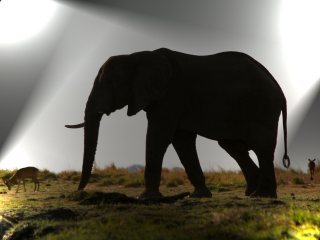 The drive back to Tengo Camp on the Mnyera River at sunset was memorable.  Sunsets last long here with the low horizon.  The wildlife was stunning.  We saw a herd of elephants and Cape buffalo.  We spooked a steenbok, plenty of waterbuck and a hippo submerged in mud in an open meadow.  We even saw a rabbit.
As I hit the hay here in our new camp I'm listening to several tree frogs in our shower.  They sound quite happy.  There are a few massive thunderheads brewing in the distance.  Though it's been dark more than an hour, they are so tall the tops of them are glowing with orange from sun that left us long ago.  I hope they stay away.  Seriously, they look like the kind of storms that could rearrange this place in a hurry.
For information about this incredible trip feel free to CONTACT ME.
Be sure and visit Tourette Fishing – Fight it in Africa.
And ask about my future hosted trips through Yellow Dog FlyFishing Adventures.