I appreciate the concern for my visit to the dermatologist.  Thanks for the emails.
I had the piece cut out of my ear and unfortunately they took another piece from my left arm both for biopsy.  The results will be back in less than ten days and hopefully they won't be melanoma.  In addition to the piece's cutoff they did the full body scan and froze a few other areas on my face.  It looks bad but the freezing is just precautionary.  The good news is over all I'm in surprisingly good shape for a guy that spends tons of time in the strongest sun.
In the meantime, its back to business as usual.  Granny and I left Portland yesterday for the California part of my tour.  I give "Fly Fishing for Carp" tomorrow night in Fresno and then speak at the Pleasanton Fly Fishing Show over the weekend.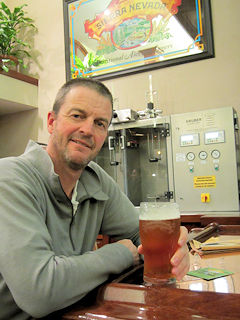 To break up our drive we stopped in Chico, CA and Granny and I hit the Sierra Nevada Brewery.  Sierra Nevada Pale is what I drink and the Brewery visit was on my to do list.  Sierra has so many other good beers.  It was lots of fun!