Fly Fishing in New Hampshire – Back Bay
Categories: Uncategorized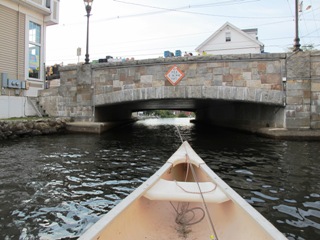 Undoubtedly I've experienced the best of the best when it comes to fly fishing during my worldly adventures the last thirty years.  But if I could turn back the clock to the late 70's and early 80's to relive the hot summer nights from my canoe in Back Bay under the bridge behind Wolfeboro, New Hampshire, I would.
I was a kid then that only cared about fishing.  Almost every time out I had a new experience.  Often I'd break my personal size record of a fish (usually a chain pickerel).  One time I snapped off my favorite hard bodied popper on a huge bass but a week later I caught the 4lb largemouth and retrieved my fly.  My most memorable experience was watching a common snapping turtle snatch a full grown hen mallard off the surface by the foot in the very lily pads I was fishing.  It was a thrashing carnage battle but finally the enormous snapper won.  There was always something astonishing that happened and I never knew what it would be.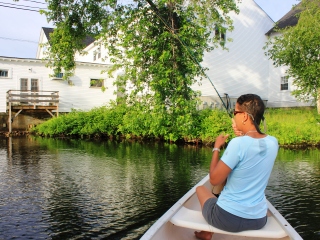 The wind continued through last night.  I slept on the screen porch of our cottage in the same place I did every summer night when I was a kid.  The breeze keeps you cool when it's muggy and helps you sleep.  Last night we had a small storm that blew rain through the screens and got me wet causing me a little Bhutan flashback.  All was good though as the squall was long gone by 5 AM and actually took most the wind with it.  I got Granny up and we headed for my home away from home, Back Bay.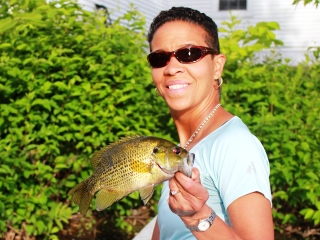 I had several rods rigged for Granny starting with my Winston Boron III SX 6-weight and a Ben Byng bass popper.  Although I was eager to get right to Back Bay, I have several smallmouth haunts along the way.  None were happening so we eased into Back Bay with sunrise.  Granny cast to the base of the original Yum Yum Shop building and she landed three rock bass for a warm up.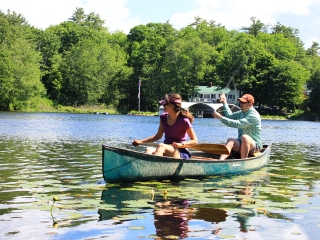 My sister Becky and her husband Don joined us today.  They paddled into Back Bay around 9 after they got their kids to school.  My sister is the angler of their family.  She nearly followed the fishing bum lifestyle that I did but after two summers in Jackson Hole she went back to school and became a physician's assistant.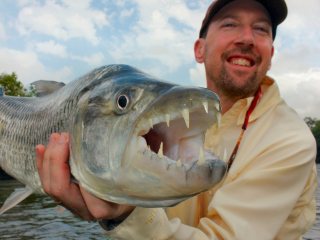 Don has become a serious angler.  If this is the first you've heard of Don be sure to visit my blog for November 2013 when he joined me for the tigerfish in Tanzania.  That trip was a life changer for Don!
As we all worked our way deeper into Back Bay Granny continued to pop around every lily pad and blades of protruding grass.  She continued to pick up rock bass along with bluegill and pumpkinseeds until her popper got smashed horizontally.  Granny had herself one of my old favorites, the chain pickerel.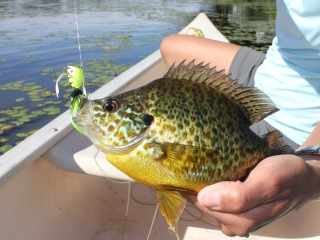 Unlike his close cousins the northern pike and the muskellunge, the chain pickerel doesn't get very big.  The biggest I ever caught was a 23" when I was a kid right there in Back Bay.  But they are scrappy, toothy, and cooperative and smash a popper with vengeance.  Those ingredients are no doubt why I learned to love them so much as a kid.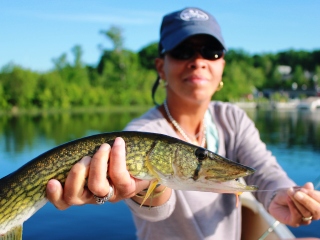 Despite their teeth, even the chain pickerel rarely gets big enough that you need wire shock tippet to handle them.  I use a 6' leader with a 16lb tippet.  After I land a nice one I'll run my fingers along the tippet for damage.  If it's roughed up I retie it but that's about as much care as you need.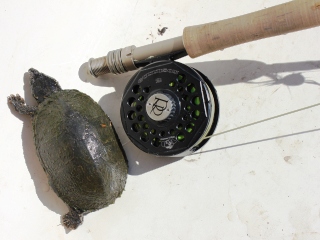 It got hot by 10 AM.  I'll bet we were already in the mid 80°s.  Granny and I tucked in some shade and kicked back for a few minutes.  As we were sitting there I could see a musk turtle walking on the bottom in a couple feet of water within an arms length.  If there's one thing I was good at as a kid, it was catching turtles.  For the second time since I've known her, Granny doubted my turtle catching skills.  But I launched myself over the side and came up with this unique species.  See turtle catching March 2010 & May 2012.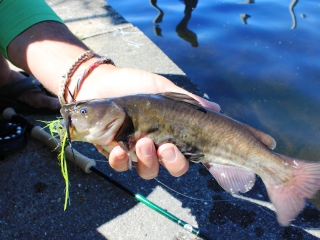 The true catch of the day however would have to be the lesser known and rarely caught on fly, brown bullhead – better known in the waters of Lake Winnipesaukee as the hornpout.  I night fished for hornpout with my grandfather all the time as a kid.  Occasionally I'd see one cruising in daylight and catch them on flies.  All you have to do is antagonize them.  When Granny spotted this one and doubted my ability to catch yet another critter today, I honed in and coaxed him into eating a chartreuse streamer I already had rigged for perch.
It was a wonderful day of warmwater fly fishing in Back Bay.  Unfortunately the strong west wind returned in the afternoon and shut down our canoeing and fishing.  Instead it turned into a relaxing beer sipping afternoon at Garwoods.  Tomorrow I might get out in the morning for smallies near the camp but a special event will keep me off the water most of the day.