We all bounced from bed with excitement this morning.  The fishing and relaxing at Otter Lake was nice but the eagerness to get to the big pike has been killing us.  The fires continue to get worse but our weather was excellent so after breakfast we loaded the Beaver and began the journey through the smoke to the far north.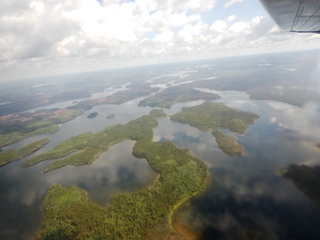 Flying over northern Saskatchewan never fails to amaze me.  There are so many lakes and rivers that you couldn't fish half of them in a lifetime.  Much of the water you see in this photo has never been fished and this is just one click of the camera!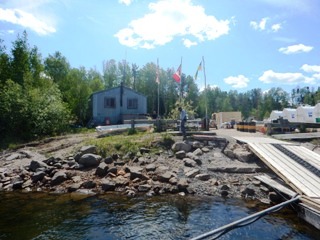 We flew for two hours and twenty minutes before landing at Stony Rapids, Saskatchewan for refueling.  The Beaver holds 569lbs of fuel and can fly for 3 hours, not quite enough to make it to Selwyn Lake Lodge.  Stony Rapids is as far north as you can drive in Saskatchewan although most wouldn't consider the last 500 Kilometers a road at all.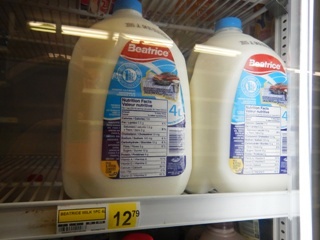 Stony Rapids is so difficult to get to that the prices for food are off the chart.  A gallon of milk cost you $12.79.  That's $10.32 in US dollars!  Nevertheless Stony was our last stop in civilization and RA treated us all too some high dollar ice cream cookie sandwiches.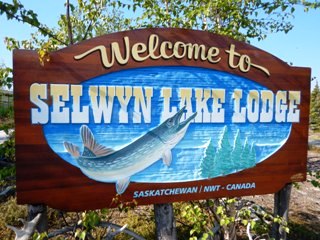 It was another 40 minutes in the air before we landed on Selwyn Lake and parked the Beaver at the dock of Selwyn Lake Lodge.  We were warmly greeted by staff and loaded our gear into a trailer attached to a four wheeler and led to our rooms.
The lodge is stunning.  The beautiful place overlooks Selwyn Lake.  The view is a small portion of the huge lake that has hundreds of islands and from what I understand millions of pike and lake trout.  The south part of Selwyn Lake is in Saskatchewan and the north part is in Northwest Territories.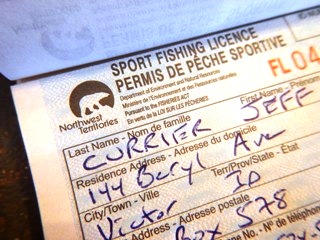 We kicked around the lodge for few hours to unpack.  Then we purchased our fishing licenses for the Northwest Territories and had lunch.  Since I was a kid I've always wanted to fish the Northwest Territories.  I was always reading articles about huge pike as a boy.  I was incredibly stoked filling out that license.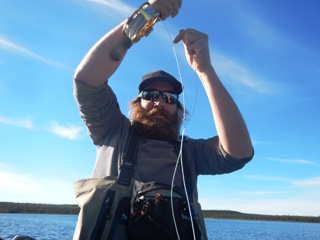 It took awhile but we finally hit the water around 5 PM.  Ron had a ton of unexpected things coming up with all the fires down south.  The good news is that the sunset is at around 11 PM and we have twenty-four hours of daylight.  Once Ron was ready we went straight to the east side of the lake and up one of Selwyn Lakes many fingers.  The very first stop Austin sight cast to a huge pike and a lake trout intercepted the fly right from under the pikes nose!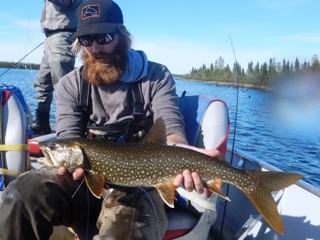 The four of us screamed like kids with all the excitement.  We all consider pike to be the badass fish up here and expect them to steal a fly from a lake trout not the other way around.  Austin's laker was putting up a decent fight then suddenly went absolutely ballistic.  It turns out the pike wasn't that thrilled with the laker taking the fly before him and now he was trying to eat the laker.  Austin hoisted the pretty char in just in time to save his life but not without some serious chew marks on his sides.
We ended the night in the far back of the bay where a creek came in.  I was tossing my 9-weight Winston with a Scientific Angler Titan Taper floater.  I packed lots of big bright flies for this trip but one of the guides suggested a smaller dark fly so I put on an old favorite that's black and gold.  All I can say is we have a splendid week ahead of us.
I kid you knot, in a mere two hours of fishing we caught about 50 pike, many of which were easily three feet long.  None were monsters by Selwyn Lake standards but they will come.  Its 1 AM now and I'm losing track of time because it's still light out.  I have to be careful early in the trip not to stay up all the time then hit the wall towards the end.  Stay tuned. . . .
A special thanks to RA Beattie Outdoor Productions and Adventure Destinations for bringing me along on this incredible adventure to Saskatchewan!