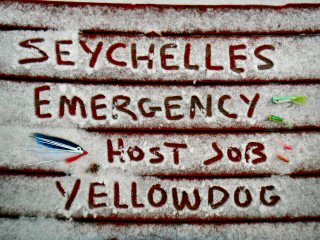 I've always dreamt of fishing the Seychelles but the cost of the amazing trip has left me wondering if I'd ever set foot there.  But there's been a lot of these places and somehow I always manage.  Well, patience prevails and either today or tomorrow I'll be on my way.  I'm not sure when only because a massive snow storm is threatening and with only one charter a week leaving Mahe, Seychelles to the island of Farquhar I can't take a chance of being snowed in Jackson for my AM flight and not getting to Mahe on time.   I'm seriously contemplating a brutal icy road drive to Salt Lake City airport where I'm very confident the weather will be much better.
This trip wasn't in my imagination a week ago.  Conceive finding out you're going to the Seychelles only days before going.  But Jim Klug, friend and owner of Yellow Dog Fly Fishing Adventures, called me and desperately needed someone to take his place on a hosting job.  Jim can't go because unfortunately his partner's father passed away and he must stay to run the biz.
Believe it or not I didn't give a thumbs up on that first call.  I've been gone so much this year and need December to catch up on art and prepare for the grueling speaking schedule that starts in January.  But Granny told me I couldn't pass this up, and furthermore, Jim needed help on this.
As always, blog posts will happen as I can do them.  There is no contact with the world from Farquhar so most of my day by day accounts will post after the trip.  Stay tuned.  This should be phenomenal.  My main goal after ensuring happy clients – bumpy head parrotfish on fly.