We went to bed early because it started to drizzle last night.  At about 4 AM the moisture stepped up to a light rain.  Bhutan is on the verge of monsoon season so everyone was sort of looking around at the clouds nervously this morning.  We were starting a five day float into no mans land and if monsoon starts and the river rises, say 25 feet, we're probably dead.
But this is exploratory fishing at its best.  We're half way around the world and it's not for the weak hearted.  As we waited for our hardboiled eggs, rice and whatever, we rigged our rods and packed our dry bags.  Then Dawes and I blew up our raft while the crew blew up three others.  Push off was in the very near future.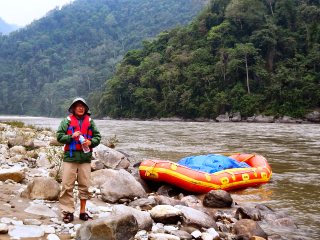 The man sort of in charge of our float is Tshering Dorsi, the head ranger of Royal Manas National Park.  I only met him yesterday but he's neat guy and perhaps more excited to float this river than we are.  He and some of his crew have done this float once before, but that was years ago.  What lies around every corner is virtually unknown.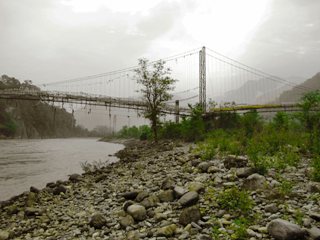 Dawes and I aren't sure what the cfs is but we estimate this fast river as about twice the volume as our home river, the South Fork, during high water.  There's a lot.  It's muddy.  And it's dangerous.  But it's right on the cutting edge of what we can handle.  Plus, this morning Tshering was certain there were no rapids to worry about on Day 1.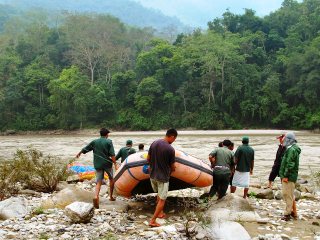 We pushed off at 9 AM in the drizzle.  The river was rising and muddier than last night so fishing wasn't on our minds.  For me, Dawes, Jon and Niel, our concern was whether or not Tshering and his crew knew what they were doing.  Jon and Niel were in a raft with Tshering and a couple of his seven man crew.  We wanted to make absolutely sure they could handle a paddle before we got too far into this.  We designed a test.  We pointed out a gravel bar on the opposite side of the river a tenth of a mile downstream and said we'll meet there.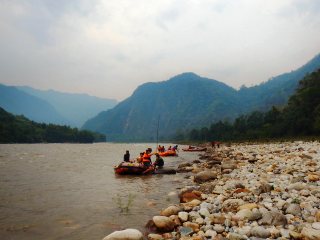 Dawes and I led the way.  I could see Dawes using all his strength to make the crossing but it wasn't insane.  We made it and low and behold, so did the next three rafts.  Things appeared to be ok.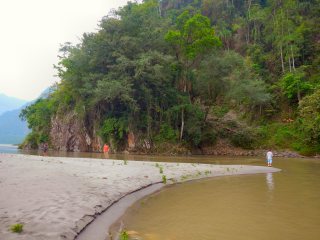 It so happened there was a nice channel behind the gravel bar so the four of us ran some flies through.  It was chocolate so we didn't do it with much confidence.  But I've caught mahseer in the same conditions so we just had to hope.
After we fished unsuccessfully we moved on.  We hit a couple more nice looking channels but no fish.  According to the Google Earth research we did back home, there was river coming in soon.  It had to be clearer than the main so we decided to head there, set up an early camp and fish there.  That's when we hit the rapid that supposedly didn't exist.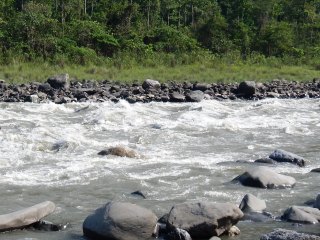 The float to this point was steadily a class 1 rapid – nothing our small two man raft couldn't handle.  It was rougher than Tshering indicated to start but by now seemed to be the standard.  That's why we were no longer scouting around every corner even though we should've been.  Dawes and I soon found ourselves at the mercy of the river with no turning back.  Dawes and I got funneled into a class 3.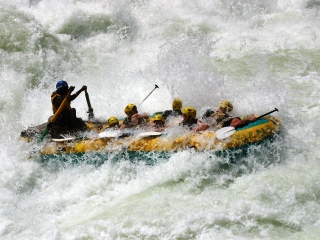 I loved whitewater when I was a kid.  Then in 2005 I nearly drown on a whitewater trip on the Zambezi River.  That was it.  That day I narrowly escaped death.  These days, I'll pass on whitewater opportunities whenever possible.
Dawes did the best he could to steer our insufficient raft through the churning rapid.  I held on tight to the rowing frame.  We must have been tossed eight feet into the air three times before Dawes lost control and we hit the last two rollers sideways.  By some miracle we made it.  Once it was over, I looked back to see if Dawes was still there.  He was but with a look of shear terror.  "That's it!" he shouted.
Coincidentally the entering river we were looking for was right there.  Dawes busted for the bank and we pulled the raft well up on shore.  By now the others were on the way down.  They'd watched us nearly capsize and were hugging the inside turn to avoid the rapid.  When they pulled in Dawes announced, "Tshering, have your guys deflate our raft and pack it – we're done".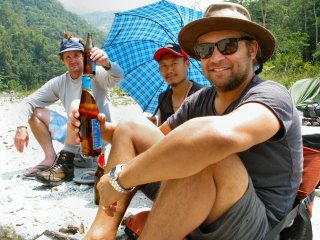 That was it; our raft was too small for the unreliability of what was around the next corners.  Dawes and I are going in the big rafts for the rest of the journey.  Jon, Niel, Dawes and I found a comfy spot in the sand and crushed two tall Druk Lagers each.  That was a close one.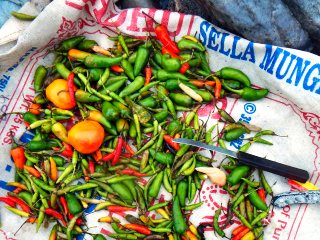 After the beers we ate some lunch consisting of rice and potatoes and as many chilies as you can handle.  Our cook doesn't have much to work with but he does a nice job.  Then we investigated the entering river.  To our amazement, the small river was crystal clear so we fished where it entered for about three hours straight.  Not one of us touched a fish.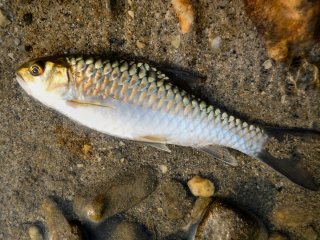 It was disappointing not to hook a mahseer in an ideal looking spot.  There were a lot of small fish splashing in the clear water so we each rigged up our trout rods and together hiked up the tributary.  It turned out to be a delightful action filled afternoon catching a small relative to the mahseer, the katli.  At least that's what the crew called them and I've heard the name before.  The bottom line is they are a perfect baitfish for a big golden mahseer and one had to be lurking at the mouth of this river.
I suspect I walked up the small stream two miles then back.  I was tuckered when I returned to camp but something told me I should make a few casts where the clear water met the mud on our main river.  Gradually I adjusted my stripping speed so that my last few cast had my Warpath Fly touching bottom.  That's when I got jolted!
At first the tension felt like I was snagged on a boulder.  But as I changed angle in hopes to free it, the weight took off.  I had a decent fish.  He went just to the edge of my backing in the chocolate river then stopped.  This fish didn't want to fight where he couldn't see.  I eased him back and we battled in the sliver of clear water from the tributary.  After about five minutes I had my hands on a golden mahseer.
This was an unusually shaped mahseer.  If you look at his face he's got more of a pig snout than most golden mahseer.  In 2008 I caught the same on the Ramganga River in India.  I thought it might be a different species but it turns out it's just a funny looking golden.  I'll take him.  Before I handed him to Tshering to release we posed for this fun photo.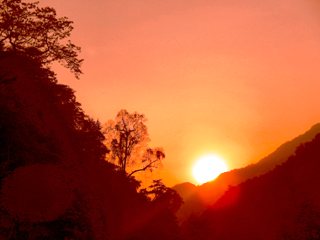 Naturally after the catch the four of us hit the tributary mouth the rest of the evening.  But it turns out my catch was lucky.  Not one of us touched another fish.  Niel is fully equipped with spin ad bait fishing gear.  After we gave up on the flies he sank a few of the katli we caught earlier on bottom well into darkness – but not a bite.  The fish are big but far and few between.