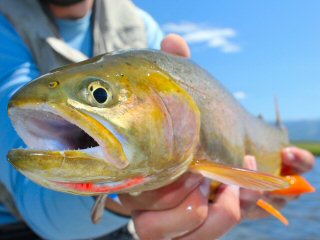 Plans to fish the Rizzo today with my FlyCastaway pals from South Africa cancelled.  To make up for it arapaima king Tim Brune and I did a short day on the technical dry fly water of the Rizzo with another South African friend, Craig Richardson.  Craig is a FlyCastaway guide and spends most of his work year on the flats of St. Brandon's.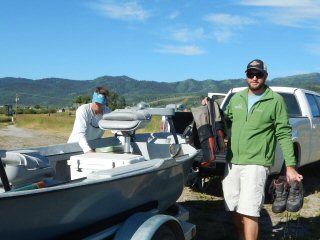 Craig arrived only 48 hours ago from South Africa.  Last night was the first time we met, however Craig guided Tim in St. Brandon's last year.  While being guided Tim invited him to Idaho to fish and he's here for almost two months.  It's my style of travel – show up – make it happen – and figure out how to pay for it later.  Life is not a dress rehearsal!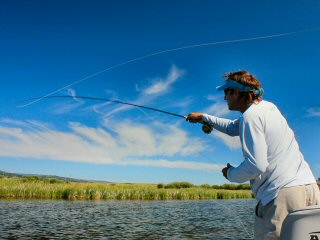 I must say I was more focused on relaxing and taking some photos.  This is the time of year when I update my PowerPoint presentations.  Tim is one of the best casters I know so I flicked away some cool shots like this one here.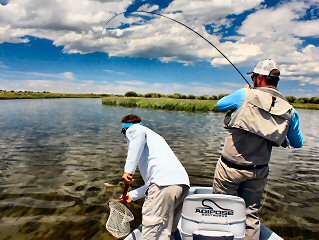 Craig has never been to the western USA so the main goal was to get him some cutthroat trout.  There was a good PMD hatch and a few heads of rainbow and cutthroats sipping the small yellow mayflies.  These fish are not easy to catch and Craig had to adjust his St. Brandon's flats fishing techniques to accommodate our style.  It didn't take long and he was rod bent.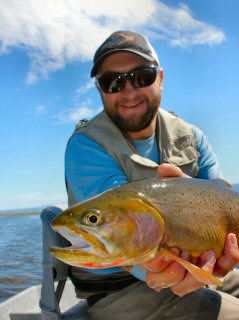 Craig ended up catching several of these beautiful cutthroats.  Our fishing was excellent despite some wind and heat.  Now it's back to work.  My fishing time will be lean the next couple weeks because I took an order for 20 Cliff Fly Boxes with art on BOTH sides due on July 20th.  Furthermore, I have some exciting international fishing starting hot and heavy at the end of this month.  Details on this in coming days!