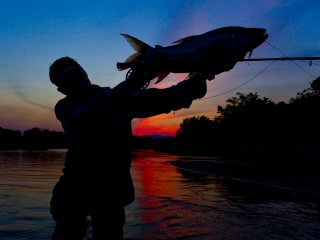 At this time tomorrow I'll be zipping across the planet with tigerfish fever!  I'm headed back to Africa, Tanzania to be exact, to the camps of Tourette -Fight it in Africa on the Mnyera and Ruhudji Rivers.  In fact I'll be right where Confluence Films and I made the impressive segment for their 2011 film, "Connect".
I'm hosting two groups of anglers for Yellow Dog Flyfishing Adventures on this trip.  As always I intend to post stories and pictures from each day.  But as usual at these off the beaten path destinations, the internet doesn't exist.  Therefore I'll post the adventures day by day upon my return.  I will be back on November 18th.

While I'm away – DO NOT MISS the November 8th premiere of Confluence Films new movie, "Waypoints".  The final segment is my spring trip to India with Misty Dhillon of the Himalayan Outback.  To see if the tour is near you visit Confluence Film Tour.  To see the "Waypoints" trailer – click here.
Obviously while I'm away I can't respond to email or phone calls.  But please send your messages and I will get to them upon my return.