Fly Fishing for Salmon on Tillamook Bay
Categories: Uncategorized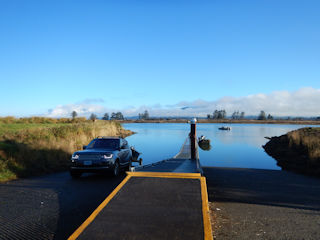 The weather forecast looks iffy for Mike and I to go salmon fishing on the coast of Oregon this week.  When we left his house in Portland this morning it was downpouring rain.  In fact, most of our two-hour drive to Tillamook was in a downpour.  But when we pulled in the parking lot to launch the boat the rain stopped and the skies cleared.  This was a very unlikely start for a guy nicknamed "Monsoon Currier".
I'm fishing the next four days with my longtime friend Mike LaSota (Michigan Mike).  I met Mike many years ago in my neck of the woods.  At the time Mike lived in Michigan.  About 15 years ago he and his wife moved to Portland and he's been enjoying fishing steelhead and salmon ever since.  Today we tossed our 9-weights with sinking lines and swung them at one of Mikes sneaky spots on Tillamook Bay.
I've said it before on this blog – swinging flies isn't my thing.  But I must admit, thanks to some previous trips with Mike and my experience with Ingo Helgason of Icelandic Fly Fishermen over in Iceland, I'm getting better at swinging and starting to enjoy it.  Sure enough, I kicked us off with this cute little Coho salmon (silver salmon).  All Coho salmon must be released so without pulling this guy from the water I slid the hook out and released him.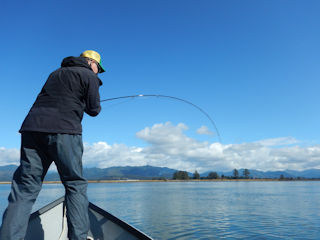 The fish we're after this week is chinook salmon (king salmon).  The only place I've taken chinook on fly is in the Great Lakes.  Honestly, I didn't have a ton of confidence in this week's quest.  Seems all you hear is how the salmon stocks are struggling and runs are all but gone.  But Mike knows some places.  And lo and behold, around 11 AM Mike hooked up.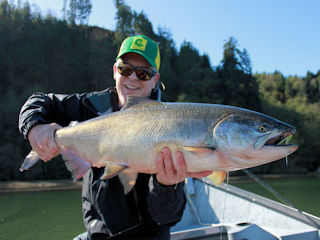 Mikes salmon took off with a meaning.  We were anchored near an abandoned pier and we were afraid he might hang up there.  I pulled the anchor and rowed after him.  Once we cleared the snags Mike took his time.  Soon he landed this gorgeous chinook of about 20lbs!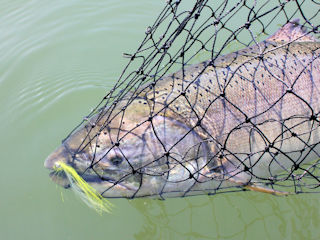 With a Coho and a chinook in the boat before noon, swinging flies had my attention.  I needed a chinook of my own.  While Mike was changing flies and lines frequently, I had what I had.  This was my 9-weight Winston and my Bauer #5 Reel.  My line was a SA Sonar Sink 25 Cold 350 grain.  Mike advised a long leader so I went with straight 16lb Flouro and simple chartreuse and white Clouser.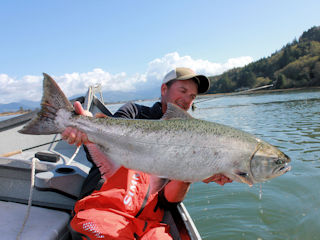 From the picture above, you know what happened.  Almost to my disbelief, I caught a chinook.  And a fine one at that!  The only thing that surprised me more than actually catching him was that this gorgeous fish never took me to my backing.  Mike attributes this to some very cold-water temperatures however his sure as heck put on a show.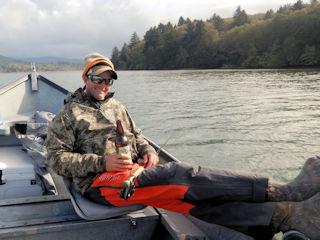 After my catch I kicked back.  Mike bought me some fantastic Oregon brews to try and he stacked our Yeti cooler with them.  At 2 PM sharp Mike hooked up the Cubs playoff game 4 against the Washington Nationals and I lived the life of leisure.  Mike went on to land one more chinook and I took a much heftier Coho salmon giving us a total of five beautiful salmon today.
All our salmon were wild fish and therefore we released them all.  Our plan is to kill one this week but we are hoping to catch a "hatchery fish" for this.  Late this afternoon as the Cubs blew the game, the rain we expected arrived.  It was by no means heavy but enough to create some beautiful rainbows.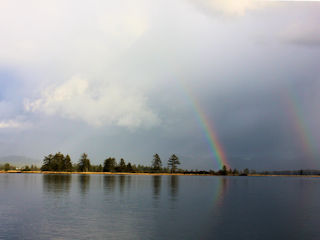 Mike booked us a house near Tillamook for three nights.  We crushed some sirloins and a pound of broccoli before calling it a night.  Tomorrow we'll fish for chinook on a different river then watch the decisive game 5 Cubs against the Nationals.  A Cubs series win would really put this week of fishing over the top!