Our annual ice fishing trip to the Great Northwood's of Wisconsin has two other purposes beyond the fishing.  Have a good time and eat well.  Our incredible host George Hillenbrand treats us to the best of the best when it comes to food.  Regardless of the feast last night, before heading to the freezing cold ice fishing grounds, our first move of the day was to gorge on a massive breakfast.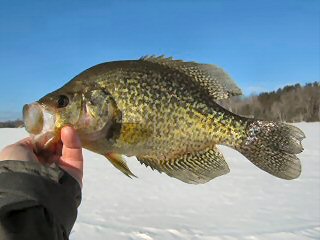 We returned to the same black crappie waters that we fished yesterday.  Last night ended slow but we had hopes that the morning bite would be on again.  Indeed it was but it was half what it was yesterday.  We each landed a crappie or two but then that was it.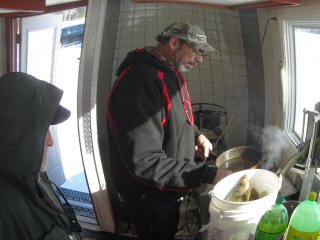 Around noon when it was time for Joe Pestka to whip up our fresh fish lunch we were a bit leaner than yesterday on crappie to cook.  Not to worry.  Joe's ice shack kitchen has plenty of alternatives including bacon and French fries.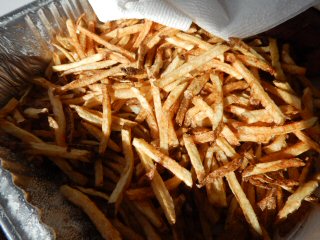 Joe cooked up about ten pounds of bacon and fries to go with our fish.  It was a treat.  Undoubtedly, when I get home starts with a huge hike, ski or biking!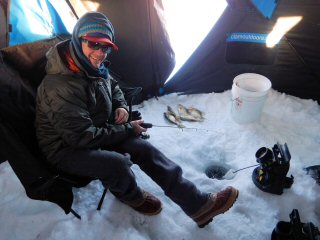 The afternoon continued slow.  We moved to a new spot and at first that didn't produce.  George, Rick and Dave headed back to the Chippewa Retreat while John, Larry and I continued to jig.  It was so cold that I gave up my outside chair to jig inside one of our heated tents.  At 4 PM, as if a switch went on, the crappies arrived.  In the last half hour we landed about 20 black crappies.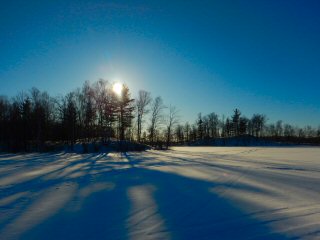 Patience is always a key in fishing.  We had a slow day but made up for it in the last 30 minutes.  It was an amazing sunset in the north of Wisconsin.  The sun doesn't get very far up in the horizon here but the days are lengthening fast.
We're just back from yet another epic meal.  Tonight we hit another Manitowish Waters favorite, Little Bohemia.  Dinner and deserts were outstanding!  We have one more day on the ice.